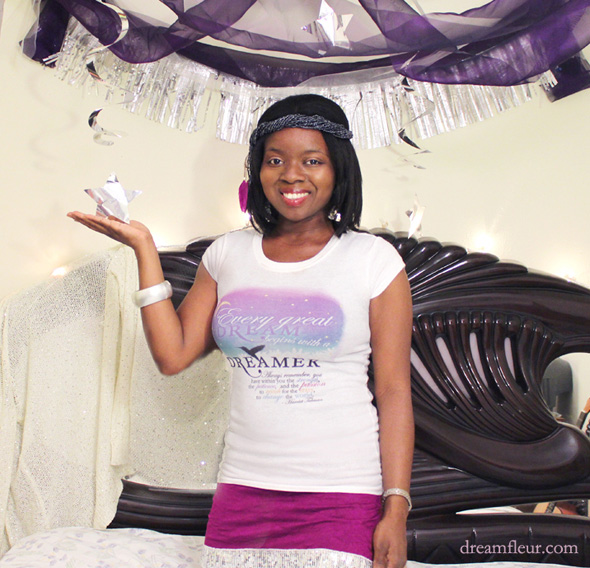 Your dream IS in reach…you've come too far to give up now. That vision is closer than you think – the world is waiting for you to embrace and take hold of it. Don't turn back before you break through… Live boldly, Dare Dreamer – we are waiting to experience the beauty that only you can bring. I believe in you!
– Julene, Designer and Dreamer of Envibrance Dream Apparel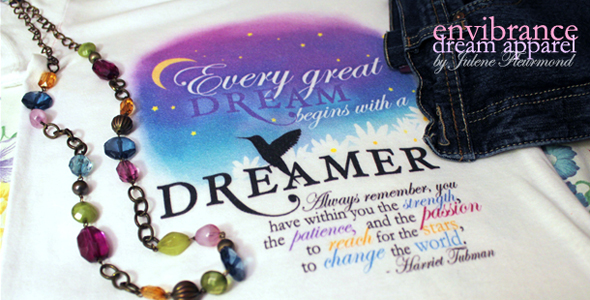 Click here to get the Every Great Dream T-shirt in women's sizes.
You may also like: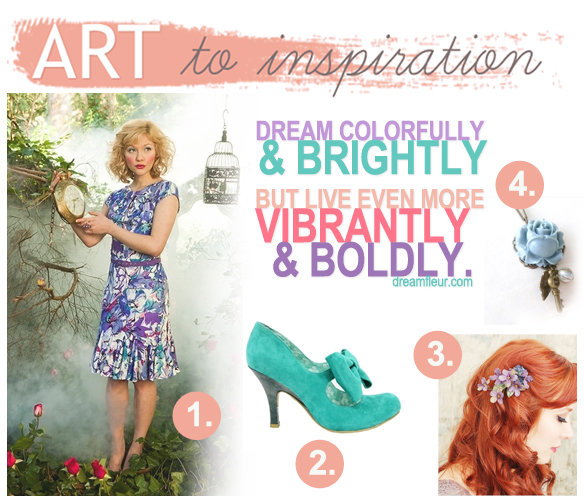 Have you ever looked at a work of art that sparked your imagination and creativity? It might be the merging of colors, the textures, the eccentric imagery or just the statement it makes in simplicity – inspiration is everywhere and whatever makes you stop and look twice can be inspiration that you infuse into your own art & life.
Art to Inspiration is a collaborative blog series started by Supal of Chevrons and Eclairs. Every month she sends out a work of art that serves as a creative spark and asks others to respond with their interpretation of the piece, whether through a fashion collage, quote or an original work. You can join in on the fun by signing up here.
November's art is entitled "The Other Side" and is by an artist named Linda Monfort. You can find more of her work which she describes as "Modern abstract expressionism" at: http://www.etsy.com/shop/lindamonfort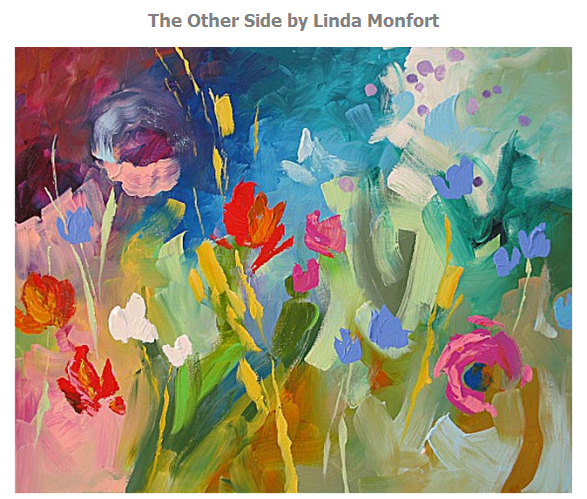 I love the freedom of the floral painting and the merging of bright and soft colors that make it feel dreamy, romantic and feminine. Here's my fashionable interpretation of this painting (pictured at the top of the post)…

1. The painting reminded me of this floral "Calooh! Callay!" dress I had seen (and stared longingly at;) at Shabby Apple from their Mad Hatter Collection inspired by Alice in Wonderland. I love the shades of periwinkle and violet that create movement much like the painting…. Continue Reading »
You may also like: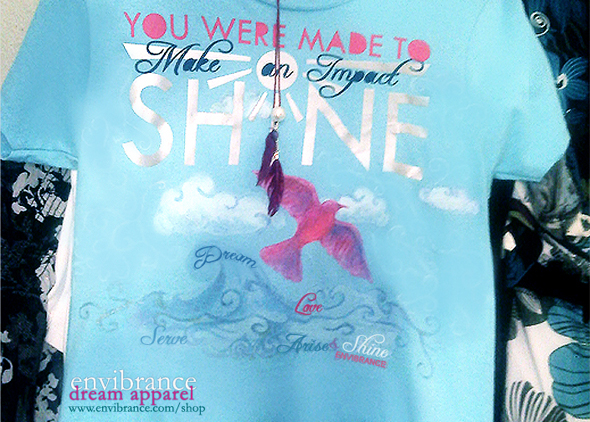 You weren't made to hide your light but to use your gifts to brighten the lives of others… Don't be afraid to share the beauty of the dreams in your heart – wherever you are in your journey, your purpose is important and others are waiting on you to let it shine. You can make an impact by illuminating truth, loving others and living a dream that serves & enriches the world.

In the words of one of my inspirations:
"Our deepest fear is not that we are inadequate. Our deepest fear is that we are powerful beyond measure. It is our light, not our darkness that most frightens us. We ask ourselves, Who am I to be brilliant, gorgeous, talented, fabulous? Actually, who are you not to be? You are a child of God. Your playing small does not serve the world. There is nothing enlightened about shrinking so that other people won't feel insecure around you. We are all meant to shine, as children do. We were born to make manifest the glory of God that is within us. It's not just in some of us; it's in everyone.

And as we let our own light shine, we unconsciously give other people permission to do the same. As we are liberated from our own fear, our presence automatically liberates others."

– Marianne Williamson from her book, A Return To Love: Reflections on the Principles of A Course in Miracles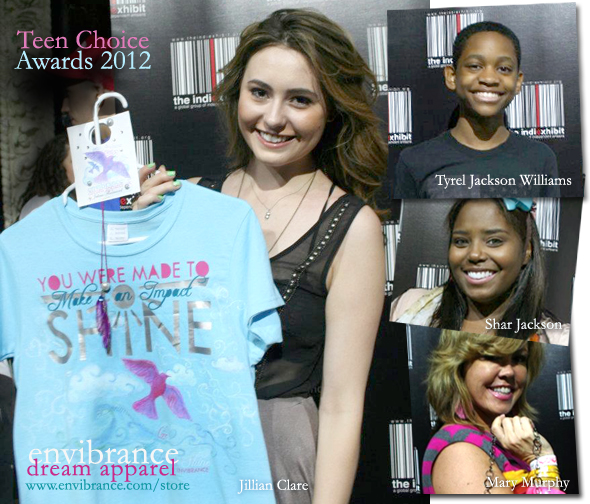 Click here to get this shirt from my clothing line Envibrance Dream Apparel
I was excited to have one of my dreams come true when my clothing line Envibrance Dream Apparel shined some light at the 2012 Teen Choice Awards Gift Lounge this year. One of my ocean inspired T-shirts pictured above reminded attendees that "You were made to make in impact…SHINE!" Some of the shining stars who stopped by were Jillian Clare (actress and producer), Tyrel Jackson Williams (actor from Disney's Lab Rats), Shar Jackson (actress maybe best known from Moesha) and Mary Murphy (dance champion, choreographer, and judge from So You Think You Can Dance).
I remember years before when I doubted my dream of having a clothing line but the vision never left me and little by little have worked to make it more of a reality. It's a miracle to me every time I get an email from someone who has been inspired and I realize that my dream wasn't only for me. Remember to always dream big, love and serve others and make an impact in your corner of the world.
You may also like: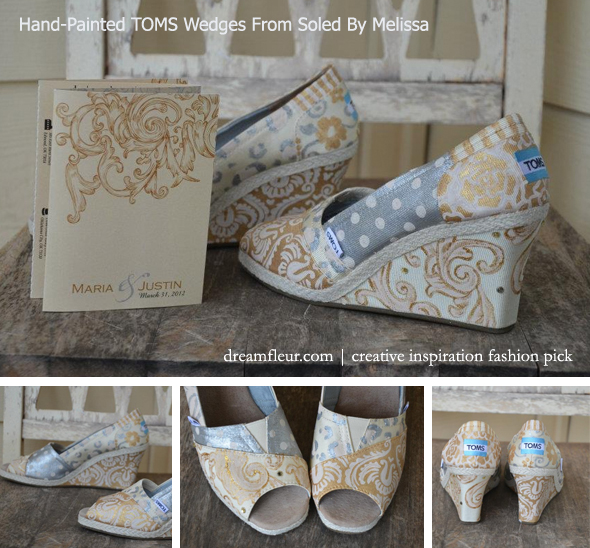 As you may know I design customized wedding invitations and other stationery and gifts for special events, and I love everything having to do with weddings, decor and event planning. I'm also a lover of the vision and passion behind TOMS , and was excited to come across the custom hand-painted work of 'Soled By Melissa' created by entrepreneur Melissa Hendricks. She has done hundreds of personalized designs that combine intricately detailed patterns, bright colors and the clients preferences, from designs that match party schemes to sports teams.
I especially loved the pair of TOMS wedges (pictured at the top of this post) she recently painted to match one couple's design and color scheme. It looks beautiful and whimsical all at once, and give a unique touch.
To find out how you can order a custom pair of TOMS visit Melissa at http://www.facebook.com/soled.bymelissa.
(Speaking of TOMS, this is the pair I aim to get next, I wonder if Melissa can do a little custom work for me:).
You may also like: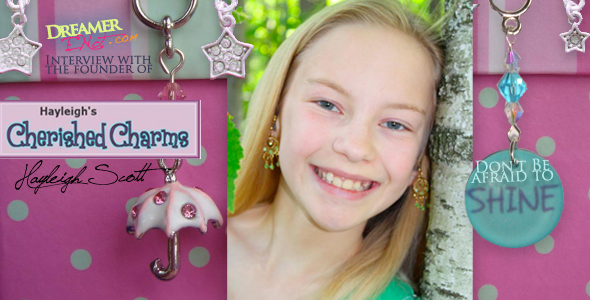 On my youth website DreamerENT.com I interviewed the 12-year-old founder of an innovative jewelry company, Hayleigh's Cherished Charms. Hayleigh's story will be sure to inspire you to believe that you can follow your dreams no matter the obstacles in life and to make the lives of other a little brighter…
12-year-old Hayleigh Scott shows that even when rain falls in your life, you can make the decision to shine…
You're never too young to start your own business, but when 12-year-old Hayleigh Scott was 5-years-old she had to wait until she was a little older just to describe to her family the invention she wanted to create. She turned a circumstance in her life – having hearing impairment, into a way to spread awareness, support a greater cause, and lend a little color, sparkle and style to ears around the globe. Read all about Hayleigh's story and shining ingenuity below:


DreamerENT: What inspired you to start your business Hayleigh's Cherished Charms and how did it go from an idea to a business?
Hayleigh: My business started as an idea when I was 5 years old. I am severe to profoundly hearing impaired and wear hearing aids to help me hear. When I was 4 years old, I went to a school for the deaf. Like me, some of the kids were hiding their hearing aids. When I saw that, I decided that I didn't want to hide my hearing aids anymore. We were visiting my grandparents in Texas when I first shared my idea with my parents. I was drawing at the kitchen table with my twin sister, Vienna when my mom walked in and asked us what we were drawing. I told her I was drawing charms and tube twists for hearing aids. My pictures were a little hard to understand so it took me a few years and a lot of tries to get my mom to understand what I had drawn.
She told me that she thought my ideas might be patentable. So, my mom and dad helped me prepare to make my first presentation to a patent attorney. I was only 8 and went into a board room and had to share my ideas with adults in the attorney's office. I applied for a provisional patent and later a full patent for my products. Then, I went on to open my on-line business www.HayleighsCherishedCharms.com. I also have email (cherishedcharms@gmail.com), a facebook page, twitter account, and an ETSY shop as well. I have been very blessed to have distributers of my charms in both nationally and internationally. I am currently working on partnering with a major hearing aid mold company to produce part of my product line. It is very exciting.
DreamerENT: How did you learn about where to get your materials, and how to set up the business? Did you have any challenges along the way?

You may also like:
This TED Talk from a few months back featuring designer Jessi Arrington is so creative and quirky. Jessi is a self-proclaimed "color-loving…outfit-obsessed Brooklyn designer" who is determined to feed her love for passion only by shopping secondhand at flea markets and thrift stores. She also photographs and blogs a different "colorful, crazy outfit for every single occasion." I love her care-free take on fashion to express herself, and how she doesn't take her outfits or herself too seriously (which she shows in one of her tips: "Embrace your inner child. Sometimes people tell me that I look like I'm playing dress-up, or that I remind them of their seven year-old. I like to smile and say, 'Thank you.')
Visit Jessica's blog to learn more about her take on the TED talk and her passion for fashion, used and unique.
" Jessi Arrington packed nothing for TED but 7 pairs of undies, buying the rest of her clothes in thrift stores around LA. It's a meditation on conscious consumption — wrapped in a rainbow of color and creativity."
From Jessi's TED Talk
"…Confidence is key. If you think you look good in something, you almost certainly do. And if you don't think you look good in something, you're also probably right. I grew up with a mom who taught me this day-in and day-out. But it wasn't until I turned 30 that I really got what this meant. And I'm going to break it down for you for just a second. If you believe you're a beautiful person inside and out, there is no look that you can't pull off. So there is no excuse for any of us here in this audience. We should be able to rock anything we want to rock.
"…Developing your own unique personal style is a really great way to tell the world something about you without having to say a word. It's been proven to me time and time again as people have walked up to me this week simply because of what I'm wearing. And we've had great conversations…"
"So obviously this is not all going to fit back in my tiny suitcase. So before I go home to Brooklyn, I'm going to donate everything back. Because the lesson I'm trying to learn myself this week is that it's okay to let go. I don't need to get emotionally attached to these things, because around the corner, there is always going to be another crazy,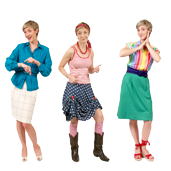 colorful, shiny outfit just waiting for me, if I put a little love in my heart and look." – Jessi Arrington
More About Jessi

Jessi Arrington is a founder and owner of WORKSHOP, a designer firm in Brooklyn. Her favorite color is rainbow and her default answer is YES. She's taught Design Fundamentals at Touro College and given guest lectures at NYU; she's a board member of AIGA/NY. Before co-founding WORKSHOP, she carried out branding for Brooklyn Brewery, Tomato Records and Lion Brand Yarn under the direction of Milton Glaser. She makes a hobby of wearing nothing new (except undies).
She blogs at LuckySoAndSo.com about design, consumption and color.
You may also like: