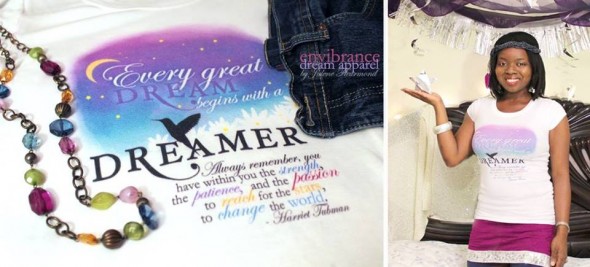 Julene Fleurmond – Project Dare Dreamer: Journey of an Inspirational Singer, Actress & Spoken Storyteller
Over the past few years I began overcoming crippling shyness and pursuing my passion and dream for performing by taking acting and vocal lessons. I was also recently signed to an inspirational music company as an artist on their roster. Stay tuned for new music and creative productions! I encourage you to begin moving in that dream you've buried for so long, let it grow wings and take you places you've never imagined…
Inspirational Songwriter & Singer: Project Dare Dreamer
Who says you have to be perfect to begin pursuing your passion? One of my mottos is to follow the dreams in your heart no matter how impossible or lofty they may seem or how afraid you may be or unqualified you may feel. Follow me on my journey of unearthing and growing my buried dream of sharing inspiration through music. I'm starting out with a passion and a seed of a vision, improving and learning as I go along from vocal lessons to recording sessions and want to share the process, imperfections and all, to encourage you to also delve boldly into your own passions even while you're afraid. Below is a sneak peak of "Arise and Shine (Dare Dreamer)", an in-progress rough preview of a song I'm writing dedicated to young people I hope to inspire…
Is there a dream that you've buried because it's seemed impossible or impractical? For the longest time I have done just this but as I encourage you to pursue your dreams even while you are afraid, I have to muster up the courage to do the same myself.
A while back I shared how I have been pursuing my dream of inspiring others through music. In the past few months I've been taking vocal lessons, doing songwriting sessions, setting up meetings with mentors, working on recordings and music video concepts and following this dream little by little, bit by bit.
Above is an animation showing a snippet of a lyric video for my first song "Arise and Shine (Dare Dreamer)" and a little venturing into stop-motion (I love trying new things this idea was sparked after I saw Moriah Peters' music video for her song "Bloom.") The lyrics in the clip above say:
"Arise and Shine, Dare Dreamer can't you see you're full of purpose and possibility! So arise and shine O Sleeper, don't give up now dare, Dreamer, arise and shine Dear Dreamer come alive!" That's my message to YOU today and everyday!
Stay tuned as I further share the journey of making this dream a reality, I'd love to hear how you are daring to live the life you've always dreamed!
We all suffer if you keep your dreams buried inside – Arise and Shine!
Bellaboo Girl Song for Self-Esteem Music Video Entry
Be encouraged and see your true beauty inside and out…you are loved!
My entry for the Bellaboo Girl Song for Self-Esteem contest, I had fun filming:). Original song by James Hollands.
Presenting inspiring messages & creative live presentations merging stories, poetry, monologues, music & multimedia. Looking for a creative presentation for your event or project? Click here to contact me for speaking or commissioning a customized piece.

I'm a recovering wallflower who has pushed through years of fear, learning to embrace my shape and grow into my purpose. You might call me a "
Renaissance dreamer
" who loves to meld creative expressions – from writing, visual art and performing – to inspire others.
My main passion is to motivate others to live in vibrance, especially empowering women and young people to overcome obstacles and hurts in life to find and embrace their purpose. We each have a dream planted in our heart and a story to share- what's yours?
I'm currently writing and producing new creative pieces and songs, so stay tuned for more!


Inspirational Actress Inspiring Through Drama and Heartfelt Storytelling
I've always wanted to inspire youth as an actress and singer but was always too shy and paralyzed by anxiety to try – not anymore! Here's a video I originally made for a scholarship entry, playing a teen girl, based on a true story (my diaries and embarrassing stories as a teen, find out never -shared before 🔐 secrets like who I was crushing on at age 15;). The Tyler Perry-inspired "Diary of a Sad Shy Teen" ("unfortunately" Madea couldn't be in this one, halleluyer;) is playing in schools across the country in kids who don't have a voice. My dream is to reach teens like me and creatively give them a light of hope.
Made to Flourish: A Poem & Story of Encouragement for Dreamers, Part 1

Click here for more from the Made to Flourish Project…
Finding Your Identity: Inspirational Spoken Story of How I Found the True Me
Acting Resume
Acting Mission: To produce and perform in inspiring and uplifting productions that embody the human experience and give hope to others.
EXPERIENCE
ROLE
ORGANIZATION
Theater
Genesis Annual Production
Model in ANTM Parody
University of Miami Student Center
African Storytelling
The
Warthog
University
of Miami Community Theater
In-School
The Spot
Woman at the Bus Stop
University of Texas at Dallas Skit
Anna and August
Anna
University of Texas at Dallas Skit

Film
Educational Short Film
Student
Boston Area Health Education Center

Television
/ On-Air Talent
SMU Daily News Show
Special On-Air Reporter
Dreamer ENT Show
Interviewer/Host
Young Dreamer Enterprises
Events
Legends Celebration
Event Host
University of Miami
Wind Beneath Our Wings
Event Host
Southern Methodist University
Youth Motivational Workshops
/Leader
NFTE, Girls Inc., Hispanic Youth Symposium Dallas
Training
Acting /Theater
Kathy Lingo
University of Texas at Dallas
Theater Arts Program
Sarah Teasdale
Boston Latin
School
Comments
comments