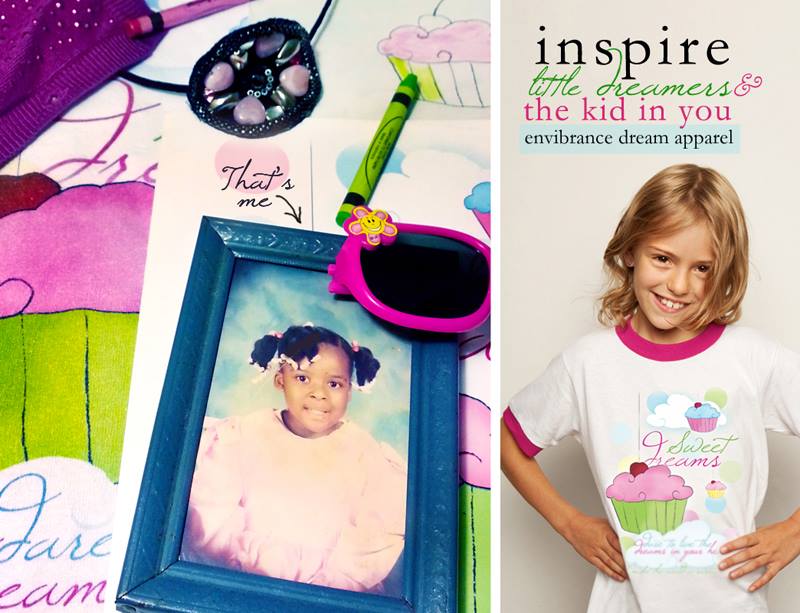 Want to inspire the little Dreamers in your life to Dream BIG and nurture the dreams of the younger you? If you do, stay tuned to Dreamfleur for a special project and motivation series I'm launching to inspire and nourish your sweet dreams…
One of my dreams is to encourage young people to be entrepreneurs and Dreamers through my project DreamerENT.com, motivating them to start tapping into their purpose (focusing on who they are meant to be) right where they are. I also have a passion for inspiring YOU to reconnect with yourself when you were a kid – remember when you dared to dream freely? It's time to reclaim that boundless childlike wonder and creativity and revive those sleeping dreams!
I've been a Dreamer and entrepreneur ever since I was a little girl sharing my artwork with friends and family (that's me in the framed picture above). I recently realized that I started my current business Envibrance Dream Studios 10 years ago when I was a teen through the support of a wonderful organization that I am very grateful for, Network for Teaching Entrepreneurship (NFTE). Wow, time has flown by!
To celebrate the 10th Anniversary of Envibrance, over 20 years as an entrepreneur and my birthday this month I'll be launching some new sweet dreams both for young Dreamers you know and the young Dreamer in you!
Stay tuned here and keep daring to live those dreams in your heart – they'll make the world a sweeter place! While you're at it, today eat a cupcake or two (preferably the healthy and organic kind;), they'll make your day a bit sweeter too. Sweet Dreams, Dreamer – Julene @dreamfleur
P.S. You can get this Sweet Dreams T-Shirt for any-sized Dreamer at my shop: http://envibrance.com/shop
You may also like:
Comments
comments