Yay, new #inspirational AriseShine #mugs coming soon to my shop envibrance at dreamfleur.com (link in my bio). I'll be sharing more designs and motivation for you to live your dreams… Arise and shine dareDreamer the world awaits you coming alive and living your #dreams on #purpose! Make an impact wherever you go, through your #business, #art or even just shining love through your #smile and presence!
Click here to visit Envibrance and find inspirational apparel designs like my Every Great Dream Begins with a Dreamer Harriet Tubman quote shirt I wore recently at a conference.
Below listen to my inspirational pep talk for you, "It's Your Time to Flourish and Shine"
You may also like: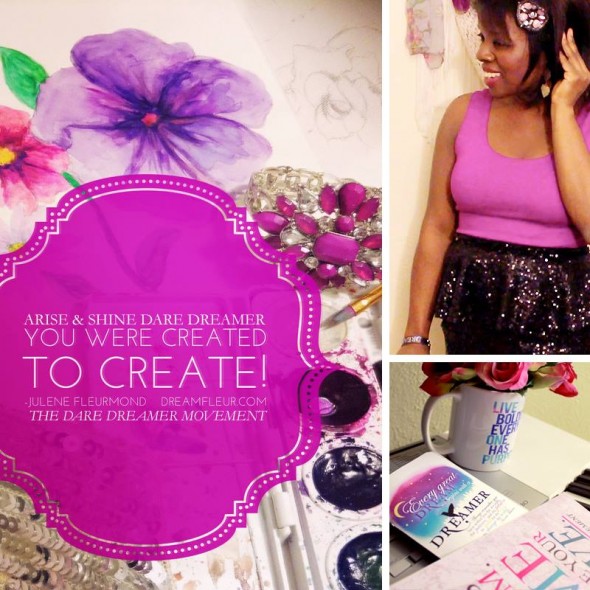 Shhh… listen closely… Do you hear that beautiful rhythm resonating from within, orchestrated by an invisible hand? It's the sound and unseen evidence that you are flowing with potential and purpose, no matter your start or circumstance…
As long as you have breath and a heartbeat you have a calling, a greater reason for being here – to love, to be loved, to flourish and make the world richer, brighter and more colorful and beautiful by being who you were made to be…
You were created to create so make time each day to express the story and dreams in your heart! Share hope and joy in full color to inspire the hearts and lives of others. Arise and shine, dear Dreamer – dare to illuminate hope and live out the life you were made for…I believe in you! – Julene
P.S. Here's a little sneak peek of a dream come true, creative gifts including mugs, journals, phone cases and illustrations I'll be offering soon featuring some of these designs and ones personalized by you! Coming soon to my shop Envibrance Dream Apparel!
You may also like: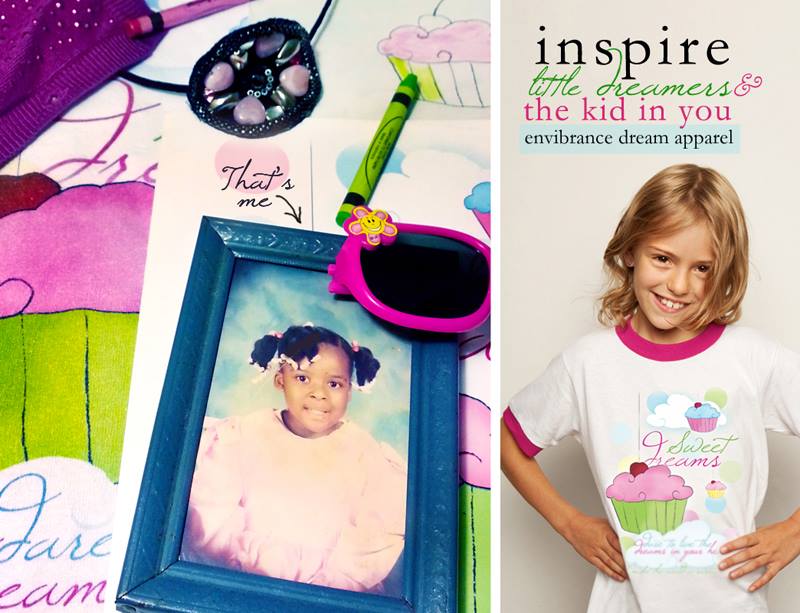 Want to inspire the little Dreamers in your life to Dream BIG and nurture the dreams of the younger you? If you do, stay tuned to Dreamfleur for a special project and motivation series I'm launching to inspire and nourish your sweet dreams…
One of my dreams is to encourage young people to be entrepreneurs and Dreamers through my project DreamerENT.com, motivating them to start tapping into their purpose (focusing on who they are meant to be) right where they are. I also have a passion for inspiring YOU to reconnect with yourself when you were a kid – remember when you dared to dream freely? It's time to reclaim that boundless childlike wonder and creativity and revive those sleeping dreams!
I've been a Dreamer and entrepreneur ever since I was a little girl sharing my artwork with friends and family (that's me in the framed picture above). I recently realized that I started my current business Envibrance Dream Studios 10 years ago when I was a teen through the support of a wonderful organization that I am very grateful for, Network for Teaching Entrepreneurship (NFTE). Wow, time has flown by!
To celebrate the 10th Anniversary of Envibrance, over 20 years as an entrepreneur and my birthday this month I'll be launching some new sweet dreams both for young Dreamers you know and the young Dreamer in you!
Stay tuned here and keep daring to live those dreams in your heart – they'll make the world a sweeter place! While you're at it, today eat a cupcake or two (preferably the healthy and organic kind;), they'll make your day a bit sweeter too. Sweet Dreams, Dreamer – Julene @dreamfleur
P.S. You can get this Sweet Dreams T-Shirt for any-sized Dreamer at my shop: http://envibrance.com/shop
You may also like: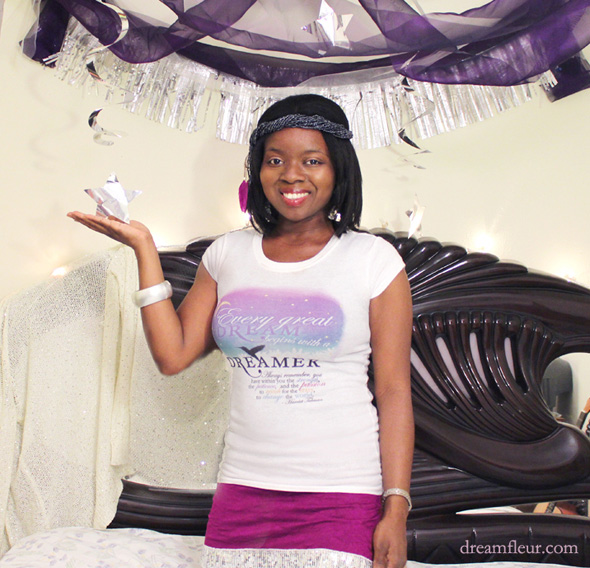 Your dream IS in reach…you've come too far to give up now. That vision is closer than you think – the world is waiting for you to embrace and take hold of it. Don't turn back before you break through… Live boldly, Dare Dreamer – we are waiting to experience the beauty that only you can bring. I believe in you!
– Julene, Designer and Dreamer of Envibrance Dream Apparel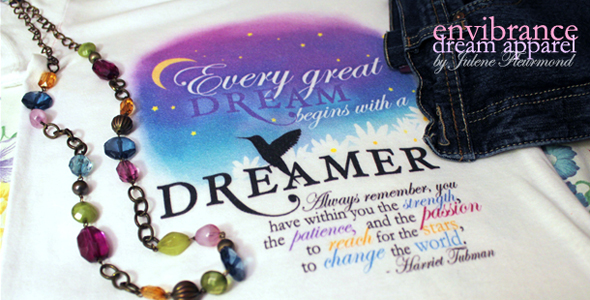 Click here to get the Every Great Dream T-shirt in women's sizes.
You may also like: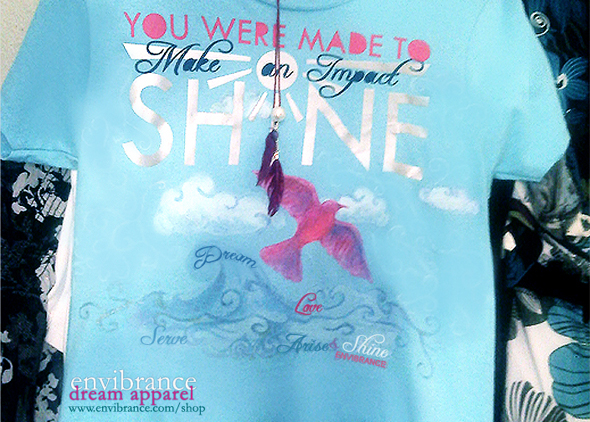 You weren't made to hide your light but to use your gifts to brighten the lives of others… Don't be afraid to share the beauty of the dreams in your heart – wherever you are in your journey, your purpose is important and others are waiting on you to let it shine. You can make an impact by illuminating truth, loving others and living a dream that serves & enriches the world.

In the words of one of my inspirations:
"Our deepest fear is not that we are inadequate. Our deepest fear is that we are powerful beyond measure. It is our light, not our darkness that most frightens us. We ask ourselves, Who am I to be brilliant, gorgeous, talented, fabulous? Actually, who are you not to be? You are a child of God. Your playing small does not serve the world. There is nothing enlightened about shrinking so that other people won't feel insecure around you. We are all meant to shine, as children do. We were born to make manifest the glory of God that is within us. It's not just in some of us; it's in everyone.

And as we let our own light shine, we unconsciously give other people permission to do the same. As we are liberated from our own fear, our presence automatically liberates others."

– Marianne Williamson from her book, A Return To Love: Reflections on the Principles of A Course in Miracles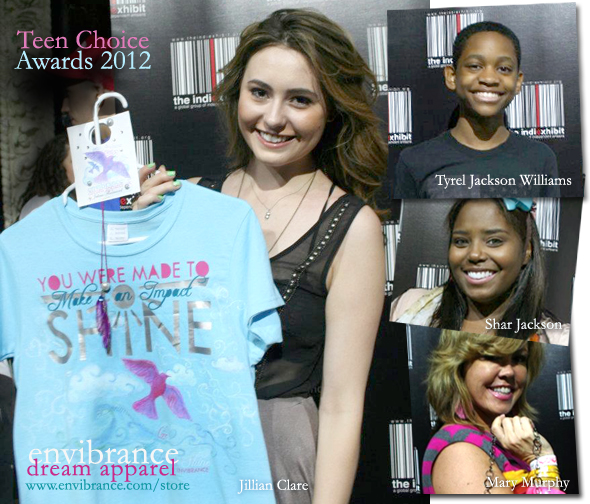 Click here to get this shirt from my clothing line Envibrance Dream Apparel
I was excited to have one of my dreams come true when my clothing line Envibrance Dream Apparel shined some light at the 2012 Teen Choice Awards Gift Lounge this year. One of my ocean inspired T-shirts pictured above reminded attendees that "You were made to make in impact…SHINE!" Some of the shining stars who stopped by were Jillian Clare (actress and producer), Tyrel Jackson Williams (actor from Disney's Lab Rats), Shar Jackson (actress maybe best known from Moesha) and Mary Murphy (dance champion, choreographer, and judge from So You Think You Can Dance).
I remember years before when I doubted my dream of having a clothing line but the vision never left me and little by little have worked to make it more of a reality. It's a miracle to me every time I get an email from someone who has been inspired and I realize that my dream wasn't only for me. Remember to always dream big, love and serve others and make an impact in your corner of the world.
You may also like: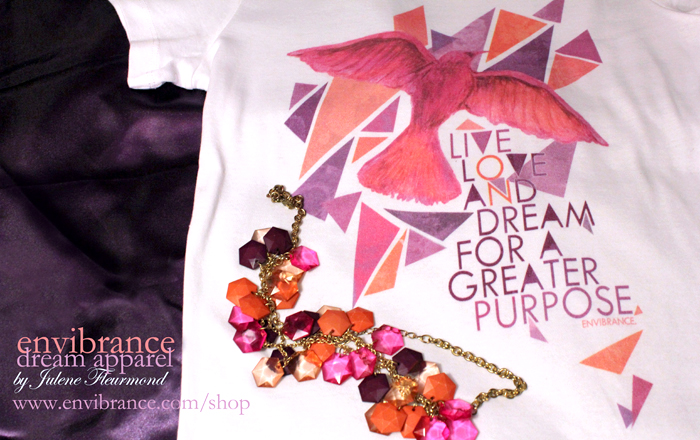 You are here for a purpose greater than you know, to impact the world and to make a mark. Live boldly, love others intentionally and dream a dream that is greater than you.

Click here for this shirt and the latest from my Envibrance Dream Apparel collection…





The shirt above shined inspiration at the MTV Movie Awards lounge this year. Below is one of the celebrities who stopped by, Ernie Hudson who you might recognize from over 100 film and TV credits including Heroes, Ms. Congeniality 2, and of course Ghostbusters. I admire his work and the inspiration he gives to others for following their purpose and dreams!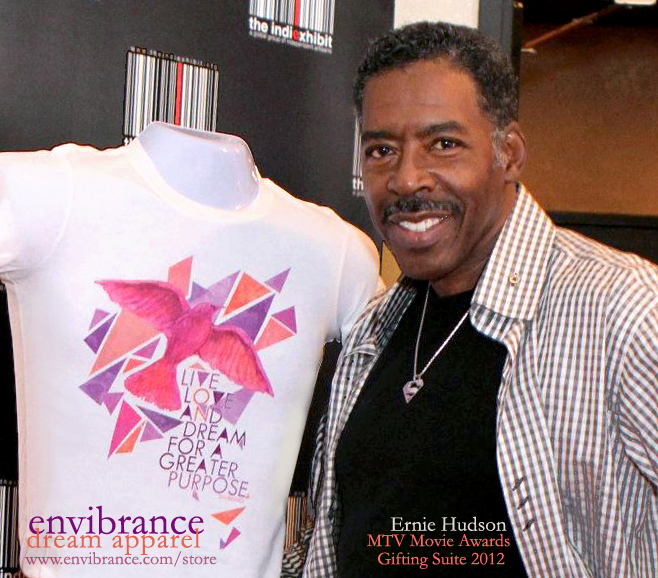 Also check out this write-up in The Huffington Post where Envibrance got a mention… Click here
You may also like: