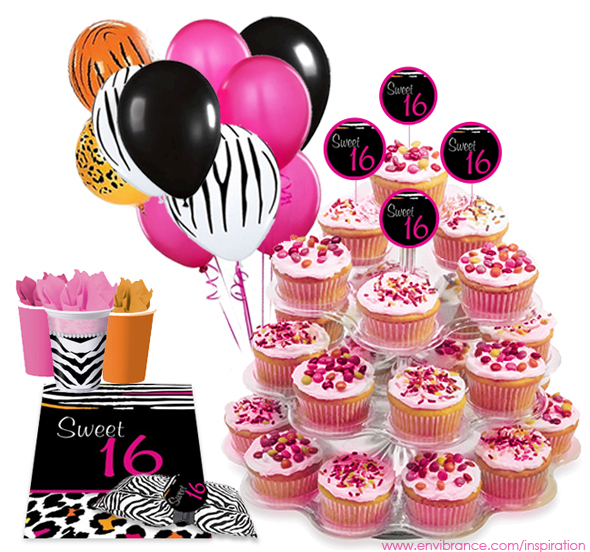 Note: I recently began a creative events inspiration blog and will be featuring inspiration for event decor, stationery, diy crafts and more. Click here to check out the blog.
I love doing event design, and have been doing various invitations for others and for my Dream Creations store lately. Here are a few designs that you can find in the store, which are some of my favorites:
Here are two bright animal print invitations, one of them which recently won a Zazzle Artist Award and is currently featured on Zazzle's Sweet 16 Invitations page. I was inspired by bright nail art patterns I saw in a photo to create these designs. You can click on a design to purchase and customize.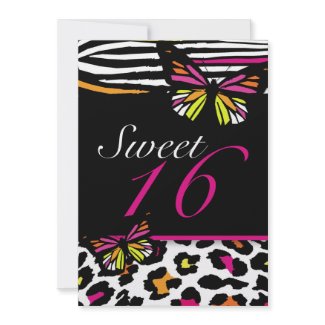 Sweet 16 Invitation Bright Butterfly & Zebra Print
by
envibrance
Shop for more
invitations
on Zazzle.com
Continue Reading »
You may also like:
I've been watching so much of the Style Channel, and especially their show "Whose Wedding Is It Anyway?" I love what the event planners do with the decor! Several of the ideas they have on the show can inspire planning for other types of special events.
For an event in the future, I would love to have Chinese lanterns. I love them because they give such an enchanted feeling. I found the pretty picture below on OurWeddingPlus.com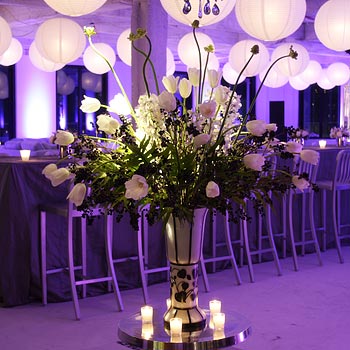 And Martha Stewarts' website had this pretty picture of lanterns covered with paper butterflies for a Spring
Party Idea slideshow
.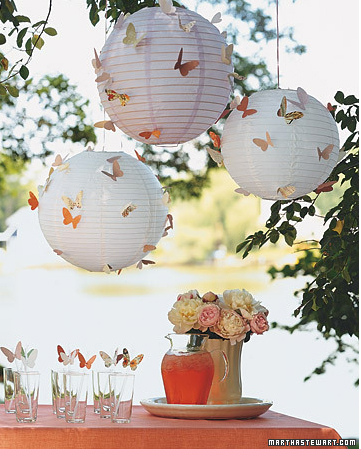 You may also like:

I'll admit that I'm a big kid. In between college, running my business and doing all of the "adult" things in life, I still watch the Disney Channel sometimes (ok, alot) and like to embrace my inner child. One of my many interests is interior decorating. I love watching decorating shows, and one is Trading Spaces: Boys vs. Girls on the Discovery Kids Channel, a spin-off of the adult Trading Spaces. The room makeovers the kids and designers do on the show are so imaginative and whimsical. They inspire me bring a creative theme into my own bedroom or art studio. Here are some of my favorite rooms from the show (the link will come up in a new window, and you can click the arrow to see the before and after of the room):
One of my very favorites the Broadway Theater. I love the purple and gold combination, the wall painting and the lights!
Another one of my favorites, an "Underwater Dream." I wish my room looked like that!
Another favorite, the Actress Dressing Room. I love the elegance of the gold and red silk drapery and pillows.
I'm loving the canopy in this African Safari!
This South Beach room takes me back home to Miami. I'm loving the lighting, palm trees and colors.
Here's a room that was transformed into a Princess Tower. I love the shades of purple, the arch over the bed and the realistic landscape on the wall.
If I were this kid, I'd love to be sent to my room as "punishment" in this Beach Paradise.
It looks like a real Jungle!
Back in the day, to an early American General Store and a Rustic Log Cabin
Here's a cool "High-tech Spy Warehouse"
Here's an African and Puerto Rico inspired room and a colorful India inspired room
This one doesn't even look like a bedroom! It's a funky Jazz Lounge.
Here's a quirky Animal Palace. I love the patterns.
He can wake up in the middle of the night to make tracks in this Recording Studio
A future President?
An indoor Skater and Mardi Gras Queen
A delicious and colorful Candy Factory
An "Imperial China" feel and "Japanese Style"
Making Ancient History and preparing for lift-off
You can check out the show's homepage for more pics, some DIY craft ideas, and the TV schedule. Too bad I'm too old to apply to get my room made-over!
You may also like: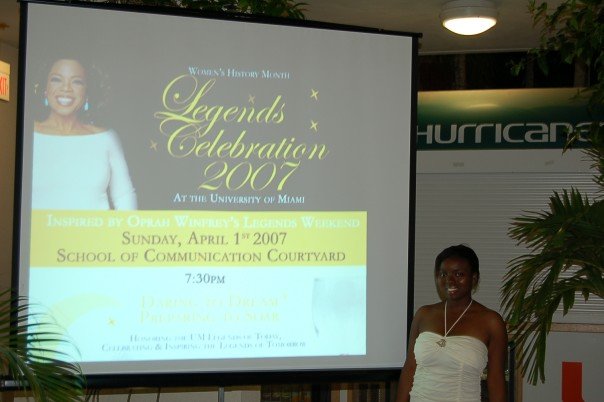 In 2006 Oprah Winfrey held her Legends Weekend, a three-day celebration honoring twenty-five African American women in art, entertainment, and civil rights. At the Legends Luncheon the young'uns recited a poem called "We Speak Your Names" written by Pearl Cleage. In college I was so inspired by Ms. Winfrey's celebration to create my own Legends Celebration to honor women in the community and her example. (This is just one of the ways I've been inspired immensely by her).
The Women's History Month Legends Celebration is an event I planned and hosted through my University and our community service organization Yellow Rose Society. It was a special celebration to honor women in the Miami area who have influenced young people through their works, as well as Legendary Women throughout history. We also invited local high school students to attend and be inspired.
Sponsored by the Yellow Rose Society, Wilyacins Event Planning and the University of Miami.
You may also like:
Here's a past event I helped plan at the University of Miami in honor of Black History Month…
Project Type: Event Planning, Invitation Design, Hosting, Web Design, Branding, Logo Design, Concept and Content Creation, Sponsorship Kit Design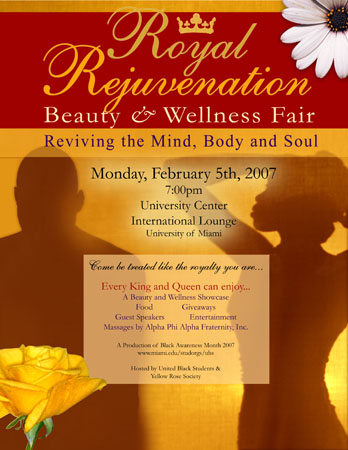 In honor of Black History Month 2007 and in conjunction with the University of Miami's United Black Student organization, Envibrance sponsored and planned a Beauty and Wellness Fair called Royal Rejuvenation. The event theme was "Treat Yourself Like the Royalty You Are" and promoted beauty products, health, and wellness in the multicultural communities. The event was co-sponsored by Niketown, UM's Wellness Center, UM's Counseling Center, Wilyacin's Event Planning, MAC, Mary Kay, Warm Spirit, Key West Aloe and Sigma Lambda Gamma Sorority, Inc.
You may also like: