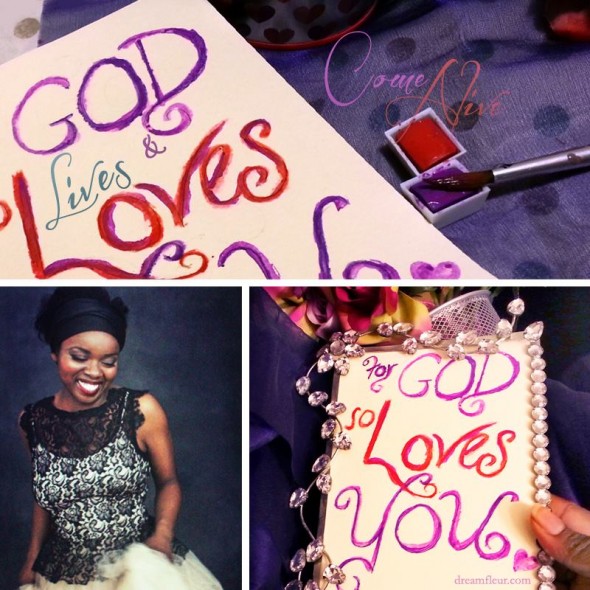 So. Loved.
So, I thought I knew what those words mean, I'd heard them since I was a little girl, but after years of repetition and pain they became just words on a page to me. It wasn't until true love rocked my world and revived my heart that I so came alive and could truly see and believe…
For. God.
He pursued my heart with sweet words of tenderness until I ceased my striving for success and stopped running my life to listen. Is that really…You? You are REAL. Whoa. His reality and the new visions and dreams He gave me rescued me from the pit of depression, resuscitated my heart from the death of life without Him.
WOW. His PASSION. The words of His Word become so real and get so personal when you draw in to hear His voice, when He shows you His heart and yours yearns like His, when He invites you on an intimate adventure of purpose for people and you realize just how powerful and passionate this God of love is…
You. Are.
You might feel like one among many but the One who created everything made you uniquely, wonderfully in His reflection. He covered my imperfections with a veil of royalty and acceptance and brings me joy and fulfillment beyond my dreams. He turned the mess of my life into a striking masterpiece and He can bring peace to the shards of your shattered heart – if you'll just release them.
Believe.
He understands everything you feel, keeps track of every tear, hair and detail, sees what you go through and knows you by name. When you get to know Him you realize your worries and shame are nothing, all you thought you needed are nothing. Without Him we're nothing – and God plus nothing equals EVERYTHING…
The. World.
From the very beginning He set out on a plan to bring His beloved ones back to Him in the most riveting and real of romances: From a tree in a garden where we became separated, to a tree where Jesus became our sin and a bridge to relationship with Him – a gift of life eternal the way it was meant to be, to the Tree of Life in a garden restored where we will be reunited. Jesus did what He said, came back from the dead and His word will soon prove true when He returns again.

You may also like:
It was 2009 during a dry, lonely season in my life when I had an unexpected encounter that rocked my paradigm. During the experience I had a vivid vision of being in a white dress in what seemed to be a grand forest. My first inkling was, "Is this The Garden?"
There was a calmness, a brilliance, a presence of #Love there. Like a little girl I was full of questions- "Father, why…?" I asked. He revealed his heart and love for people from the Beginning, in imagery and passion, an intimate experience I will never forget and could never have imagined on my own…
These words I remember my Father saying there were the most striking to my heart: "Do you trust me?"
Yes. I do. I will follow His way, always. Even when I don't understand, I will choose Him. Forever… #IamMyBeloveds #HeisMine #trusttheAuthor #theLovestoryofalltime
My Beloved speaks and says to me: "Arise, my love, my beautiful one, and come away…

For behold, the winter is past; the rain is over and gone. The flowers appear on the earth, the time of singing has come, and the voice of the turtledove is heard in our land. The fig tree ripens its figs, and the vines are in blossom; they give forth fragrance.

Arise, my love, my beautiful one, and come away."
You may also like:
On Dreamer ENT I had the honor of interviewing an inspiring young lady who is spreading the love of reading to the young and old alike. Check out my interview with Adele Ann Taylor founder of Adele's Literacy Library below: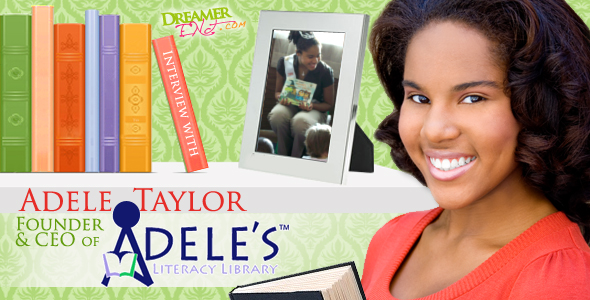 There's nothing like a good book; you can immerse yourself in different worlds, share someone else's experiences and ignite your own imagination to what's possible in the world.
Adele Ann Taylor has such a passion for books and at the age of 13 decided she wanted to share her love for reading with other kids, to show them how much power it holds and how much fun it could be. This is why she founded her non-profit organization Adele's Literacy Library™ (A.L.L.) in December 2008. The goal of A.L.L. is to "instill and empower that reading is not only fundamental, it is the key ingredient to success and through reading ALL things are possible."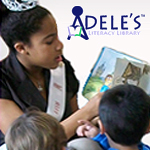 Throughout the past few years since founding A.L.L., Adele has already donated thousands of books and spoken to hundreds of kids about the power of reading. Her main goals are to donate millions of brand new books and bookmarks to schools, libraries and charitable organizations, and to "make a difference" in the lives of others through a book. She also wants to eventually offer scholarships to graduating seniors who want to pursue their educational dreams.
Adele was crowned Miss Heartland's Outstanding Teen 2009, making her an official representative for the sister group to the Miss America Organization, and she was most recently crowned Miss Bonnie Blue Outstanding Teen 2010. She is also a featured Hero on the website Kids Are Heroes that shows that young people can make a difference in the world. Watch Adele in the video below from a Kids Are Heroes event, where she speaks about her organization and how other young people can become change-makers in their communities:


Adele aims to motivate people of all ages to develop a passion for reading and show them that "regardless of where you come from, you can go anywhere in the world by reading a book." This inspiring teen spoke to Dreamer ENT about how she got started and what she's up to now – ALL for the love of reading.

Dreamer ENT: Tell us about you – how old are you and what grade are you in, and a little bit of your background?
Adele Taylor: I am a 14-year-old freshman [will be entering 10th grade in the upcoming year]. I am the oldest of three; I have a younger brother and sister. I enjoy rock climbing, roller skating, ice skating, hanging out with my friends, dancing and of course reading.
DE: When and why did you start Adele's Literacy Library? What sparked the idea and what did you do to get started?
You may also like: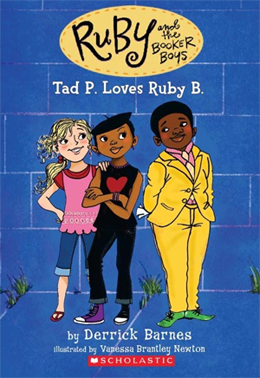 Meet eight-year-old Ruby Marigold Booker, the main character in the Scholastic book series "Ruby & the Booker Boys" by author Derrick Barnes and illustrated by Vanessa Brantley Newton. Ruby is creative, fun, sassy, smart, and shows her style and individuality by sporting mismatched shoes and coming up with new adventures to undertake.
The series follows Ruby's fun experiences and lessons as she navigates her eight-year-old world. Her character is relatable for all little readers especially African American girls who can see themselves in a character that looks like them and can be inspired by a positive example of a black family reminiscent of "The Cosby Show."
Watch the video below of Barnes talking about why he started the series:
I love the essence of the Ruby books and it would be great to see more books from the series. If you have a little reader in your life or know of someone who does, consider supporting the series by purchasing the books, especially book 3 and 4. If they're not in your bookstore you can have them ordered or order online. The books are pretty affordable and they are worth bringing joy to children who may not have seen a role model like Ruby.
If you are or happen to know any educators (teachers, librarians, principals, etc.) you can visit the author's website to find out how to schedule a classroom visit.
Click here to be a fan of Ruby & The Booker Boys on FaceBook.
You may also like: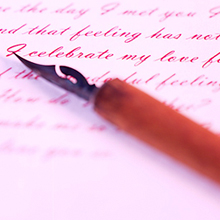 Ever since I began seriously pursuing my childhood passion of writing and dream of publishing books, I began collecting various resources for writers. Here I'll be sharing some links for those of you with a passion for writing that may help you on your journey. I'll be updating it as I find more of them. Stay tuned for the list…
Update: Click here for the Writing & Storytelling Resources page that will be constantly updated.
You may also like: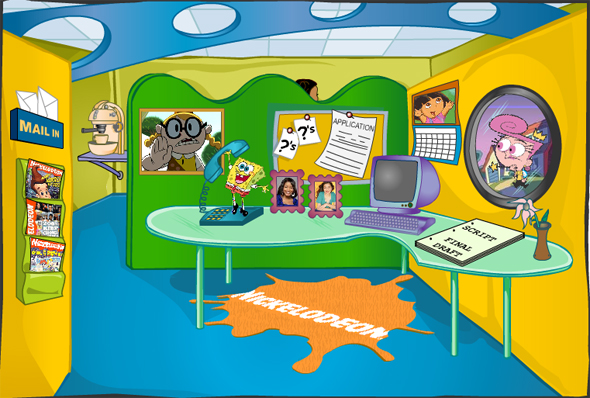 For all you aspiring screenwriters out there, here's an opportunity that can give you hands-on experience in writing for television, the Nickelodeon Writing Fellowship Program. The submission period is between January 2, 2010 and February 28, 2010. You can find out more at http://www.nickwriting.com and follow them at http://twitter.com/NickWriting.
I found out about the opportunity late last year entered at the last moment with a spec script for the Nickelodeon show "True Jackson VP". Though I didn't win, just the process of writing the script was alot of fun, and a great way to exercise and stretch your writing skills. You can purchase or download a free trial of the software Final Draft to format your script, it really helps to get the layout correct.
About the Fellowship – From the Website

Developed to broaden Nickelodeon's outreach efforts, the Nickelodeon Writing Fellowship is designed to attract, develop and staff writers with diverse backgrounds and experiences on Nickelodeon Network productions.

Operating in a three-phased structure, the Fellowship provides a salaried position for up to one year and offers hands-on experience writing spec scripts and pitching story ideas in both live action and animation television.

This three-phased structure allows fellows an opportunity to nurture relationships with creators, network executives, line producers, head writers, showrunners and story editors.

As part of their script writing, each fellow will be assigned to an Executive in Charge of Production and have an opportunity to write a spec script for an on-air Nickelodeon show.

In addition, all fellows are integrated into the activities of both the development and production departments. This allows the fellows an opportunity to attend storyboard pitches, notes meetings, records, table reads, show pitches and show tapings, all while being exposed to top creators and key production crews.
You may also like: