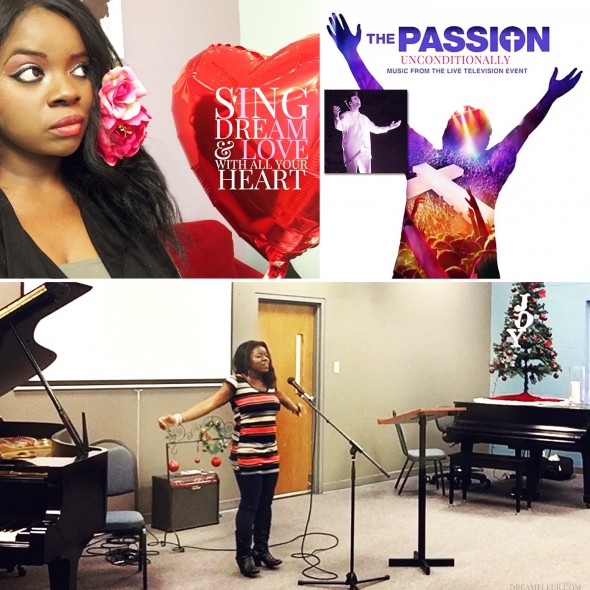 Dream, love and sing🎤 with all your heart…I'm gearing up for our Spring musical showcase at school. We've been practicing our vocals & singing dynamics since January & it all culminates to a show where each of us selected a song that reflects our heart.💖 Mine is Unconditionally by Katy Perry mixed with my original. I first heard the song on Tyler Perry's The Passion last year & love the message in that context- how God who is love gave His life for us & poured out His all to pursue relationship with us. He's been teaching me about unconditional love & setting others above myself, how we can show the world true love when we love with all our heart like He did.
He's also been teaching me how sometimes we're called to do things we're not as passionate about for a greater reason- for me that's singing. I LOVE songwriting & singing for fun but often get bored with just singing and the idea of making it a career alone so I've found ways to incorporate it into my speaking events & a theatrical story I'm writing & had to step out of my comfort zone to perform in person a few years ago. Miranda Nelson of The Elisha Revolution (they've been having nightly Fire and Glory services for a year that are fire🔥) inspired me with a message on how when you step out in obedience to God even in areas you're not excited or passionate about He will give you the passion- especially for the broken & hopeless people we are meant to impact with Love- that has been my motivation when my passion waned.
I've spent the past year taking weekly vocal lessons & it has been stretching and challenging- in a good way. I've discovered more of myself, more about the spiritual & healing power of music especially in classes at CFNI & more of God's heart. The bottom picture is me singing a medley of Emeli Sande's Read All About It & Bethel's Great Are You for our Winter Showcase. I want to encourage you to step out into the unfamiliar & sing with all your heart because you might be surprised at how fun it will be & how close to God's love you'll feel.💁🏽💞 Stay tuned for my music merged w/ inspiring stories in the way of a great dreamer Walt Disney…🌠
You may also like: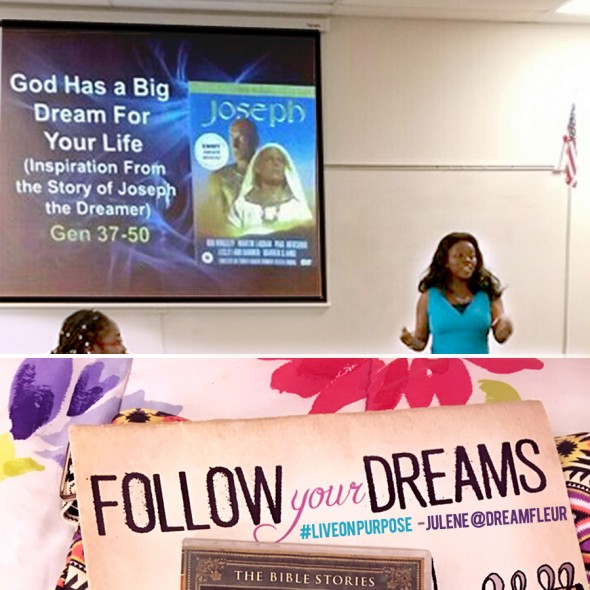 Sometimes it's what you're most afraid of that's part of your purpose 👀 – for me that was speaking! 😰 These are the confessions of a former major introvert… I used to shake in my boots literally on-stage and even when I had to talk in class as a kid my heart would beat loudly…😩 Growing up shy I hardly talked as a little girl and people would ask my mom if I was mute🤐. When people asked me what I wanted to be when I grew up I squeaked Oprah👑 – I wanted to speak and use my voice to inspire others but didn't know how i was gonna cause I was too scared.😖
Through practice and perseverance I got through that fear and surprisingly now speaking is my FAVORITE thing to do! I find myself on stages and in classrooms (where I'd probably pass out or drown in a puddle of my own sweat years ago🚣🏽💁🏽) speaking my story and singing encouraging songs🎤 to inspire other kids who were like me to overcome their fears and live their big dreams…🔥
Recently I got to speak with a group of teen girls in Dallas (some of them pictured here) about the journey of dreams💖 – how God has a big dream for each of our lives and how even when things get tough everything works together for good for those who live on Purpose.💥 We talked about the story of Joseph the Dreamer in the Bible who is my fave (go watch the Emmy-award winning movie based it, it's awesome and Joseph ain't too hard on the eyes;) and how even when he was in a pit and the prison he trusted God and served others with his gifts until his big dream came true. God used all of those trials to develop him into a true, powerful leader who would go on to save his people – a foreshadowing of another great leader to come… 👑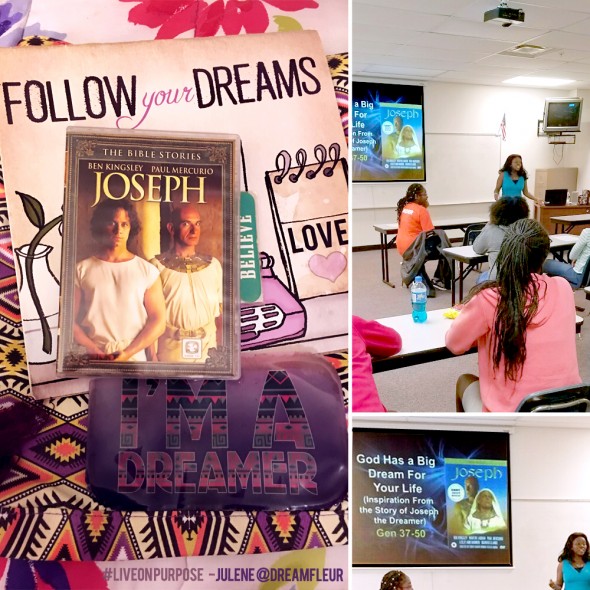 Ever since I was younger God told me my story was like Joseph's and the word "dream" was always in my heart. Everything about my businesses and life had the word dream included somehow since I was a kid (as did gifts my friends gave me pictured here🎁). Like Joseph I overcame years of confusing circumstances and now I'm living out the very dreams I had written down years before – speaking, singing, serving others' dreams and creating a multimedia company that inspires youth to live on purpose. With Love everything is possible💖 – so go follow your dreams and dare to share your story – someone needs to hear you speak about how you overcame too. I truly believe your story can set someone free and I believe in you!
Love and peace ✌️ Julene
P.S. Have a group of kids or teens who could use some inspiration through speaking, singing and a creative interactive presentation? Feel free to send me a line and let me know how I could help!💞 Together we can inspire the next generation!
You may also like: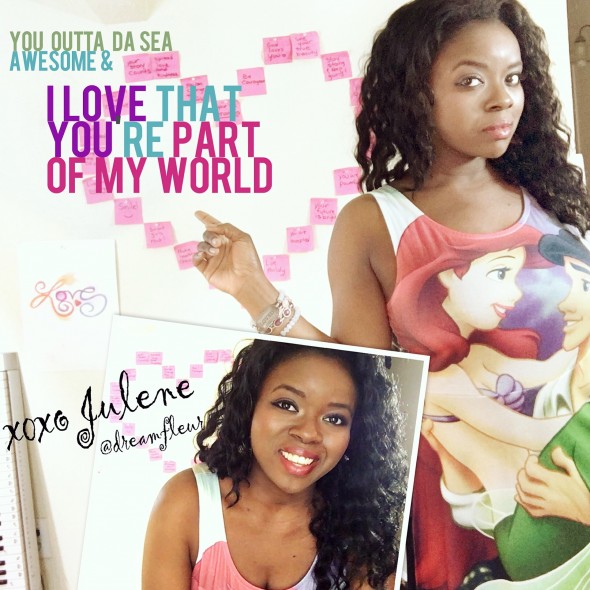 You is loved – how bow dah?💖 Just wanted to let you know that I appreciate you and God sees you😍 – you're the treasure He cherishes even more than Ariel does hers 💎👑💍 🐠- heehee this is my corny Bae Day card to you to say that you're special to me – you outta da sea awesome🏝 and I LOVE that YOU're Part of My World – how bout dah?😁😑 Okay I'll stop with the terrible puns🙄 but know that even if you don't gotta bae today you are beautiful and worthy and so very Loved! 😘 Love Julene XOXO Happy Love Day (which is everyday for me). Thanks for giving me the honor of being part of your world!
P.S. Can you tell I love Disney movies and the Little Mermaid? 💁🏽Love may not be picture perfect but true Love is better than a Disney movie or fairy tale… When you find true Love – the kind of Love that's unconditional, passionate and everlasting you've found everything you need. God is Love…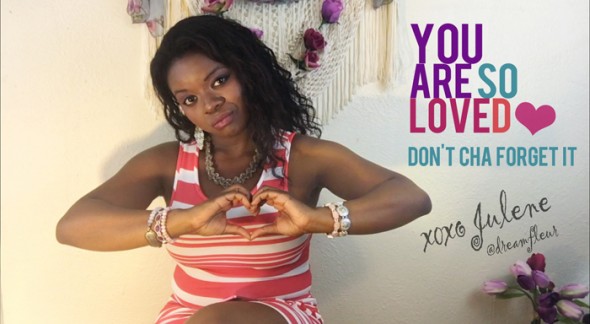 You may also like: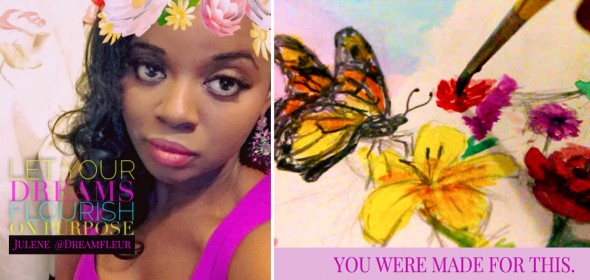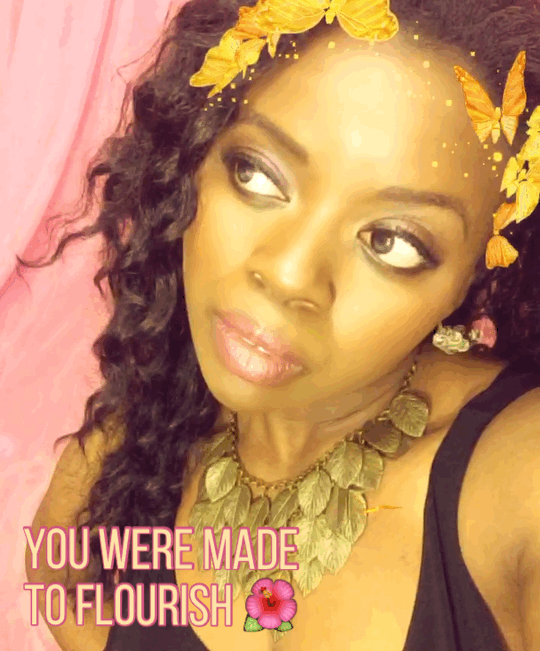 We don't have to be confined to a calendar to have a new beginning – everyday is New Year's Day – a fresh new start to live and flourish on purpose!🌺
This year I encourage you to embrace your uniqueness and passions, to water and nourish those dreams you may have buried. It's never too late to live your dreams – you were made for the visions that were planted in your heart so get going! 💖 I'm here on the journey with you and am cheering you on!
Much love, Julene💓
You may also like: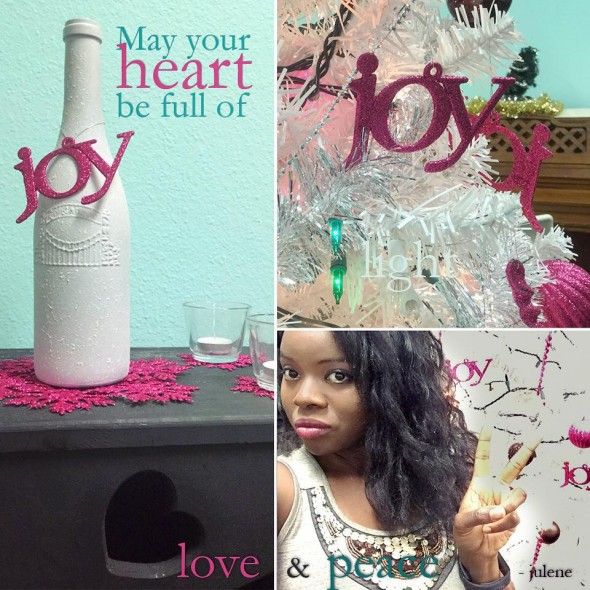 I love the wonder and joy of the Christmas season – especially how kids remind us of how fun it is to anticipate great things🎁 and enjoy life in a carefree way. Whatever you may be going through right now I pray your heart is filled and overflows with that kind of childlike joy🙌, light🔥, love💓 and peace✌🏾️ that surpasses understanding not just now but into the New Year and beyond!
You are so very loved – believe it baby, let Love give you the freedom to anticipate and have hope for great things ahead and courage to live out your purpose to create the life of your dreams!😘 much love – Julene
P.S. Some things are better expressed in songs – here's a snippet of the lyrics of one of my songs "Take It Back" about redeeming the freedom, hope and joy we had at the beginning of our lives, stay tuned for more from my songwriting sessions…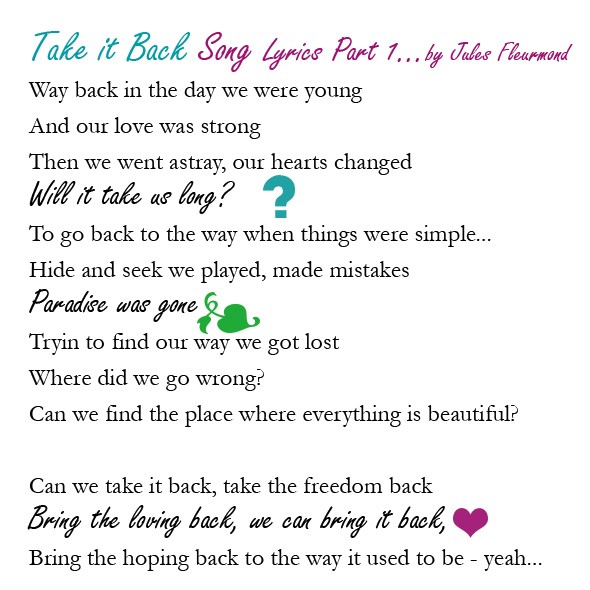 You may also like: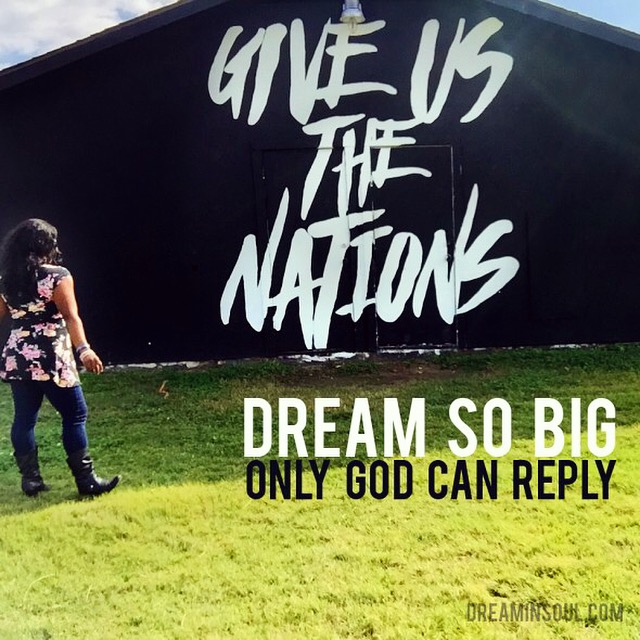 When you have a God-dream 💖 it goes way beyond yourself, it has the good of other people in mind and takes you where you never thought you'd go…it's like you're a kid on an awesome adventure with your Dad a King👑🙌🏻🦁 better than any movie…🎬 (This pic was taken at Christ for the Nations – these people have truly impacted my life, thank you CFNI!) I used to dream so small, dreams that only included me and my desires and passions but God can teach us to dream with Him and have a passion for His plans, for the broken and the world…🌎
He has a dream of everyone discovering His love💞 and truth and being brought back to Him. Let's dream and partner with our Father to help His dreams come true…give us the nations Daddy, give us a bigger dream and sense of purpose that we couldn't come up with on our own, to rock this world with Love, Love, Love…💓 Dream BIG dreams, higher, deeper dreams that have a ripple effect on other people and that require intervention from the One greater than yourself! My mentor Cindy Thienard once wrote me an encouraging note that said: "You have a gift…I am excited and the word of God says! 'Eyes have not seen👀, nor ears have heard👂🏼, nor has it entered into the minds of man the things I have for those who love ME!' Love God and Dream! So BIG! that only God! can REPLY!" Now THAT's how we should dream!
He says "Ask me, and I will make the nations your inheritance, the ends of the earth your possession…" Psalm 2:8
"Even before I was born, the Lord God chose me to serve him and to lead back
the people of Israel.
So the Lord has honored me and made me strong.
Now the Lord says to me, "It isn't enough for you to be merely my servant…" "It's too small a thing (NIV)" "I have placed you here as a light
for other nations;
you must take my saving power
to everyone on earth." Isaiah 49:5-6 CEV
You may also like: