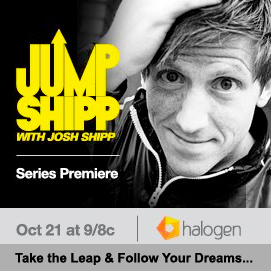 "If you don't bring your dream to life, your dream dies with you."
– Josh Shipp
Josh Shipp is an entrepreneur I'm constantly inspired by; he's an author, youth expert and speaker who is genuinely passionate about seeing teens succeed (I recently invested in his Rock the Stage motivational speaker resource to help to gain insight for my youth speaking career).

Josh is also an INC Magazine 30 under 30 honoree and host of the show Jump Shipp which premieres October 21 on Halogen (find it on your TV or watch online at halogentv.com/shows/jumpshipp). On every episode of Jump Shipp Josh helps a young adult leave their dead-end job to follow the career path of their dreams; you can watch the promo for the show above to get a look at Josh's real and relatable way of motivating people into action.
Jump Shipp is also having a giveaway for an Apple iPad and a $100 Visa Card, you can go here to enter: http://wfi.re/cr4vn
To kick off the show, Josh Shipp had a live online Dream Job Town Hall (click here to hear the call playback) where he gave a valuable talk about how to make the leap form your dead-end job to your dream job. Here are some of my notes below, I hope they inspire you as they did me to make a leap of your own into your dreams (P.S. there's a lot more detail and depth to the actual call, click here to take a listen):
Josh Shipp – 7 Strategic Steps To Getting Your Dream Job
1. Define Your Dream Job
• Don't be vague – the more specific you can be, the better – the more likely it is to come true
• If your bank account was full of money would you still go to work?
• What kind of work would you do if you weren't doing it for the money
• What do you like? What are you good at? – Ask others who are close to you
2. Dream Job Reality Check – Do a gut check
• The motto "Dream it, do it" is impractical – misses so many steps in between
• Ask yourself the hard questions
• Do it now before you invest time, money, energy
• What is your dream job REALLY like?
• What will it cost you?
• Try to talk yourself out of it, is there any reason why this would be a bad idea?
3. Test Drive Your Dream Job – Do a hands-on gut check
• Commit to 15 hours on the Dream Job Experience – You need to try it out first
• Meet with three professionals who have your dream job – mentors are a must
• Send them a piece of snail mail – cuts through the clutter of email
• Introduce yourself, ask for an informal ten minute chat
• They might say no but you have to get used to potential rejection
• Study the origin of their success story not just the success
• What advice would they give to themselves just starting out?
• Ask if you can do some dream job experience with them, to study them, help them, learn from them
You may also like: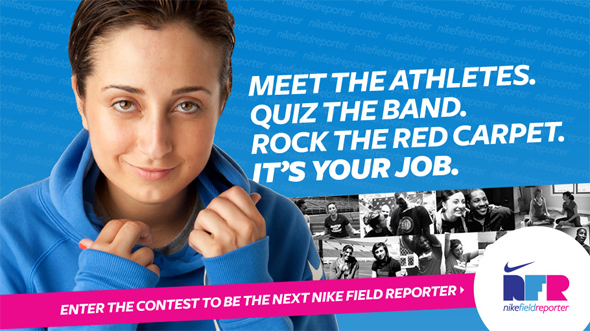 Here's a great opportunity for young women who are into journalism and media:
NikeWomen.com is searching for the One. A girl with crazy charisma and sports savvy to become the next Nike Field Reporter. She'll hop across the continent to interview sports stars, music stars, rising stars and super stars.

She'll chill with them. She'll chat with them. She'll challenge them. And report it all back in the form of videos and blog posts on
nikewomen.com.

Learn more about the contest and enter at:
http://inside.nike.com/blogs/nikewomen-en_US/2010/03/31/about-the-gig

Deadline: Contest ends April 30, 2010

Who's eligible: A one-of-a-kind 18 to 24 year old with crazy charisma and sports savvy.
Check out the promo video below to see clips from past field reporters:
You may also like: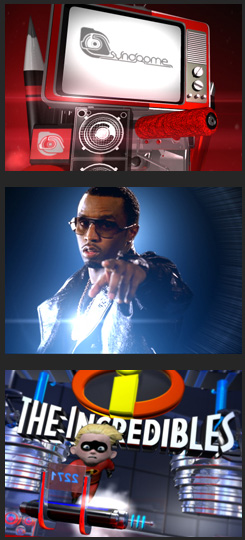 Syndrome Studio, made up of three artists, Micah Hancock, James Larese, and Mars Sandoval, is one of the design studios whose work really inspires me. Syndrome specializes in motion design for multiple mediums, and their work is amazing to view, raging from directing music videos for Estelle, Danity Kane, Day26, Black Eye Peas, Talib Kweli, Lupe Fiasco, Wyclef, Jo Jo, Mickey Avalon and many more. They also did motion graphics for the movie ATL, and for networks like Disney, HGTV, and MTV.
Here's an interview I found with them at Convey Magazine where they described their struggle "to get to the point where we were considered 'directors' as opposed to, 'those graphic guys that also direct.' Their portfolio shows that you can find a way to create a niche within the entertainment industry, or any industry doing what you love and do best, while working hard to make your way to the top. Their success was only achieved with "tenacity, passion, having a precise game plan and believing 1000000% in ourselves… if you don't believe in yourself, no one else will."
I love how they merge motion and 3D work with video production and directing, and how they work in so many mediums to make a finished product. You can click here to view their website with samples of their incredible work. One of my favorites was Keke Palmer's "Keep It Movin'" music video, below, which they animated and directed.

"Don't lose your passion. The second you are chasing a check instead of a vision could be the beginning of the end." - Syndrome Studio in an April 2008 interview with Convey Magazine
Keke Palmer – Keep It Movin' Directed by Syndrome Studio
You may also like: