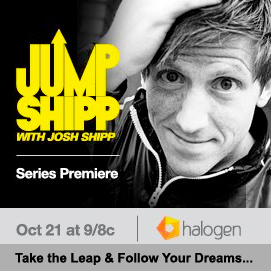 "If you don't bring your dream to life, your dream dies with you."
– Josh Shipp
Josh Shipp is an entrepreneur I'm constantly inspired by; he's an author, youth expert and speaker who is genuinely passionate about seeing teens succeed (I recently invested in his Rock the Stage motivational speaker resource to help to gain insight for my youth speaking career).

Josh is also an INC Magazine 30 under 30 honoree and host of the show Jump Shipp which premieres October 21 on Halogen (find it on your TV or watch online at halogentv.com/shows/jumpshipp). On every episode of Jump Shipp Josh helps a young adult leave their dead-end job to follow the career path of their dreams; you can watch the promo for the show above to get a look at Josh's real and relatable way of motivating people into action.
Jump Shipp is also having a giveaway for an Apple iPad and a $100 Visa Card, you can go here to enter: http://wfi.re/cr4vn
To kick off the show, Josh Shipp had a live online Dream Job Town Hall (click here to hear the call playback) where he gave a valuable talk about how to make the leap form your dead-end job to your dream job. Here are some of my notes below, I hope they inspire you as they did me to make a leap of your own into your dreams (P.S. there's a lot more detail and depth to the actual call, click here to take a listen):
Josh Shipp – 7 Strategic Steps To Getting Your Dream Job
1. Define Your Dream Job
• Don't be vague – the more specific you can be, the better – the more likely it is to come true
• If your bank account was full of money would you still go to work?
• What kind of work would you do if you weren't doing it for the money
• What do you like? What are you good at? – Ask others who are close to you
2. Dream Job Reality Check – Do a gut check
• The motto "Dream it, do it" is impractical – misses so many steps in between
• Ask yourself the hard questions
• Do it now before you invest time, money, energy
• What is your dream job REALLY like?
• What will it cost you?
• Try to talk yourself out of it, is there any reason why this would be a bad idea?
3. Test Drive Your Dream Job – Do a hands-on gut check
• Commit to 15 hours on the Dream Job Experience – You need to try it out first
• Meet with three professionals who have your dream job – mentors are a must
• Send them a piece of snail mail – cuts through the clutter of email
• Introduce yourself, ask for an informal ten minute chat
• They might say no but you have to get used to potential rejection
• Study the origin of their success story not just the success
• What advice would they give to themselves just starting out?
• Ask if you can do some dream job experience with them, to study them, help them, learn from them
• If they say no, ask if they could introduce you to a colleague to do some dream job experience
• Define mentors for different areas of your life – eg. spiritual mentor, health mentor, family and marriage
• Some mentors can be long distance but have at least one you can meet in person
• Most people who talk to mentors don't talk to them like they are smart successful and busy – be sure to respect their time
• Have very specific questions in hand
4. Choose Your Dream Job Path
• Will you be working for yourself or for others?
• Unless its not humanly possible, work for someone else first before going out on your own – it will be like a multi-year internship and you can make partnerships and build your network
• Learn before investing your own money and let's you focus on the job instead of running the business
5. Create Your Dream Job Plan
• Make a checklist of all of the skill-sets you need to acquire – What do you need to invest? What resources do you need?
• If you're vague about your dream job all it will ever be is a dream
• You have to know exactly where you are on this process
• Do the work that is not sexy, that is not glamorous to get there
• Passion without direction won't work!
6. Implement Your Dream Job Plan
• If you make it here you are the few, the brave
• Success is built around overcoming discouragement
• Lose your fear of failure by recognizing it as a way to learn! – It takes failure to build mental toughness
• Success is all about having mental fitness
• Doing nothing is failing to live the life that you could be living
• This isn't going to happen overnight but it is worth it – an "overnight success" takes 10-years to build
• You got to start now even if it is just a little thing
• Focus on your goal and know that you will eventually reach it
• Surround yourself with other people who are reaching goals
• "It ain't easy but it's what gets you to the Promised Land."
• No one is entitled to their dream job – you have to earn it
7. Mastering and Mentoring
• Master your craft
• Mentor others to help them reach success too
• Advice on people who may be "comfortable" in their unsatisfying job – You cannot change anyone unless they're willing to change
• Let your life be an example – Be there for them
• Share resources that have helped and impacted you
You may also like:
Comments
comments