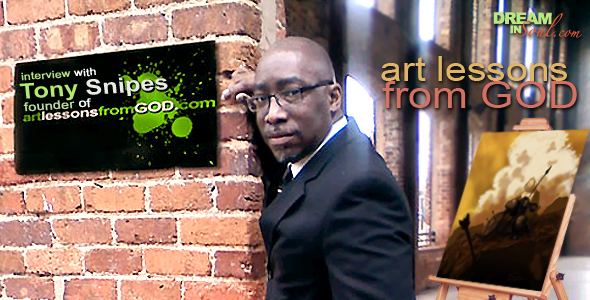 On DreaminSoul.com I interviewed Tony Snipes, a visual artist gives advice to other artists on discovering their creative purpose…
Author, speaker and ministry leader Tony Snipes helps today's gifted artisans answer questions about their purpose and creative calling through his initiatives Art Lessons From God and Kreative Kingdom.


"What is it that you love doing that you wouldn't even have to have anybody pay you for… That's your passion…the beauty of it would be that if you're pursuing that and you're getting paid for it then it's not even like work." – Tony Snipes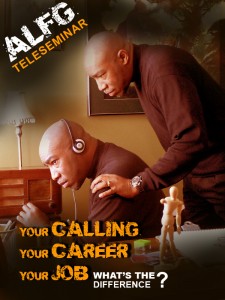 Be sure to check out the resource links at the end of the interview including a free download of Tony's audio resource "How To Identify Your Creative Calling: Your CALLING, Your CAREER, Your JOB…What's The Difference?"
---
Most everyone has asked these questions:
Who am I?
Why am I here?
What should I be doing?
Artists in particular, from painters to musicians, may ask these questions regarding their gifts:
Who am I as an artist?
Why do I have this talent?
What does God want me to do with it?
Tony Snipes, a gifted artist himself and founder of Kreative Kingdom, Inc. a non-profit faith-based art initiative, began asking these questions and created a resource to help other artists discover their creative purpose.
Tony's project, Art Lessons from God delves into these questions of gifting and calling. The blog, workshops, books and other resources were created with the goal of helping artists and designers discover God's purpose and plan for their artistic talent. Watch Tony introduce the site below:
Though the site is targeted toward visual artists it has much insight that could inspire artists of any type from writers and performers to musicians and filmmakers. Many of the topics explored can apply to a variety of arts, like "Anointed versus Talented: What's the Difference?" to "Discovering a "God" idea vs a "Good" idea."
Often in our society we acknowledge the "how" regarding talents of individuals but may not always consider the deeper questions involved with "why". In this interview Tony Snipes discusses his background in the visual arts and gives advice to other artists in figuring out their "why" and God's purpose for them:



Dream in Soul: Hi Tony, thanks for speaking to me today. Can you tell us a little about who you are: What is your background in art and your profession?
Tony Snipes: Well prior to going into graphic design and illustration I have been drawing and painting all of my life but especially kind of training myself to draw and sketch from my comic books as a kid. So I did a lot of drawing back then, and am professionally trained as a graphic designer – graphic design and illustration…that's pretty much my professional background with art…




Visit my website Dream in Soul (www.dreaminsoul.com) for more updates and inspiration, and check out the latest posts from the site below:
You may also like:
Comments
comments