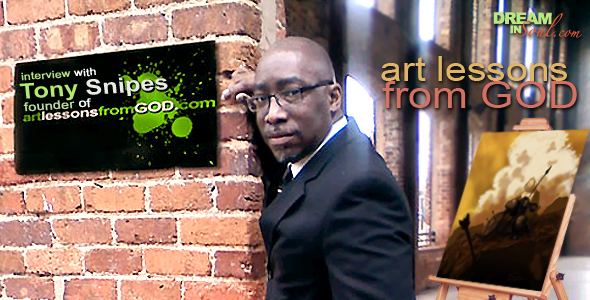 On DreaminSoul.com I interviewed Tony Snipes, a visual artist gives advice to other artists on discovering their creative purpose…
Author, speaker and ministry leader Tony Snipes helps today's gifted artisans answer questions about their purpose and creative calling through his initiatives Art Lessons From God and Kreative Kingdom.


"What is it that you love doing that you wouldn't even have to have anybody pay you for… That's your passion…the beauty of it would be that if you're pursuing that and you're getting paid for it then it's not even like work." – Tony Snipes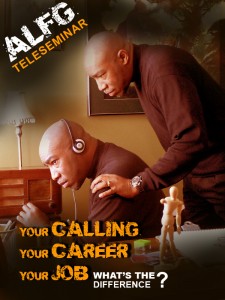 Be sure to check out the resource links at the end of the interview including a free download of Tony's audio resource "How To Identify Your Creative Calling: Your CALLING, Your CAREER, Your JOB…What's The Difference?"
---
Most everyone has asked these questions:
Who am I?
Why am I here?
What should I be doing?
Artists in particular, from painters to musicians, may ask these questions regarding their gifts:
Who am I as an artist?
Why do I have this talent?
What does God want me to do with it?
Tony Snipes, a gifted artist himself and founder of Kreative Kingdom, Inc. a non-profit faith-based art initiative, began asking these questions and created a resource to help other artists discover their creative purpose.
Tony's project, Art Lessons from God delves into these questions of gifting and calling. The blog, workshops, books and other resources were created with the goal of helping artists and designers discover God's purpose and plan for their artistic talent. Watch Tony introduce the site below:
Though the site is targeted toward visual artists it has much insight that could inspire artists of any type from writers and performers to musicians and filmmakers. Many of the topics explored can apply to a variety of arts, like "Anointed versus Talented: What's the Difference?" to "Discovering a "God" idea vs a "Good" idea."
Often in our society we acknowledge the "how" regarding talents of individuals but may not always consider the deeper questions involved with "why". In this interview Tony Snipes discusses his background in the visual arts and gives advice to other artists in figuring out their "why" and God's purpose for them:



Dream in Soul: Hi Tony, thanks for speaking to me today. Can you tell us a little about who you are: What is your background in art and your profession?
Tony Snipes: Well prior to going into graphic design and illustration I have been drawing and painting all of my life but especially kind of training myself to draw and sketch from my comic books as a kid. So I did a lot of drawing back then, and am professionally trained as a graphic designer – graphic design and illustration…that's pretty much my professional background with art…




Visit my website Dream in Soul (www.dreaminsoul.com) for more updates and inspiration, and check out the latest posts from the site below:
You may also like: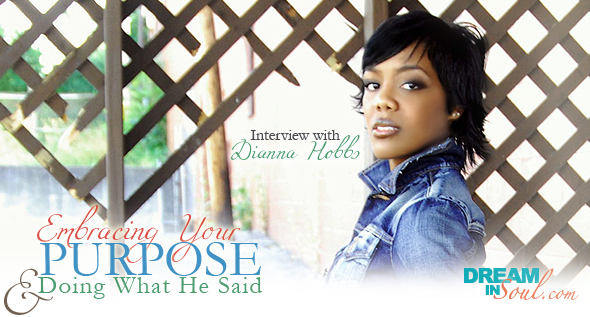 On my site Dream in Soul I had the honor to interview Dianna Hobbs, who is a writer, journalist, speaker, entrepreneur and now recording artist. She shared her heart and journey of pursuing her buried passion and gives advice to others who may need direction in bringing their God-given dreams into fruition. I am so very inspired by her wisdom and the many facets of her ministry, especially her publication for women, EEW Magazine and her new music. I had her first single "Do What He Said" on repeat recently while working on a project I had been struggling with. You will definitely be inspired by her words of encouragement:


When you have a divine urging inside of your heart it can be hard to ignore it, but can sometimes become difficult to press forward to what God has called you to do. Purpose often doesn't come without its detours especially when obstacles and disappointments blur the vision God placed in our heart.
Dianna Hobbs can attest to facing obstacles when pursuing music, her buried passion. As the Founder and Editor-In-Chief of EEW Magazine, the premiere Christian publication for African American women, she has paved a path of influence in media throughout the years, along with pouring out daily encouragement on her blog.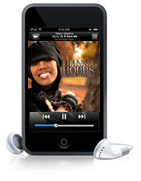 Behind the scenes though she felt God drawing her to begin her music ministry. It was only recently that she got the courage to do what He said, and thankfully she did. Now Dianna is inspiring many hearts through her music, which blends CCM, pop, R&B, and sometimes, soft rock along with encouraging messages. In this interview Dianna talks about her journey and gives advice to others who may need direction in bringing their God-given dreams into fruition…




You may also like:
On Dream in Soul I interviewed Gospel artist Kirk Franklin about his new book The Blueprint. He dropped much knowledge about how to regard our gifts and talents and living above the storms in life. Read and listen to the interview below: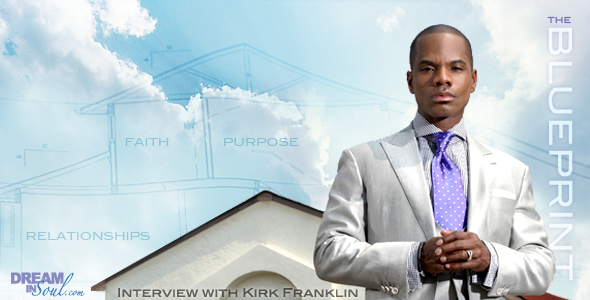 Pursuing A Life Mapped By the Maker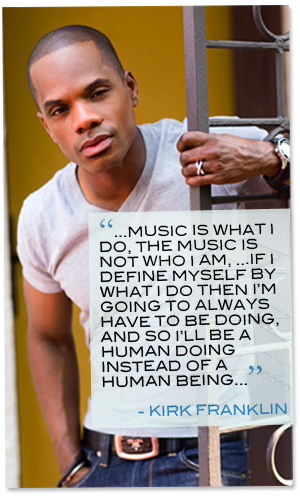 His music and ministry spans generations. From producer, to musician, speaker and host, Kirk Franklin's ability to be both light-hearted with humor and raw with realness and honesty draws in people of all ages and backgrounds. Adding a new level of transparency and spiritual insight, Kirk Franklin launches his first book The Blueprint: A Plan for Living Above Life's Storms on May 18. In the book he charts a guide of personable wisdom speaking on everything from faith and marriage to race and life in the black community. "The Blueprint" aims to inspire anyone to view and plan his or her life from an unearthly perspective.
Kirk Franklin spoke to Dream in Soul about the vision of the book, his ministry expanding into the Twitterverse, his definition of success, and creating a bridge between contemporary Christian and gospel music. Tune into the conversation below:


Dream in Soul: Hi, thank you so much for talking to me today, it's such an honor. I wanted to start out by asking you what inspired you to write this book at this point in your life and what was your vision in writing it?

KF: The book came about because I've been doing a lot of public speaking, and speaking at colleges, churches, and conferences, and so people thought that it would be good that I did a book. So a couple of publishers became interested in the idea, and now here we are with "The Blueprint."
DS: What was your vision, did you have a specific age group in mind when writing the book or is it for everyone?

You may also like:
On Dream in Soul I interviewed Marvin Sapp, pastor and Gospel artist whose latest album "Here I Am" has made a historical mark at No.2 on the Billboard 200 charts. Read and click below for the interview.
Here I Am: Interview With Marvin Sapp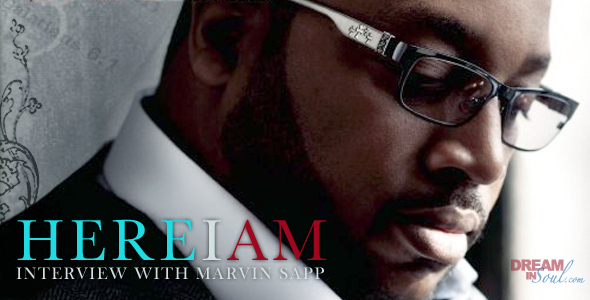 Marvin Sapp's latest album "Here I Am" has reached No.2 on the Billboard 200 chart, making it the highest debuting Gospel release ever.*
---
"Here I Am"
Within the resounding success of his latest album "Here I Am," and the breakthrough his previous project "Thirsty," Marvin Sapp is still down-to-earth, thankful and even surprised at how his music has been embraced. Among the accomplishments he stays continually grounded in the purpose of his mission to reach the masses. As the senior pastor of Lighthouse Full Life Center Church in Michigan he stands firm in his creed "I am a preacher who happens to sing," and presents both his messages and music with powerful, life-changing Word and truth.
"Here I Am" his eighth album, recorded live last October, is filled with heartfelt encouragement and a mix of musical arrangements from more traditional gospel to the more contemporary. The project and messages within are sure to be enjoyed by a range of people, clearly shown by the album's surge to the No.1 position on Billboard's Gospel and Christian charts and No.2 on the Billboard 200.
Marvin Sapp chatted with Dream in Soul about the vision behind the album, and also shared some Soul Dreamer Inspiration about ministry, industry, talent and calling. Read and listen in to the conversation below:
Dream in Soul: Hi Pastor Sapp, thank you for taking the time to speak to me today. Can you talk about where you are now since your last project "Thirsty" and what inspired you to create this new project "Here I Am"?

Marvin Sapp: Well this record "Here I Am" is just a tad bit different than "Thirsty." "Thirsty" is a little more worshipful than this record. There's worship on it, but this one is not only worship but is also a record that really strives to encourage and enrich, and to talk about personal identity, as pertaining to personal identity in Christ.
So many times we feel as if we are inadequate and that we don't possess any abilities and skills to be able to accomplish the goals that God has set for us to accomplish and go after. "Here I Am" just speaks to that whole concept of people really understanding that man looks at the outward appearance but it's God who looks at the heart, and how we don't need people to define us.
DS: Definitely, the song "Never Would Have Made It," touched a lot of lives and had great success. Did you come into this new project with any type of expectations, fears or hopes?
Listen to Marvin Sapp Answer Below
DS: Definitely, I know the song "The Best in Me" was very also popular when it came out. Were you surprised at how successful it is right now?

You may also like: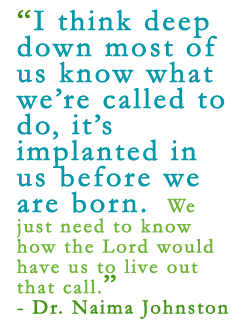 On my other site Dream in Soul, I interviewed Dr. Naima Johnston an inspirational singer and author who gave tips for artists on following their calling. Check out part of the interview below and click "Continue Reading" for the full interviews. Dr. Naima also has seminars to help anyone who needs guidance to reach their dreams; visit her at www.naimajohnston.com for more information.
Dr. Naima Johnston shares how she overcame many obstacles to respond to her call to sing. Her new book Called To Sing: 13 Mistakes To Avoid When Starting In Music Ministry addresses issues that many artists fail to recognize as potential problems that can stunt the growth of their ministries.
---
Attempted suicide at 14. Sexually assaulted as a teenager. Told she wasn't good enough to sing at 18. Struggled with eating disorders in college. Abused by live in boyfriend at 22. Saved by grace at 24. Broken-hearted and desolate at 30.
These are some of the tribulations that Dr. Naima Johnston faced throughout her life. In her early 30s, after she left her position as the Associate Director of Student Life at Wright State University to pursue a career in Christian music, she found herself confused, financially bankrupt, emotionally drained, and doubting the calling of God.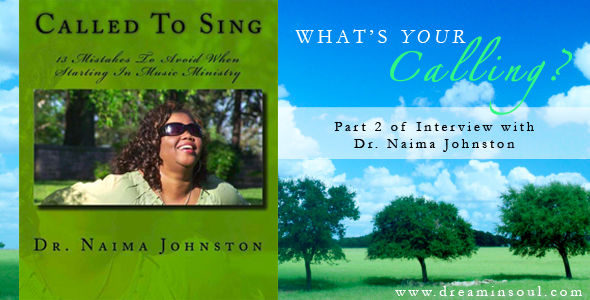 In Part 1 of the interview, Dr. Naima Johnston introduced herself and her passion to share her past mistakes in ministry to help aspiring artists. In Part 2 she shares how she overcame many obstacles to respond to her call to sing, and gives even more advice on finding your calling. Her new book Called To Sing: 13 Mistakes To Avoid When Starting In Music Ministry addresses issues that many artists fail to recognize as potential problems that can stunt the growth of their ministries. If you missed it click here to read Part 1 of the interview.
---
Dream in Soul: How do you think someone knows what their ministry calling is? How do you know if you are called to sing?

You may also like: