On Dream in Soul I interviewed Gospel artist Kirk Franklin about his new book The Blueprint. He dropped much knowledge about how to regard our gifts and talents and living above the storms in life. Read and listen to the interview below: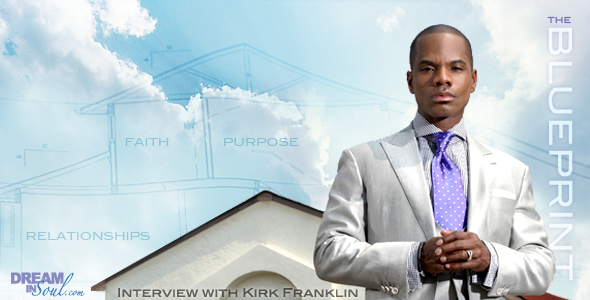 Pursuing A Life Mapped By the Maker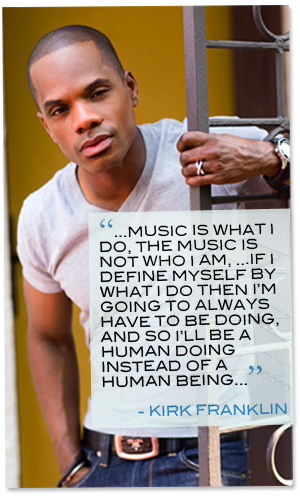 His music and ministry spans generations. From producer, to musician, speaker and host, Kirk Franklin's ability to be both light-hearted with humor and raw with realness and honesty draws in people of all ages and backgrounds. Adding a new level of transparency and spiritual insight, Kirk Franklin launches his first book The Blueprint: A Plan for Living Above Life's Storms on May 18. In the book he charts a guide of personable wisdom speaking on everything from faith and marriage to race and life in the black community. "The Blueprint" aims to inspire anyone to view and plan his or her life from an unearthly perspective.
Kirk Franklin spoke to Dream in Soul about the vision of the book, his ministry expanding into the Twitterverse, his definition of success, and creating a bridge between contemporary Christian and gospel music. Tune into the conversation below:


Dream in Soul: Hi, thank you so much for talking to me today, it's such an honor. I wanted to start out by asking you what inspired you to write this book at this point in your life and what was your vision in writing it?

KF: The book came about because I've been doing a lot of public speaking, and speaking at colleges, churches, and conferences, and so people thought that it would be good that I did a book. So a couple of publishers became interested in the idea, and now here we are with "The Blueprint."
DS: What was your vision, did you have a specific age group in mind when writing the book or is it for everyone?

You may also like:
Comments
comments