On Dream in Soul I interviewed Marvin Sapp, pastor and Gospel artist whose latest album "Here I Am" has made a historical mark at No.2 on the Billboard 200 charts. Read and click below for the interview.
Here I Am: Interview With Marvin Sapp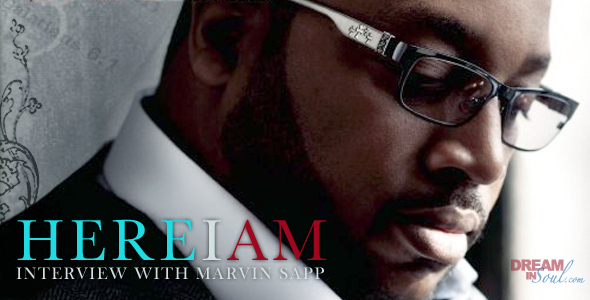 Marvin Sapp's latest album "Here I Am" has reached No.2 on the Billboard 200 chart, making it the highest debuting Gospel release ever.*
---
"Here I Am"
Within the resounding success of his latest album "Here I Am," and the breakthrough his previous project "Thirsty," Marvin Sapp is still down-to-earth, thankful and even surprised at how his music has been embraced. Among the accomplishments he stays continually grounded in the purpose of his mission to reach the masses. As the senior pastor of Lighthouse Full Life Center Church in Michigan he stands firm in his creed "I am a preacher who happens to sing," and presents both his messages and music with powerful, life-changing Word and truth.
"Here I Am" his eighth album, recorded live last October, is filled with heartfelt encouragement and a mix of musical arrangements from more traditional gospel to the more contemporary. The project and messages within are sure to be enjoyed by a range of people, clearly shown by the album's surge to the No.1 position on Billboard's Gospel and Christian charts and No.2 on the Billboard 200.
Marvin Sapp chatted with Dream in Soul about the vision behind the album, and also shared some Soul Dreamer Inspiration about ministry, industry, talent and calling. Read and listen in to the conversation below:
Dream in Soul: Hi Pastor Sapp, thank you for taking the time to speak to me today. Can you talk about where you are now since your last project "Thirsty" and what inspired you to create this new project "Here I Am"?

Marvin Sapp: Well this record "Here I Am" is just a tad bit different than "Thirsty." "Thirsty" is a little more worshipful than this record. There's worship on it, but this one is not only worship but is also a record that really strives to encourage and enrich, and to talk about personal identity, as pertaining to personal identity in Christ.
So many times we feel as if we are inadequate and that we don't possess any abilities and skills to be able to accomplish the goals that God has set for us to accomplish and go after. "Here I Am" just speaks to that whole concept of people really understanding that man looks at the outward appearance but it's God who looks at the heart, and how we don't need people to define us.
DS: Definitely, the song "Never Would Have Made It," touched a lot of lives and had great success. Did you come into this new project with any type of expectations, fears or hopes?
Listen to Marvin Sapp Answer Below
DS: Definitely, I know the song "The Best in Me" was very also popular when it came out. Were you surprised at how successful it is right now?

You may also like:
Comments
comments