There's a dream that beats in the depths of your heart, a song YOU were created to sing – and when you muster the courage to step out and be bold, with Love you can do anything…
I was immensely inspired by the remembrance service for Dr. Maya Angelou, one of my greatest creative and life influences. Above is a snippet of a poem "Empowered by Her" that I originally wrote for my friend Kara's special birthday celebration during Women's History Month this year.
I thought about Dr. Angelou's impact on my writing and poetry as I was making the full video which I will launch, and how her voice will live on in those she empowered. I found my voice and am becoming brave enough to overcome the fear of rejection to live differently because she was bold enough to live and dream on purpose…
"The caged bird sings with a fearful trill, of things unknown but longed for still and his tune is heard on the distant hill for the caged bird sings of freedom." – Dr. Maya Angelou
You may also like: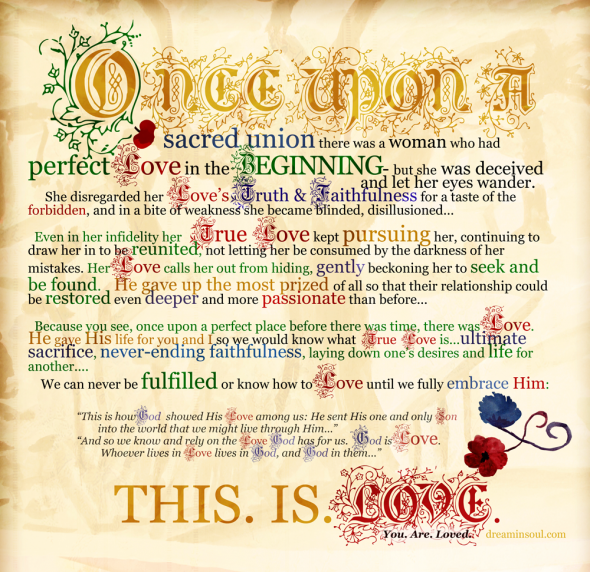 This is our love story – how I met the love of my life, and how I said Yes to forever… I hope it'll give inspire to anyone looking for that special someone:
Once upon a sacred union there was a woman who had perfect Love in the beginning- but she was deceived and let her eyes wander. She disregarded Love's truth and faithfulness for a taste of the forbidden, and in a bite of weakness she became blinded, disillusioned…
Even in her infidelity her True Love kept pursuing her, continuing to draw her in to be reunited, not letting her be consumed by the darkness of her mistakes. Her Love calls to her out from hiding, gently beckoning her seek and be found. He gave up the most prized of all, and gave the greatest gift so that their relationship could be restored even deeper and more passionate than before…
You may also like:
We all miss out if you keep your dreams, talents and passions buried inside – arise and shine.
Check out more shirts from the Arise and Shine Collection of my apparel line Envibrance Dream Creations.
You may also like:




Watch the video above for a poem I wrote recently to encourage anyone who may be weary in following their dreams. Those dreams were planted in your heart for a reason – don't give up on your purpose…you'll reap a harvest in due season.
This poem was inspired by my own journey throughout the years of experiencing visions yet sometimes getting discouraged when the dreams don't always grow the way I imagined. Recently though I was inspired by the wisdom of mentors who encouraged me to nurture the deepest visions in my heart.
During a session of the Inner Circle Mentoring Mastermind (an enriching program I've experienced since 2011) with an amazing Reinvention Strategist Marshawn Evans she talked about the importance of dreams and said something that pulled on my heart strings:
"Dreams are designed to be experienced, not just imagined…to be engaged, not to be distant." – Marshawn Evans
When she said that something inside of me was sparked and I realized that without knowing it I had disqualified myself from certain dreams because they seemed too lofty and impractical, but these are exactly the type of dreams that God wants to fulfill in our lives.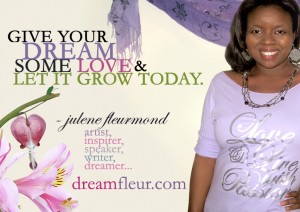 She went on to talk about how dreams are designed too big so you can grow into them, and that you need faith and God in order to see them come to reality. In Marshawn Evans' Reinvent ME LIVE series that began in January she continued to talk about how important it is to take action on your dreams, find mentors and move into a larger garden when you have outgrown the place you have been. Soon after that revitalizing session (which I would recommend to anyone who is looking to fulfill a dream) I was inspired to share what I learned and bring some of my own deeply buried dreams to life, and it came into form as this poem.
I have so much expectancy for 2012, and recently one of my dreams which I had abandoned years ago is beginning to come into fruition. Since I was a little girl I had always wanted to sing to inspire others through music and creative performances, but had always let fear and shyness eclipse that dream. I'm excited to say that after months of auditioning with an established music company, I was recently offered an Artist Development Agreement to create an inspirational music platform (which I will announce more in detail on the site later). It wasn't easy leading up to this point but this example is proof to me that those deep, decaying dreams in your heart can indeed come to life if you put in the work to revive and sustain them.
What's your dream? What vision or passion have you set aside for the more practical and everyday cares of life? I dare you to nourish the seeds of those dreams and bring them to the Light – God can take you further and higher than you can go on your own. Give your dreams some love and let them grow today – Dear Dreamer, the world awaits…
- Julene Fleurmond, dreamfleur.com
You may also like:



Let the Dream Live
A Tribute to Martin Luther King Jr. and Coretta Scott King
By: DreamFleur aka Julene
They had a dream;
A dream of a world where people of all races
Of ALL colors
Could join hands in unity
To overcome injustice.
A dream –
Where one would "not be judged
By the color of his skin,
Buy by the content of his character."
A dream of freedom,
Where a child did not have to fear
what he was, the way he was made
Did not have to be ashamed of himself
But could live, play, learn, in peace.
Are you living that dream today?
We must not be chained to
The lead weight of prejudice.
We must disperse the clouds of darkness
That blind us,
That cause us to discriminate even
Against our own kind.
We must not let our words,
Strip another of his right to live freely
Through gossip, criticism and judgment.
Instead we must realize that
We were all created equal,
By the same Creator,
Not the God of Black people
But the God of ALL people.
We must not let our words or actions
Separate us from one another;
Because "whatever affects one directly,
Affects all indirectly."
We must realize
That our lives are not merely for our own gain
For our own pleasure,
For the pursuit of the physical, the material
For power, status, for wealth.
The true prize comes,
When we help one another
Reach the dream.
When we assist our brothers and sisters of ANY color
And resist the urge to live life for our own survival.
"We must learn to live together as brothers
Or perish together as fools."
The dream, the sweat, the tears, the pain
That those who before us bore
Was not endured in vain.
The sky is boundless
To the possibilities that our lives can bring.
So let freedom ring from your actions
Let freedom ring from your passion in life
Let it ring from your words,
From your choices.
Let us not "satisfy our thirst for freedom
by drinking from the cup of bitterness and hatred."
Let us not let the darkness of ignorance
corrode, paralyze, confuse and plunge us
"Into the dark abyss of annihilation."
Let us remember where we came from;
Let us celebrate what was done to get us here
Let us act to keep the dream alive.
Let us televise the dream
So that our children can see its beauty
So that others can notice the difference,
So that others can be inspired.
Let us live vigilantly until we are free at last,
Until "justice rolls down like waters and
Righteousness like a mighty stream."
They had a dream
A dream for ALL of God's children
Black, white, red, yellow, and brown
To be granted the right to live richly
Freely, purposely, confidently.
Will you live the dream, or
Will YOU let that dream die?
Quotations taken from various speeches of Rev. Martin Luther King, Jr. (1929-1968)
"Let us give the the phrase 'living well' a new, deeper meaning, not living well [just] in the material sense, but let's try to live well by becoming more loving, more caring and compassionate, more generous and open-hearted to people in need, not only in our own country, but around the world."
– Coretta Scott King (1927-2006)
______________________________
Note: This poem I wrote was previously published in my University's Unified Newsletter.
You may also like: