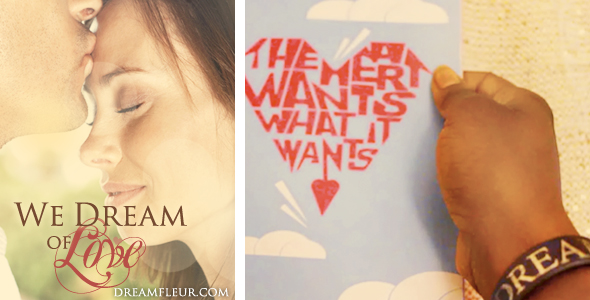 Selena Gomez says in one of her latest songs that the heart wants what it wants. Listening to the lyrics I find myself relating to the song more than I thought I did…do you? Here's my take of what the heart wants, part of this month's Speak Up Project and my We Dream of Love series…
Our hearts are longing for affirmation, romance, love…Stay tuned to hear my story of what my heart wants in Part 2.
Below catch a glimpse of Selena Gomez's heart in her diary from her "Heart Wants What It Wants" Performance at the American Music Awards…I love how she prepares and how she wants to give her best amidst deep emotions – it's inspiring to see her be vulnerable and herself…
I was also deeply inspired by this awesome message that encourages singles who are looking for love:
We all fall under two camps: some of us are happy to be alone and don't want a relationship, while some of us are just wishing and waiting for the right guy or girl to come along any minute. But, all of us are missing out on true love. That true love always involves God because God is true love. When we feel unlovable, God sees us as being worthy. He seeks our own best and He bears all thing. He made the first move, making a way for us to experience the fullness of His love through Christ dying for us while we were still sinners. We may feel like we can't be loved and want to resist it, but no matter what we've done, we can never outrun God's true love for us.
You may also like:
Comments
comments