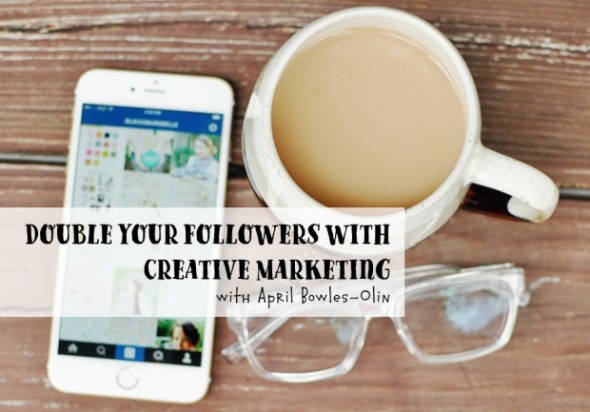 This post is a part of the Double Your Followers blog tour to spread the word about April Bowles-Olin's upcoming CreativeLive course. Does hearing the word 'marketing' make your armpits start to drip with anxiety? Are you terrified of sounding salesy or like you have the personality of a dead blowfish? If so, come join me and 2,500+ entrepreneurs who're taking April's latest CreativeLive course, Double Your Followers with Creative Marketing. You can RSVP and watch for FREE. Yep, free. High fives, wildflowers, wine samples. Who doesn't love free?
April Bowles Olin is one of my favorite creative experts and I love the courses she's done on CreativeLive – my very favorite platform for learning about everything creative (click here to check out my previous blog tour post about her CreativeLive course on building your creative blog – I learned so much and April and her partner in creativity Mayi also inspired me to wear a tutu, see the evidence below!;)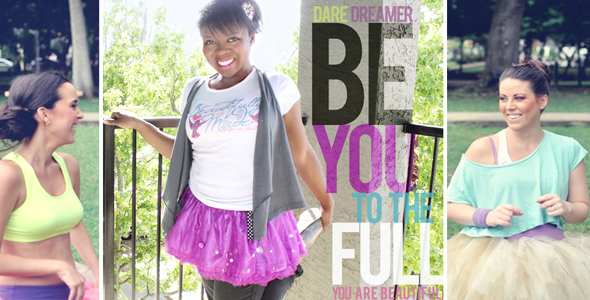 April's upcoming course "Double Your Followers with Creative Marketing" caught my interest and I wanted to share it with you all to share the love on reaching your audience to grow your creative dreams. As a visual artist, writer and actress I know what it feels like to have the passion to create but not so much knowledge about sharing my art with the world.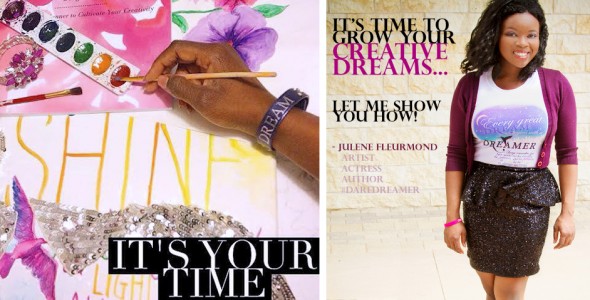 One of my favorite ways of growing my creative business is through speaking. I've been doing live speaking events for several years now and have found that with every event I do I grow my audience and get new requests from clients. I like to get creative with my speaking engagements, and since I often speak to groups of parents and their kids to speak about dreams and entrepreneurship it's not uncommon for me to bring props and special guests like Batman to do creative opening skits (see below;) or to dress up as a superhero myself (the kids love it:). You can do live speaking engagements in any format you'd like – get creative with it and make it your own!

If the thought of public speaking strikes terror in your heart – fear not! There are so many ways of sharing your voice and your story that can be effective in engaging your audience. The funny thing is I used to shake in my boots, literally at the prospect of speaking on stage, after years of suffering with social anxiety but now I look forward to it!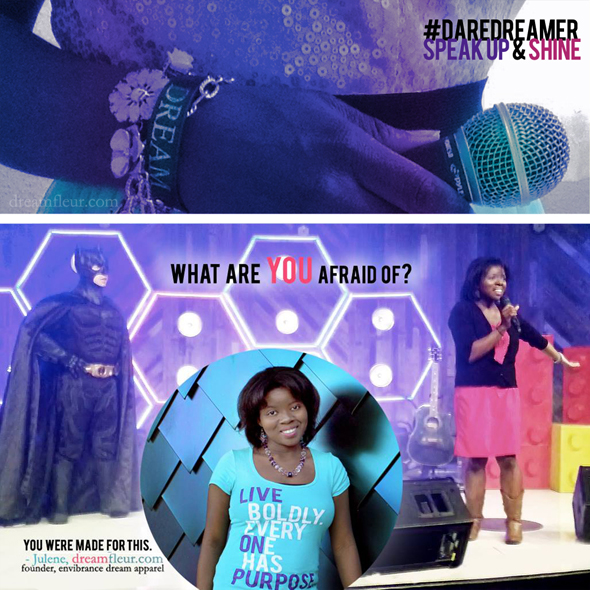 When you speak at events it sets you apart as an expert as well as puts you in front of people who can relate to you on a more personal level than if they merely came across your website because when you speak they get to see your amazing personality and heart shining through your words. Also, I believe whatever your business it's so important to share your voice and your story. Everyone has purpose and people to reach to give hope with their story and what you've accomplished or overcome – whether you're helping women become more confident with your product or service or if you're passionate about empowering kids and teens discover purpose and entrepreneurship at a young age, like I do.
It's Time to Speak Up and Shine
If speaking on a big stage is not for you, here are some other ways for you to grow your creative business through speaking up:


Start Small, Make a Big Bang - Instead of doing big keynote speeches you can do smaller workshops at local libraries, churches, universities, or even host one at your home to teach on a topic you're passionate about. I've done this by speaking at schools and youth events, sharing with smaller groups of teens. Workshops are usually more personal and interactive then keynote speaking and you can bring activities and creative printed materials for people to bring home because there are less people – workshops are definitely one of my favorite ways of sharing with others.
Show Up and Shine – Come up with topics to pitch to local news stations to share a segment on a relevant issue that can be newsworthy for them as well as reach your audience to share your expertise. I've spoken on my local ABC affiliate about motivating youth through entrepreneurship and afterwards got emails and requests through my website. You can also reach out to podcasts and online shows as well – or even start your own podcast or online show.




Of Course – You Can Do It! Create an online course, creative Youtube videos or webinars sharing your expertise. You can find an already existing platform like April is doing on Creativelive or create your own online video course (April shares amazing tips on how to create a course in her blog series here).
Real Talk, Real Time – Do livestreams sharing your expertise, behind-the-scenes of your business and being yourself! The app Periscope is an amazing way to do this – it connects you to people around the world in real time and allows you to connect and interact. It's also so personal and raw, you can wear make up if you'd like or not and you don't have to worry about editing your bloopers or a fancy set-up except for your phone and a tripod because it's less "high maintenance" then other platforms – this is where you can be YOU – raw and uncut.

Check out April's tips on getting started on Periscope here and follow her here. (By the way you can follow me on Periscope @Dreamfleur where I share inspiration on following your dreams!:)

Short and Sweet – I also love sharing quick tips and inspiration in videos on other platforms like Instagram, Youtube, Snapchat and Vine – pick which platform works best for you and do your thang! The more people see your lovely face and hear your unique personality come through your voice the more they'll trust and realize how much they like you!
Your voice is powerful! Find ways to get in front of your audience and DareDreamer rise up and shine! If I, a formerly painfully shy wallflower can do it, anyone can! You were made for this – to share your voice and live on purpose! The world awaits…
Below I share my voice in a quick video to inspire you (bottom left photo credit: Thank you Sue Bryce, I love her work!).
Also, if you'd like to stay in touch and find out more about growing your creative dreams and my upcoming resources and creative products, join the DareDreamer Community below! We'd love to have you! <3
You may also like:
Comments
comments