This post is part of a blog tour featuring a group of creative dreamers who were inspired by April Bowle's workshop Build a Successful Creative Blog on CreativeLive.com. Find links to other places to visit on this tour at the end of this post.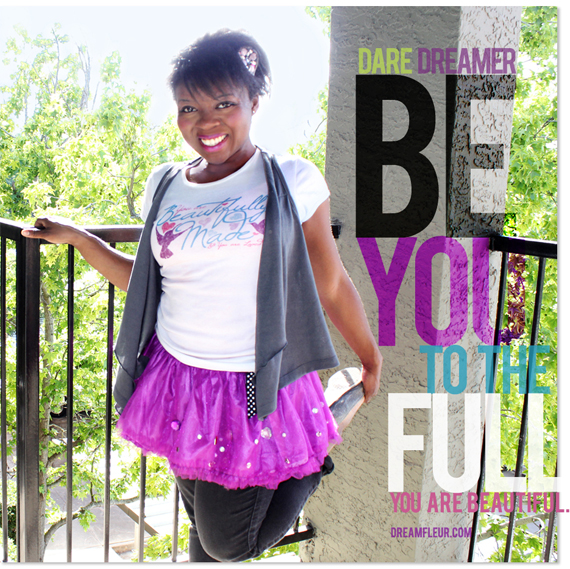 What if that dream you've been nourishing and watering shows no signs of growth and your passion for it begins to fade?
It can be easy to get frustrated and disillusioned when the dream you've worked so hard on seems to be shriveling and the aspiration you were once excited about becomes a burden and chore. Instead of doing what you once loved you just want to bury your hope and put your drying, disappointing dream to rest…
For me, blogging became that dormant dream that I loved to do in the beginning but over the years the process began to get stale. It was a combination of feeling isolated without community in the blogging world, feeling as if my words were insignificant and not affecting lives as I hoped they were and feeling stuck and tired of the same routine that caused me to take a break for blogging for a few weeks…which then turned into a desert season of few months…which then became sporadic posting here and there when I felt a sprinkle of inspiration.
Recently though it was a waterfall of inspiration from a workshop Build a Successful Creative Blog on CreativeLive.com taught by April Bowles that revived my passion for blogging and the dream of impacting others through my art, writing and creativity. I have been following April online for a few years now and have been continually inspired by her blog and brand at Blacksburg Belle where she shares her passions and helps entrepreneurs bring their creative dreams to reality through coaching and various resources full of personality and wisdom.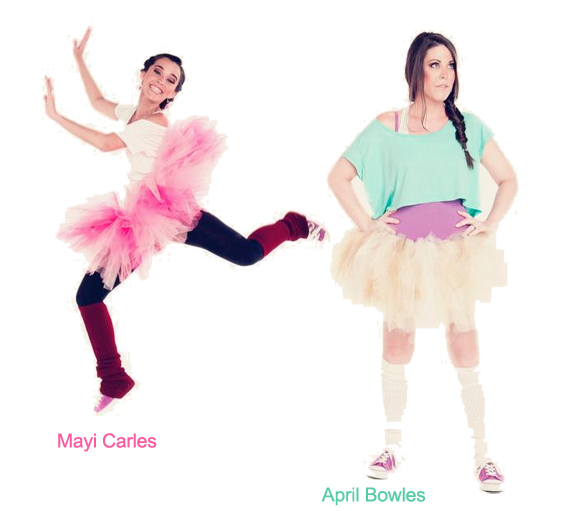 The way April's workshop motivated me the most is by showing me that I was not alone in my fears and challenges with blogging, like being afraid that I'll never find the audience I am meant to reach. April's approach was warm and her advice was refreshing and practical. What she shared in the 3-day workshop helped reignite my passion for blogging and following my dreams. Here are some of the tips she gave that stood out the most and can be applied for anyone following a dream:

3. Cultivate Community: A dream should never be pursued alone – isolation is a weed that can suffocate the greatest of dreams! April suggests reaching out to others who are doing something similar to you, such as commenting on blogs, inviting others to partner with you (April's dream partner Mayi Carles, pictured above, of the Heart Made blog also made an inspiring appearance) and reaching out on social media in ways that enrich and benefit others. You can also begin building a community by creating a mailing list and offering something of value for free to those who sign up to receive what you have to offer.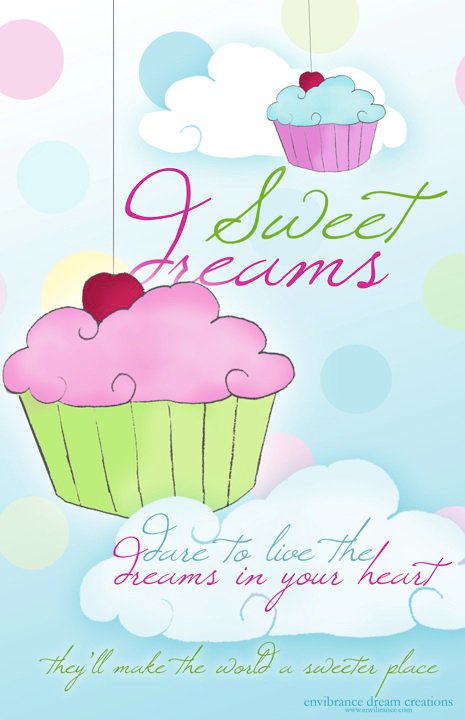 2. Embrace the Process of Development: In any dream you start at the beginning and often with a seed you don't see the full potential of what you are hoping to grow. Start where you are and grow as you go! If your dream is to build a flourishing creative blog like mine is find resources that will help you hone your craft, like design courses and April's course Build a Successful Creative Blog on CreativeLive.com, and practice your writing everyday because true growth occurs with action and strategy, not thoughts and passivity. Also, keeping a running list of ideas for your blog or dream and finding new ways to challenge yourself are great ways to keep you out of a rut and going energetically.
As April said during the workshop "Done is better than perfect!" Do the work, get the blog post (song, book, etc.) done and improve as you move. Your dream will bloom as you have the courage to step out with the best you can do. With every step you will get stronger and better, as I have seen while building my inspirational clothing line and pursuing my dream of being a singer through lessons and training. The world is not waiting for perfection but for you to come alive with passion and the dream that was planted in your heart to shine a light and make a difference in lives.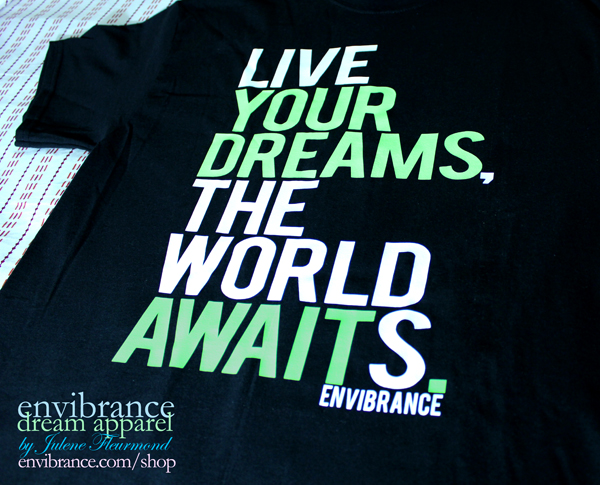 The shirts and designs featured in this post are from my inspirational clothing line Envibrance Dream Apparel, click here to find them and other inspiring styles that give back to great causes when you get them.
1. Always, Always, Always Be True to YOU!
My biggest takeaway from the workshop that was a constant theme throughout the three days was to always be yourself and infuse your personality into whatever you create. Dare to be different and express your dreams in eccentric ways people may never have experienced or expected. When you are vulnerable in staring your story, authentic and unique that is when your vision will grow and people will be drawn to you.
I was inspired by April's examples of how she shares her various passions throughout her blog like how she shares personal stories, creative photography and recipes that show who she is and can set her apart from others who have similar businesses. Mayi Carles, whose colorful energy and positive light illuminated my computer screen, also shared her story of personal loss and how she started her blog and dared to share playful, quirky videos despite the taunting of friends and family who were close to her. She was the one left laughing when her blog became well-known and featured in various news outlets – proof that being you is the key to true success even if no one seems to be paying attention at first. I myself recently got an amazing opportunity through my blog that is a dream come true after years of sowing seeds – I can't wait to share when it launches!


The Renaissance of Dreamfleur


This post marks a revival of Dreamfleur.com and new beginning for me, hopefully for you too, to rejuvenate those dreams buried away in your heart. Over the past few weeks I have been nurturing the vision of Dreamfleur and will be bringing new creative features, videos and more to help inspire you toward your dreams. I also commit to overcome fear to express myself, share stories of what I have experienced and embrace my inner-child (my photo above is inspired by April and Mayi's photo shoot wearing tutus – Mayi says she thanks her 5-year-old self for reminding her to dream big and reclaim her voice).
What's one step you will take today to nourish your dreams so they can flourish? How can you express yourself more fully and uniquely through what you do? Below is some encouragement for you in video form (one of my first steps to expressing myself and making blogging more enjoyable):


The "Live Your Dreams the World Awaits" and "You Are Beautifully Made" shirts featured in this post are from my inspirational clothing line Envibrance Dream Apparel, click here to find them and other inspiring styles that give back to great causes when you get them.
Continue Your Journey on the #BelleLIVE Blog Tour


This post is part of a blog tour featuring creative bloggers who were inspired by April Bowle's CreativeLive workshop. Here are two other posts from that tour for you to visit, and see all of the other posts by clicking here:


#BelleLive Blog Tour from Nelia Freitas

Learning, blogging, doing.
from Josephine Mills at Courage and Dash

Check out April Bowles' latest post on Blacksburg Belle that is a real gem for bloggers and creatives: 52 Blog Post Topics for Creative Entrepreneurs
More Dreamfleur Inspiration For Following Your Dreams
Never give up on your dreams, below is a special message to nourish your heart when you get weary:
Those dreams in your heart are there for a reason, though you get weary don't give up on your purpose…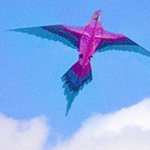 There are those dreams you are responsible for bringing to fruition in a sense; things you want to create, experience and learn how to do. "I want to (insert activity here)… someday." Why not now, why not today?
Is there a dream that you've buried because it's seemed impossible or impractical? For the longest time I have done just this but as I encourage you to pursue your dreams even while you are afraid, I have to muster up the courage to do the same myself. A while back I shared how I…
Who says you have to be perfect to pursue your passion? One of my mottos is to follow the dreams in your heart no matter how impossible or lofty they may seem or how afraid you may be or unqualified you may feel. A few months back I began Project Stretch & Grow…
You may also like:
Comments
comments