Recently I had an amazing time at Women of Faith's ONE DAY event and wanted to share my experience and how it encouraged my heart…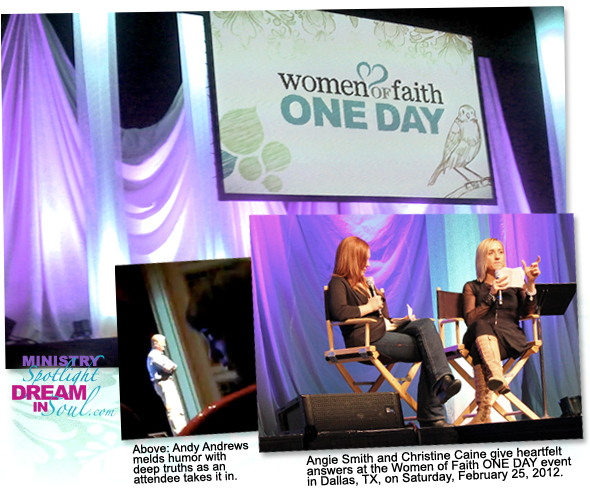 The auditorium was a sea of excited and expectant expressions waiting to see what effect a single day could have on their lives. Soon the room was filled with waves of laughter and streams of tears – sometimes all at once – as Women of Faith's ONE DAY event in Dallas made an impact.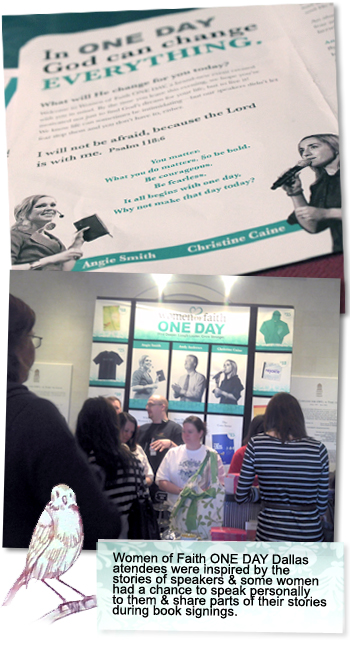 Hundreds of women shared a bond and a deep sense of God's love and dreams for their lives as speakers Christine Caine, Andy Andrews and Angie Smith, poured out their stories and faith-filled wisdom into open hearts.
This was the first year for ONE DAY events, created in response to women who couldn't attend the two day Women of Faith Events. ONE DAY had a more intimate atmosphere that allowed the speakers to go deeper and the attendees to get more up close and personal and feel like they are part of a sisterhood that shares their faith and feelings about life.
I've been inspired by the ministry of Women of Faith for several years now, but never had chance to attend their live events, (other than last year's event for teen girls, the Revolve Tour "Dream On" which was a fun and moving experience).
I was excited to go to ONE DAY, and what made it more personal for me was that it was held at Southern Methodist University where I went to college, in the very same auditorium I graduated in. Three years ago I sat in those seats and walked across that stage in apprehension, wondering what calling God had placed on my life, and on Saturday the encouragement from the ONE DAY speakers had an impact on me in ways I couldn't imagine.
The theme of the event was "In ONE DAY God can change everything," with Psalm 118:6 as the leading verse:

"I will not be afraid, because the Lord is with me."
Each speaker had a unique style and broke the ice with humor before delving into more serious and somber parts of their stories, to inspire us to see God's divine plan in our own lives. I loved their transparency of sharing the not-so-pretty parts of their backgrounds that can help others going through similar situations. Here are a few highlights of what they shared…
Click Here to Continue Reading…
You may also like:
Comments
comments