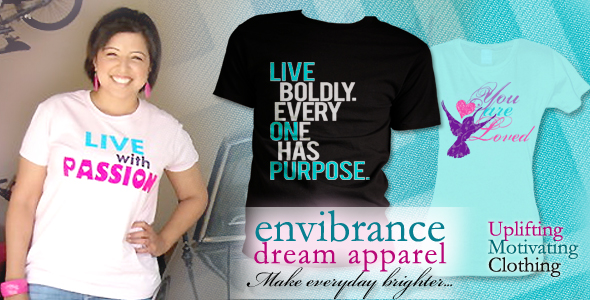 Today I added the story behind my creative clothing line Envibrance Dream Apparel to the store and wanted to share it here as well.
The first phase of the Envibrance line is designed and dedicated to young people, in combination with my youth motivational speaking services. Later I will be launching a special Dreamfleur Line especially for women, as well as expanding the line for men. Read more about the story behind the line below.
I'm also partnering with my friend and mentor, motivational coach and speaker Evelina Solis (pictured above), founder of the inspirational speaking company Sol2Soul to spread the message of the line. Watch Evelina and youth motivational speakers Gabe Salazar and Patrick Perez introduce the line below: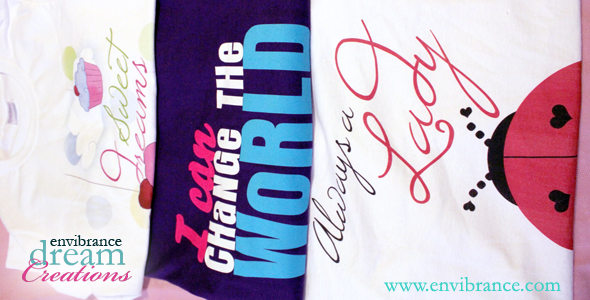 Above: Select Envibrance Dream Creations shirts were donated to a youth event for giveaways.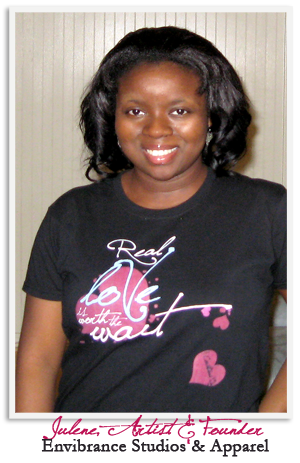 The Story

Julene, the founder of Envibrance Dream Apparel was inspired to begin the company after a series of events:


– Ever since she was a child Julene has enjoyed painting, drawing, and other arts and crafts and attempts to use her abilities as gifts to others. She started her design and media company Envibrance Studios in 2002 as a teen, minored in art in college and wanted to find a way to create original art to share with others…


– She had always liked cute and feminine t-shirts, but often could not find any with messages she liked or with un-cluttered, pretty graphics that could be dressed up with cute layering and accessories or dressed down for casual occasions. (Of course we also offer T-shirts for guys too!:)


– When visiting her mother's homeland of Haiti after the earthquake she was shocked at the standards of living there and wanted to give back in some way through product sales (a portion of Envibrance Dream Apparel sales will go towards charitable causes, including helping people in Haiti). She also saw some of her cousins in Haiti wearing second-hand brand-name t-shirts with scary images of skulls and decided to create positive t-shirts for youth to wear instead (this is an upcoming project of Envibrance Dream Creations, stay tuned).


– While working with youth as a motivational speaker, Julene often saw teens and tweens wearing shirts with negative messages. She began creating her own positive shirts to sell and wear at events, and to donate to special youth events and organizations (such as the shirts pictured above).


– There are so many t-shirts out there already but very few merge positive messages with bold, artistic graphics – there's a first time for everything;)
You may also like:
Comments
comments