School is back in session, but sometimes it's what students do after school that makes the biggest impact on their life. Do Something and JCPenney have teamed up to support youth-led after school programs and projects across the country.
How much: 10 $500 grants and 5 grand prize $1,000 grants. Each winner will also receive a limited-edition Flirtitude Tote.
Deadline: September 15th
Types of projects this grant funds: Projects started by young people who are providing after school activities that help youth in their community.
To apply visit: http://www.dosomething.org/grants/afterschool
You may also like: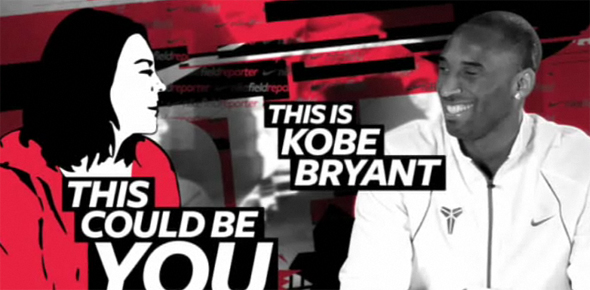 Nike is looking for their next Field Reporter, a young woman who will get the opportunity to travel across the country and interview some of the biggest athletes in the game. Check out Nike's description of the contest below:
Who Were Lookin For
One lucky lady between 18-24 whos sassy, smart and sports savvy. If you're in the know and on the go, its time to take your shot at being the first-ever Nike Field Reporter.

Whats a Field Reporter?
If you think you have what it takes to volley one-liners with Maria Sharapova, kick it with Mia Hamm, and Q&A over cappuccinos with Serena Williams, this is your dream job.

As the Nike Field Reporter, you'll jetset around the country on Nike's dime talking to athletes, artists and culture makers. You'll report back in the form of photos, videos and blog entries.

You have to be ready for anything and anyone. As this is being written, the current Nike Field Reporter is spending a few days just hanging out with Kobe Bryant.

Think you could keep up? Remember this isn't a job for the camera shy. Or the easily intimidated. You'll need to show us you can talk a good game, as well as play one. Make us laugh. Impress us with your quick wit and storytelling. Prove to us you are Nike's next star in a 2-minute audition video and sample blog post.
Check out the Nike site for more information and to apply.
You can visit the current Field Reporter's blog here. Check out these videos of the first Nike Field Reporter, and the promotion video for the contest:


You may also like:
For anyone who is interested in writing and entertainment, the Disney Writing Fellowship is currently accepting submissions. The fellowship is aimed at diversifying the company's talent, and provides a year paid experience to expand your screenwriting skills. The fellowship applications and script samples are accepted from May 1st, 2009 to July 1st, 2009. It seems like a great experience, and like one I may apply to.
Below are some more details about the fellowship from the website. For more information and to apply, visit: http://abctalentdevelopment.com/programs/programs_writings_fellowship.html


From the program website:
"Created in 1990 in partnership with the Writers Guild of America West (WGAW), the Disney|ABC Television Writing Fellowship is based in Los Angeles and is widely recognized as one of the entertainment industry's most coveted writing programs.
About the Television Writing Fellowship
Fellows become employees of Disney | ABC Television Group and will be paid a weekly salary of $961.54 ($50,000.00 annualized) plus any applicable benefits for which they are eligible in accordance with the then-current Company benefits plans. The program is designed to expose aspiring writers to key executives, producers and literary representatives – all essential in the pursuit of a writing career. Additionally, while in the program, fellows have the opportunity to work one-on-one with a current programming or development executive to create spec scripts of series from the current broadcast season. The ultimate goal is to prepare and nurture the fellows for a writing career.
When to Apply
The submission period for the Television Fellowship opens beginning of May and closes the end of June. Applications postmarked prior to the application start date or later than the application deadline date will be returned and not considered for the Program."
You may also like: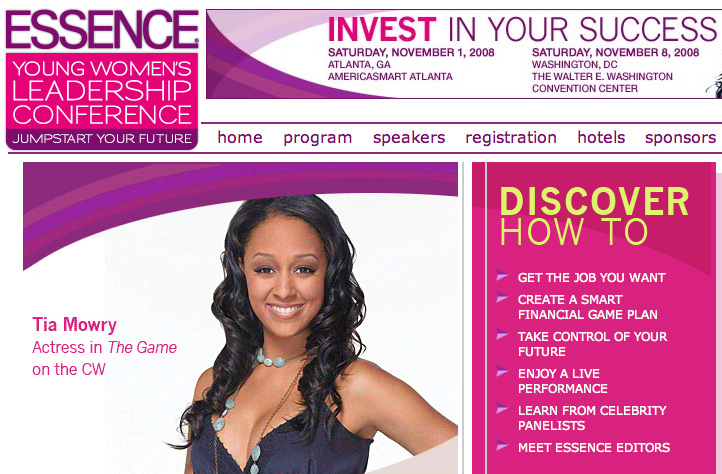 Essence is having an event to help and inspire young women to pursue their dreams.
The Essence Young Women's Leadership Conference is for college students and recent grads and will feature a number of speakers, celebrity panelists, and Essence editors including:
Conference dates and locations:
Atlanta GA on Saturday, November 1, 2008, and
Washington, DC on Saturday, November 8, 2008. Both events will take place from 9 am – 6 pm.
To find out more and to register, visit the website: http://www.essence.com/microsites/ywlc
You may also like: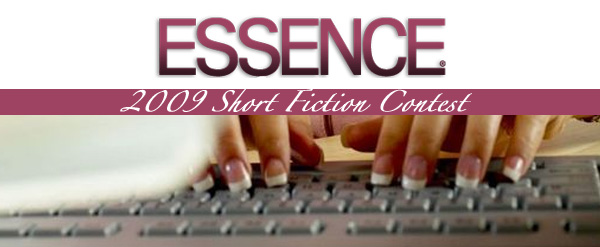 Want to be the next E. Lynn Harris? Essence Magazine invites you to showcase your story-telling skills in the 2009 ESSENCE Short Fiction Contest. The contest was announced a few months ago but there's still time to make the September 30th deadline for entries. Click here to learn more about the contest.
You may also like: