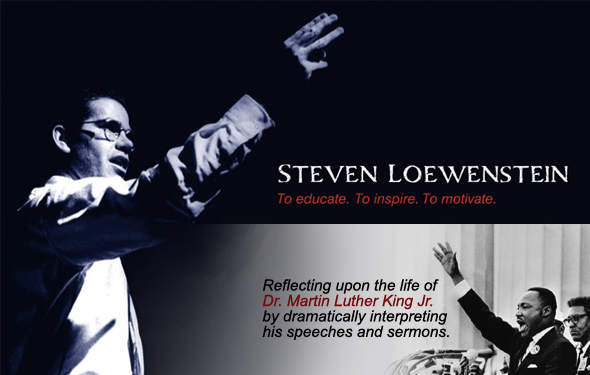 I hope this Dr. Martin Luther King Day you are able to reflect and dream higher and deeper, in a way that can impact lives, just as Dr. King did. I wanted to share a story and video of a creative way one person is reliving Dr. King's legacy today…
For the past 10 years, Steven Loewenstein has been re-enacting many of Dr. King's public speeches to educate, inspire and motivate others. Memphis to Montgomery is Steven's 30 minute tribute to the greatest dreamer of our time—Dr. Martin Luther King, Jr.
I first saw Loewenstein present at my church where he is also a member and am inspired by how he passionately portrays the messages that inspired a nation into change. His delivery is so moving and spot on that if I heard the message from afar I would have believed I was listening to an actual recording of Dr. King.
Below watch the "I Have a Dream" speech reenacted by Steven Loewenstein at an MLK Essay Competition in Frisco, Texas.
You can watch more videos from Steven Loewenstein at his website www.montgomerytomemphis.com.

More From Loewenstein's site:

"Close your eyes and open your heart and you too will relive THE DREAM."
-Dr. Wm. Gregory Sawyer -Vice President for Student Affairs, California State University-Channel Islands

Rev. Dr. Martin Luther King Jr. once wrote, "everybody can be great because everybody can serve." In the spirit of the servant, Dr. King, Steven Dean Loewenstein serves the community through his powerful oratorical tribute to one of America's greatest leaders.

Steven presents a one-man performance, embracing Dr. King's most beloved and heart rendering speeches. Dr. Martin Luther King Jr.'s "March on Washington" will come alive through Mr. Loewenstein's interpretation of "I Have a Dream." The dramatic experience of the "Letter from Birmingham City Jail" and the poignancy of the "Drum Major Instinct" will unfold before your very eyes and ears as Steven touches hearts with rhetorical eloquence only befitting a "King"!

Steven Loewenstein's Performance of the "Drum Major Instinct"


You may also like:
Comments
comments