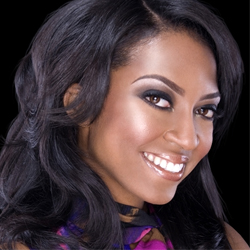 One of my inspirations in life and business is Marshawn Evans, who you may remember from a past season of Donald Trump's The Apprentice. Marshawn is a former Miss America beauty queen, sports & entertainment lawyer, speaker and author who is devoted to helping others succeed, brand their businesses effectively and reach their full potential. She's the founder of ME Unlimited, a consulting firm focusing on "reinvention, women's empowerment, diversity, leadership and peak performance strategies."
Marshawn is so open with helpful information and encouragement for entrepreneurs, especially for women who want to take their business to the next level. I love how she infused her faith into the past tele-seminars on focus and purpose that I have been able to take part in. Previously on my site Dream in Soul I posted about an interview she did on Christian women in business and how they can better balance their roles in life (click here for that post).
Here's a recent video where Marshawn speaks on "How to Build Your Life God's Way":

This month Marshawn is kicking off a new program called
The ME University Inner Circle Mentoring Mastermind
. When I read about the program and how she is offering to instill her knowledge into other women to help them succeed, at an affordable price, I was drawn to apply to learn more from her (as she has been a "mentor-from-afar" to me in previous years as I learned from her other programs). To find out more about the Mentoring Mastermind visit
http://meuniversitylive.com/innercircle
and also visit her website
http://marshawnevans.com
to learn more and be inspired by her business and ministry.
Watch Marshawn talk about the Mastermind program below:
You may also like:
Comments
comments