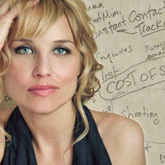 I've been taking part in CreativeLIVE's free online streaming courses, in topics raging from photography to Photoshop, for about a year now, and have continually been inspired! The latest course "Taking Care of Business" was taught by esteemed photographer Tamara Lackey who has paved a way with her photography studio, and who shared techniques for running a successful business and branding your uniqueness. You can watch the beginning of the course above to get a feel of it, and if you need direction in your own creative business, purchase the full course on the CreativeLIVE site.
I took in the course, pen in hand, scribbling down notes and pieces of creative wisdom. My favorite parts were the discussions about being yourself in business and presenting what makes you unique. Here are snippets of my notes below:
– Defining you is one of the hardest (but valuable) things you can do for your business
• What are you drawn to?
• What makes your soul shrivel inside? What makes you feel empty inside? Find someone else to outsource to
• What have you always thought that you could do that you haven't?
• What are you really good at?
• When you're about to do something but don't because you're afraid of how people will think of you, just do it. People will see you authentically! They'll say, "Oh, there you are!"
• How much of you is about what other people think about you?
– The true entrepreneur is a doer not just a dreamer
– The War of Art
• A child does not always stop to think, be more childlike in your work
• Everybody faces resistance – especially artists – resistance tries to keep them from creating – wasting time
– "Don't compromise yourself, you're all you've got." – Janis Joplin
– Your unique vision – not necessarily your strengths but your quirkiness – that's what will draw people to you.
I really enjoyed this interview with beauty, fashion and celebrity photographer Matthew Jordan Smith which was part of the course, and filmed for Tamara's reDefine Show, featuring creative people who are following their passions:
"Make sure you're loving what you're doing or you won't stick with it…"
"You've gotta get out there and experience life and find your inspiration. When you get that and put what inspires you into your work that's why nobody can copy your style, because your style comes from your heart and what inspires you…"
"…Once you're in the mode of doing what you're fearful of doing, the butterflies go away and it's the best feeling ever…" – Matthew Jordan Smith
More About Tamara Lackey
Tamara Lackey is a renowned professional photographer, innovative entrepreneur, author, and web show personality. Her authentic lifestyle photography, from children's portraits to celebrity portraits, is praised within her industry and published internationally. Tamara's work has been featured in dozens of media outlets including Vogue, O – The Oprah Magazine, Town & Country, Parenting Magazine, Food & Wine, Men's Journal, Professional Photographer Magazine, Rangefinder Magazine, NBC's The Martha Stewart Show, ABC's Extreme Makeover: Home Edition, PBS' Need to Know and NBC's The Today Show.

Combining artistry with spontaneous authenticity, Tamara's new web series, the reDefine Show, examines the inspiring stories of top-tier creative artists who make it work. Tamara's interview style showcases her abiding interest in real conversations that share practical tips, innovative methods, and previews of the newest and most useful technologies on the market.
You may also like:
Comments
comments