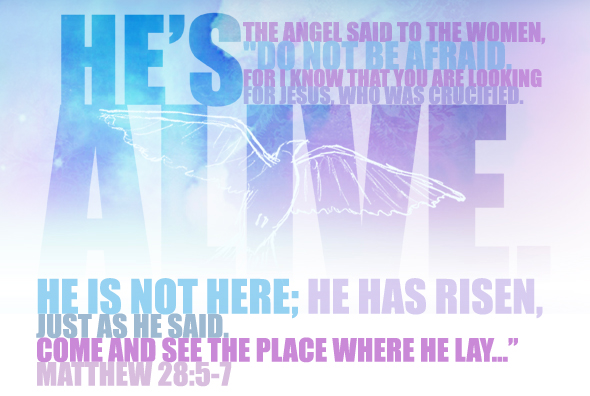 Happy Easter! There's no greater example of love then the sacrifice of our Saviour Jesus dying so we could be free from sin, and Him living so we can be saved and at one with Him again…


Because He Lives; Amazing Grace My Chains Are Broken – Israel Houghton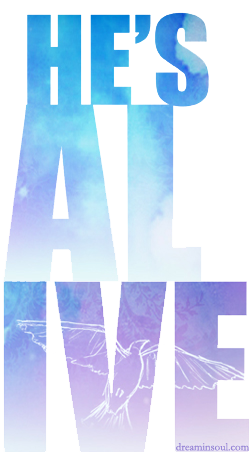 The angel said to the women, "Do not be afraid, for I know that you are looking for Jesus, who was crucified. He is not here; he has risen, just as he said. Come and see the place where he lay. Then go quickly and tell his disciples: 'He has risen from the dead and is going ahead of you into Galilee. There you will see him.' Now I have told you." Matthew 28:5-7

We were therefore buried with him through baptism into death in order that, just as Christ was raised from the dead through the glory of the Father, we too may live a new life. Romans 6:4

I have been crucified with Christ and I no longer live, but Christ lives in me. The life I now live in the body, I live by faith in the Son of God, who loved me and gave himself for me. Galatians 2:20
He Lives – Cindy Cruse Ratcliff
When our pain and troubles eclipse our minds with worry and sin clouds our hearts with shame, think about the storm He endured to set us free, the Son that was set in a tomb and rose again to give us light everlasting…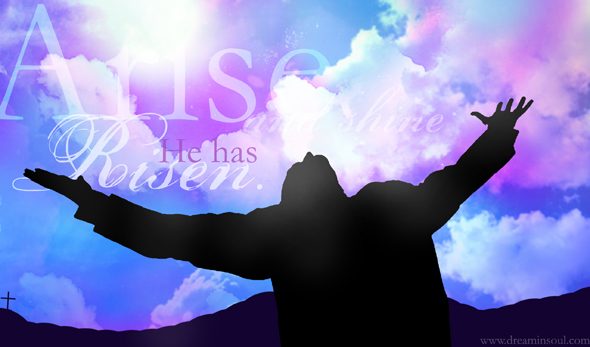 Arise & Shine
A poem by Julene, editor of dreaminsoul.com
Arise…
He lives – arising in light and glory He lives.
So we throw off the shroud of darkness, despair and death left on the cross He bore.

Because He lives we do now – more alive than before…
He lives – in shining pureness and holiness He lives.

His hands, pierced, took the gain, in victory over depression,
dejection, defeat, and shame,
So we could be unfettered, free – unchained.
He lives, robed in rays of majesty – He lives.

He overcame the world with stripes and streams of crimson
Imprinting our impurities on His flesh,

He rose again for our justification, in exchange for our debts.


He lives – He has risen indeed.
So we should live – declaring the resurrection;
'He rising for us, and His power in you and me.'

On this Resurrection Day we focus our attention on His glory, His sacrifice and remember that He died for our sake and rose again to give us life. He didn't pour out His Blood for us to live entrenched and buried in darkness of past guilt and sin, not to be condemned but to accept His gift of redemption, love and grace:
But he was wounded for our transgressions, he was bruised for our iniquities: the chastisement of our peace was upon him; and with his stripes we are healed." Isaiah 53:5
He came alive after the pressing of the world and so must we. Let's arise, come awake – and live.
You may also like:
Comments
comments