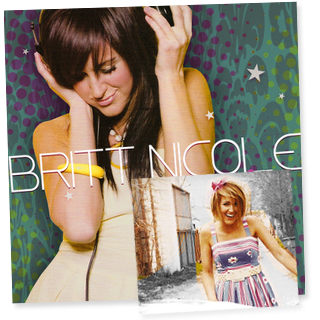 This video interview with Britt Nicole is from 2007 but I think it is awesome to see how she got started in her singing ministry and all that God had done through her obedience. I'm sure you'll be inspired as I was!
Some of my favorite parts of the interview:
– How Britt trusted God when she felt He was asking her to obey and stay home instead of going off to college, even if she didn't see the way ahead.
– She shared the verse 1 Chronicles 28:20 that she was encouraged by: And David said to his son Solomon, "Be strong and of good courage, and do it; do not fear nor be dismayed, for the LORD God—my God—will be with you. He will not leave you nor forsake you, until you have finished all the work for the service of the house of the LORD.
"If it's God's plan for your life it's going to work out, you're not gonna have to force it and make it happen and beg people to work with you or beg people to support you or believe in you…" – Britt Nicole
Britt Nicole's song "Walk on The Water" from her latest album The Lost Get Found is great inspiration to anyone to have faith in God and take chances when following the dreams in their hearts:

Walk on the Water Lyrics

You look around
It's staring back at you
Another wave of doubt
Will it pull you under
You wonder

What if I'm overtaken
What if I never make it
What if no one's there?
Will you hear my prayer?

When you take that first step
Into the unknown
You know that He won't let you go…
Chorus:

So what are you waiting for?
What do you have to lose?
Your insecurities try to alter you

You know you're made for more
So don't be afraid to move
Your faith is all
It takes and you can
Walk on the water too

Verse 2:
So get out
And let
Your fear fall to the ground
No time to waste
Don't wait
Don't you turn around and miss out
Everything you were made for
I know you're not sure
So you play it safe
Try to run away

If you take that first step
Into the unknown
He won't let you go

(chorus)

Bridge:
(step out)
Even when a storm hits
(step out)
Even when you're broken
(step out)
Even when your heart is telling you telling you to give up
(step out)
When your hope is stolen
(step out)
You can't see where you're going
You don't have to be afraid

So what are you waiting,
What are you waiting for?

So what are you waiting for?
What do you have to lose?
Your insecurities try to alter you

You know you're made for more
So don't be afraid to move
Your faith is all
It takes and you can
Walk on the water…
Walk on the water too
You may also like:
Comments
comments