(This was originally posted on my youth site www.DreamerENT.com).
Being green conscious can help save energy and put green back into your pockets, especially in the cooler months. Live Green Learn Green is a great organization started by two high school students, Richa and Aleeya, with a grant from Youth Venture. (Youth Venture is one of the organizations that helped me start my own project as a teen through a grant). The girls help 'green' the homes of lower-income families, and aim to reduce the living costs for the families by providing them with energy efficient materials to install in their homes.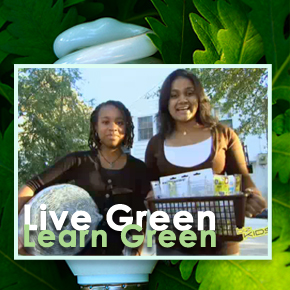 The team raises money for the Green Kits by providing babysitting and tutoring services to families. The money earned is then donated to Live Green Learn Green and in turn the volunteers receive community service hours. It's wonderful that they're helping others, and allowing other young people to make a change in their community.
A Standard Live Green Learn Green Efficiency Kit Includes:
– Compact Fluorescent (CF) light bulbs
– Weather stripping for window crevices
– Window insulation film
– Door sweeps
– Water heater insulation blanket
Watch this video of the girls describing some of the methods they use, and how making a few changes around the house can conserve energy. Maybe you can start a similar project in your own community, or even make some of these green changes around your own house.
You may also like:
Comments
comments