Renaissance of a Woman

Above: A couple of years back I did some natural inspired designs and am now offering them in my Envibrance Dream Creations Store. Click above for the Natural Dreamer Print and scroll down below for t-shirts and more. More Natural Beauty designs coming soon but check out the Envibrance store for other prints and designs.
For the past few months I've been on a journey transitioning from chemically relaxed hair to natural. I've been having sort of a struggle with my hair since childhood, and I'm learning more and more to love what I was born with. This is my second time around after going natural for two years then having a setback after I experimented with a texturizer (big mistake!!!). Now I'm patiently transitioning and nursing my locks back to health.
I hope to share more of my hair journey and possibly post some progress pictures once I get them rounded up. In the meantime on this page I'll post more Dreamfleur Natural Beauty designs, inspiration and some of my favorite natural hair and beauty resources:
Embracing Your Natural Beauty: My Crazy Beautiful Video Contest Entry – Below is a video I made of myself embracing my natural hair; it's a fun little project I put together two days beforehand for a Gospel Music Channel contest deadline; the result of a low budget point-and-shoot camera, Photoshop and iMovie. The message of the song, by Chasen is really wonderful though, take a listen:

Visit My Store Envibrance for more of my creative projects and shirts.

Click on a product below to order and customize: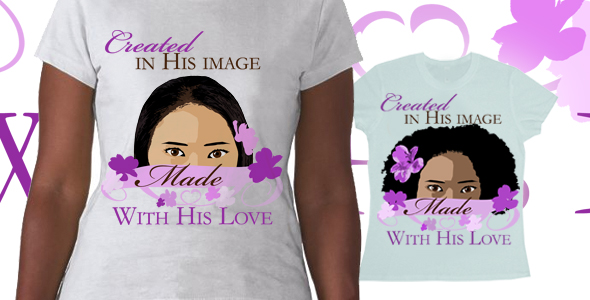 We are created in God's image and He made us with Love…
In the beginning of time God made the heavens and the earth. He formed you in your mother's womb; you are made in His image and in His love! This shirt is featured in my Dream in Soul Faith-Based Store. Click here to view the styles and sizes of this shirt…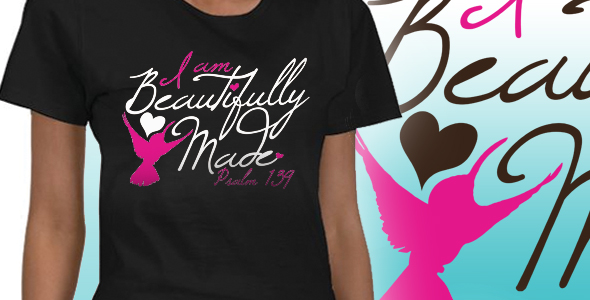 "For you created my inmost being; You knit me together in my mother's womb. I praise you because I am fearfully and wonderfully made; your works are wonderful, I know that full well. My frame was not hidden from you when I was made in the secret place." Psalm 139:13-16
his shirt is featured in my Dream in Soul Faith-Based Store. Click here to view the styles and sizes of this shirt…
Natural Hair & Beauty Bloggers
I really enjoyed this feature – NBC News Channel 5 reporter Rochelle Ritchie did a story on the journey of embracing natural hair for several women, and shared her own decision to go natural:
Comments
comments