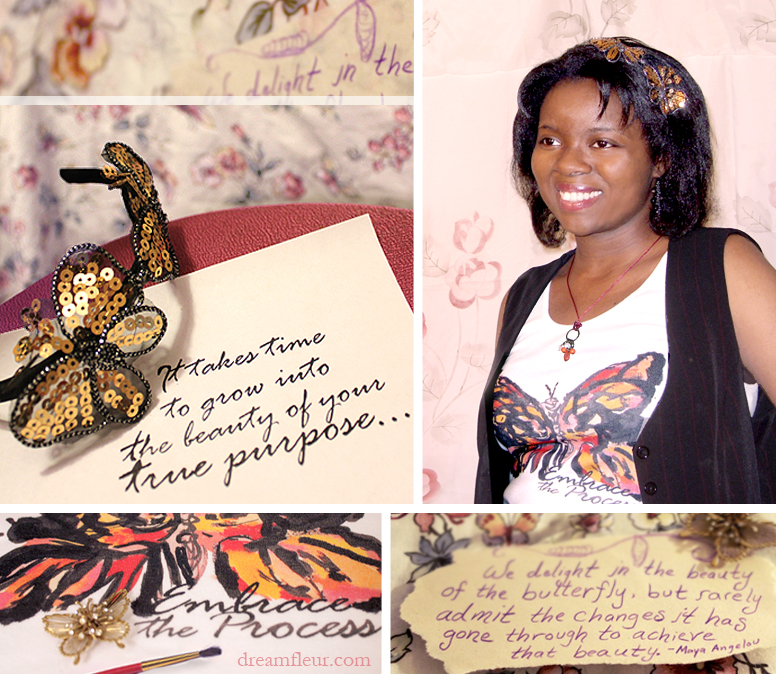 If you're hoping and waiting for a change to take place in your life, I want to encourage you to keep holding on in faith and never give up on your vision for something greater…
It can be frustrating and discouraging when you have a dream but seem to be nowhere near reaching it. I've learned through experience that stepping into your destiny is not an overnight occurrence; it's a journey of preparation and a life class that's vital & just as rewarding as the "success."
Anything that is great and truly worth experiencing takes time, patience and dedication to develop. You might find yourself in painful trials and isolation at times, but know that like a caterpillar enters darkness to be transformed into its true identity, it takes stretching, strengthening and shaping to become what's already in you – the person you're truly meant to be.
In the dark places your character is refined to sustain your destiny, your identity is secured in something greater and resilience is formed in your heart. Don't turn back and give up if it seems dim & unbearable now, you're closer than you think to the break-through and we're waiting to see the beauty, brilliance and story that only you can share.
It takes time to see the reality of your dreams & to grow into your true purpose…Embrace the process.
You may also like:
Along with my passion for all things creative, I've also felt called to encourage artists and dreamers of all types to take care of their bodies better – how can you create well if you're not feeling well, and what's the good of making a masterpiece if you're minimizing your optimal years here and ignoring the beauty in the health of your body?
My conviction for health started with my own experiences and story, realizing how my daily habits were the cause of stress and avoidable ailments that often slowed down my productivity (including blogging) and made me pursue the art of creative wellness. My long-term aim is to create a unique approach to taking care of your body – moving more, eating right – that is less intimidating & drudging. Health shouldn't be a nuisance to your schedule and pleasure, but an intentional, integral and balanced part of being a creative dreamer who respects and lives life in full color in all areas.
Believe me I know the dread of wanting to lay on the bed instead of getting up for that work out, or the lure of those crunchy munchies (I'll just have one more:). My dream is once day to encourage others, and myself to see the beauty in their bodies and in healthy living, and move away from the standard of unbridled indulgence our society sets (another helping of "processed-ness" anyone?)
I've started the Dreamer Rejuvenation Project on the blog to creatively share tips for others (and myself) to make those changes (you know those ones I'm talking about) that will help you feel better and be better for the long run.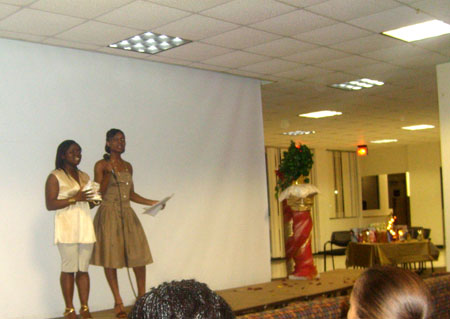 Above: A picture from a beauty, health and wellness event I hosted at my University a few years back called "Royal Rejuvenation," one of the inspirations behind this new series.

This summer as part of my public health program I got to intern at The Cooper Institute, an amazing research and educational organization that encourages a whole lifestyle of living well, eating better and moving more. Cooper Aerobics, the overall organization, was founded by Dr. Kenneth H. Cooper, M.D. who is called the "Father of Aerobics," an Air Force physician who became a forerunner of providing evidence for the role of exercise in preserving health.
During my time at Cooper I got to meet amazing people along with learning about and experiencing various facets of what goes on there, from visiting the fitness center to blogging for their new healthy lifestyle website TodayIWill.com. I wanted to share my first blog here, on the importance of limiting your couch and desk potato tendencies.
As a creative I spend so many hours sitting at my desk, drawing, blogging, designing, writing – the list goes on. I've been feeling the effects of all of those hours of inactivity, and learning all about how harmful sitting really is – it doesn't do the body good. Here's my blog describing the effects of prolonged sitting and ideas to get your own potato out of that chair to get rejuvenated…
Click here to read my post "Don't Be a Desk Potato: Ways to Get Moving…" on the Cooper Institute blog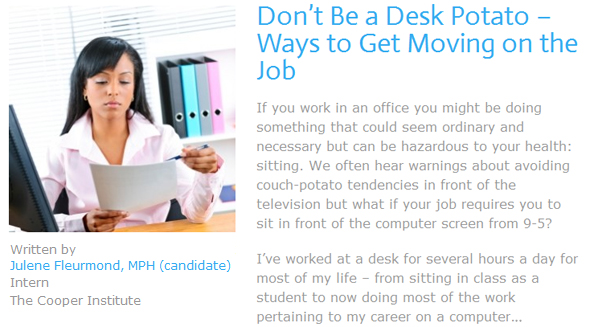 You may also like: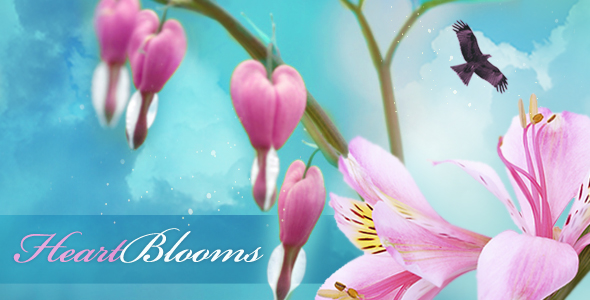 There are times in what we might call loneliness where people have drawn away from us, God is drawing us into deep fellowship and intimacy that few have experienced because they wouldn't be still. Don't run from seasons of silence and solitude but seek to hear His voice – He's always there and speaking. Those are the times when you can get to know Him like never before and to discover your purpose in Him.
There was a span of time where I was experiencing aloneness, after most of my friends had graduated and moved away. In the quietness of that time I first felt frustrated and lost, wondering why there seemed to be no I could relate to. After seeking God I found that it was in these times when we are not being bombarded by the noisiness of the world that God speaks, really speaks to us and draws us into our destiny.
Prolonged total isolation is never a good idea, when you find there is no one in your close circle, find a way to serve others and reach out to someone who may also need a friend – we were made for fellowship and that's where we grow and thrive. However, don't be afraid to take time to get away from the bustle and distractions of life to embrace those times of fellowship with your Creator, He's waiting to get your undivided attention…
- Julene
More HeartBlooms & Inspiration
"We delight in the beauty of the butterfly, but rarely admit the changes it has gone through to achieve that beauty." – Maya Angelou – Nothing that appears beautiful and successful was made over night…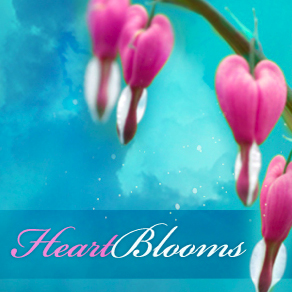 You may not look the part, people may look and pass over you, and your past may "disqualify" you, but don't disqualify yourself…
You may also like: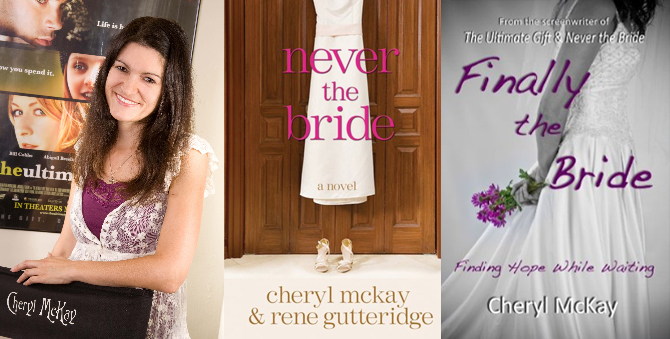 Here's an encouraging interview for singles with Cheryl McKay, screenwriter of the award-winning movie, The Ultimate Gift, and co-author of the novel, Never the Bride. On an episode of the show Top 3 on JCTV (a channel for young adults), Cheryl talks about how she learned to give God the pen of her life to let Him write the love story He had in mind for her – and how that story was even better than she had ever imagined:
Find out more about Cheryl, her movies and books at her sites: http://cherylmckay.wordpress.com and http://www.purplepenworks.com.
You may also like: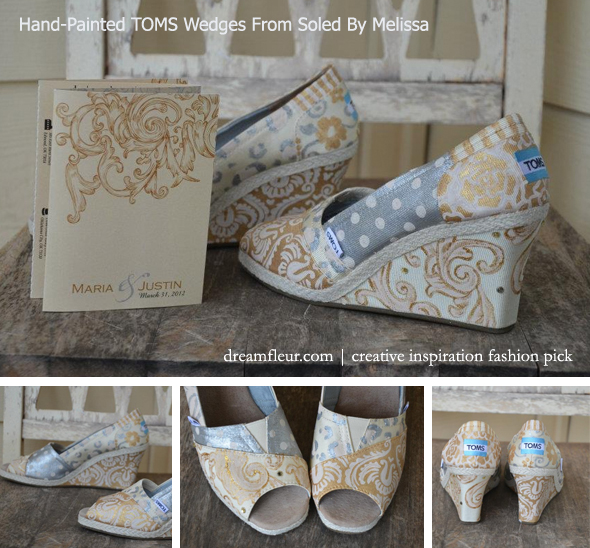 As you may know I design customized wedding invitations and other stationery and gifts for special events, and I love everything having to do with weddings, decor and event planning. I'm also a lover of the vision and passion behind TOMS , and was excited to come across the custom hand-painted work of 'Soled By Melissa' created by entrepreneur Melissa Hendricks. She has done hundreds of personalized designs that combine intricately detailed patterns, bright colors and the clients preferences, from designs that match party schemes to sports teams.
I especially loved the pair of TOMS wedges (pictured at the top of this post) she recently painted to match one couple's design and color scheme. It looks beautiful and whimsical all at once, and give a unique touch.
To find out how you can order a custom pair of TOMS visit Melissa at http://www.facebook.com/soled.bymelissa.
(Speaking of TOMS, this is the pair I aim to get next, I wonder if Melissa can do a little custom work for me:).
You may also like: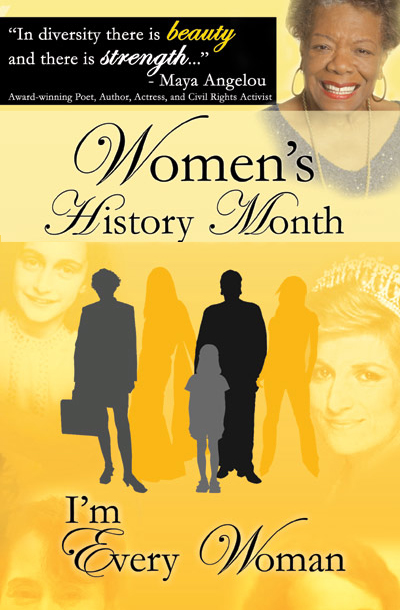 In honor of Women's History Month, here's a tribute for women everywhere – "Every Woman." (The poem and graphics below were part of a project I created for a Women's History Month celebration I had the opportunity to chair at the University of Miami.)

The last two stanzas were added in 2012 and inspired by my friend Kara Norman, founder of Empower Her, Inc. She is truly making a mark by inspiring girls and women through her work: http://www.empowerherinc.com.



Every Woman
by Julene Fleurmond

Every woman should learn
To look past her imperfections
To nurture the essence of her spirit
To embrace her own reflection.


Every woman should live
Never compromising herself
To dream dreams that are impossible
To know when to ask for help.


Every woman should know
That within her are the seeds of greatness,
That she is loved by a Love even greater
And that she is too blessed to stress.
Every woman should believe
That she is divine royalty
Placed on this earth to leave a mark,
To share her heart and write history.


Every woman should walk
In purpose, grace and confidence
Because she has the power to impact the world
And change begins with a single step.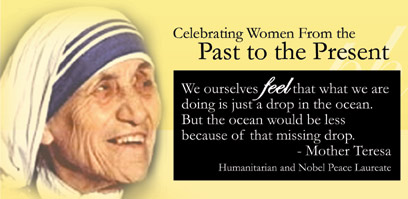 You may also like: