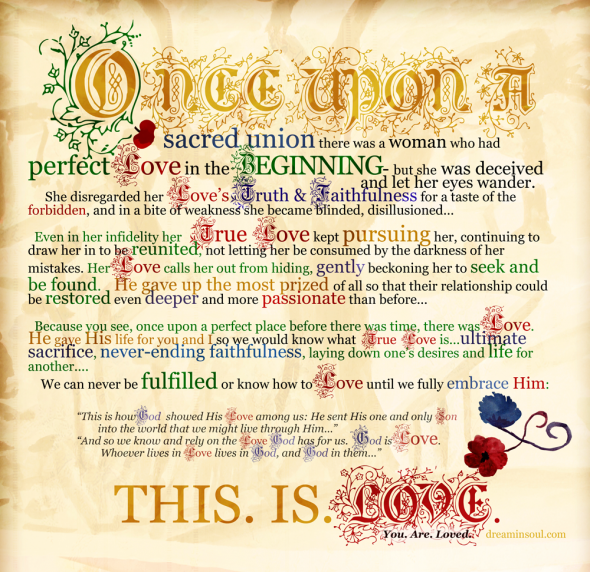 This is our love story – how I met the love of my life, and how I said Yes to forever… I hope it'll give inspire to anyone looking for that special someone:
Once upon a sacred union there was a woman who had perfect Love in the beginning- but she was deceived and let her eyes wander. She disregarded Love's truth and faithfulness for a taste of the forbidden, and in a bite of weakness she became blinded, disillusioned…
Even in her infidelity her True Love kept pursuing her, continuing to draw her in to be reunited, not letting her be consumed by the darkness of her mistakes. Her Love calls to her out from hiding, gently beckoning her seek and be found. He gave up the most prized of all, and gave the greatest gift so that their relationship could be restored even deeper and more passionate than before…
You may also like: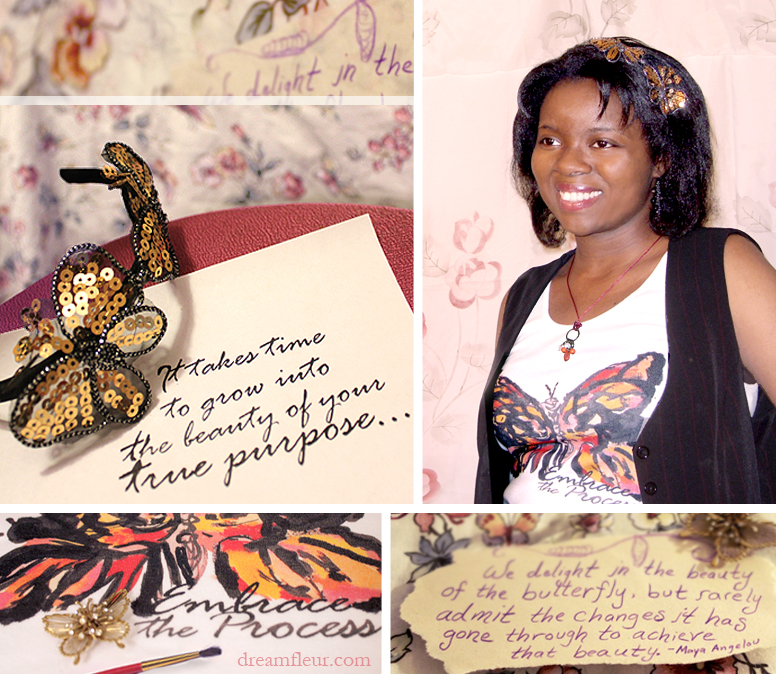 If you're hoping and waiting for a change to take place in your life, I want to encourage you to keep holding on in faith and never give up on your vision for something greater…
It can be frustrating and discouraging when you have a dream but seem to be nowhere near reaching it. I've learned through experience that stepping into your destiny is not an overnight occurrence; it's a journey of preparation and a life class that's vital & just as rewarding as the "success."
Anything that is great and truly worth experiencing takes time, patience and dedication to develop. You might find yourself in painful trials and isolation at times, but know that like a caterpillar enters darkness to be transformed into its true identity, it takes stretching, strengthening and shaping to become what's already in you – the person you're truly meant to be.
In the dark places your character is refined to sustain your destiny, your identity is secured in something greater and resilience is formed in your heart. Don't turn back and give up if it seems dim & unbearable now, you're closer than you think to the break-through and we're waiting to see the beauty, brilliance and story that only you can share.
It takes time to see the reality of your dreams & to grow into your true purpose…Embrace the process.
You may also like: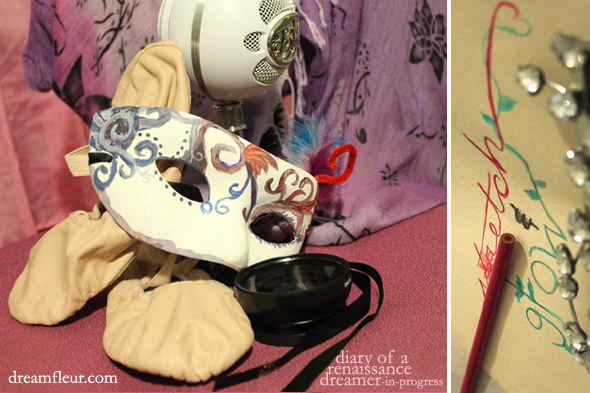 Who says you have to be perfect to pursue your passion? One of my mottos is to follow the dreams in your heart no matter how impossible or lofty they may seem or how afraid you may be or unqualified you may feel. A few months back I began Project Stretch & Grow: Diary of a Renaissance Dreamer-in-Progress and began following some of the creative passions in my heart, from theater to dance. As I mentioned I wanted to share the journey of discovery here to encourage others to follow their creative passions.
It wouldn't be right for me to encourage others to unearth their buried dreams then for me to keep mine hidden…so here's a sneak peek at one of mine that I've been developing and bringing to light the past couple of months – music. Ever since I was a little girl I dreamed of singing & inspiring others through songwriting.
Music to me is a powerful language that can uplift, impact and inspire. I had always been afraid to follow my passion for music in shyness & fear that I wasn't good enough but now am okay with sharing the process and my weaknesses; no one who starts out in anything is perfect – just begin somewhere and do it passionately imperfectly as you learn and grow.
Over the past couple of months I finally got the courage to pursue this passion more seriously and finding resources and help from others. I fearfully went through a lengthy audition process with an inspirational music company and after much self-doubting but boldness a dream I had always imagined but didn't think was really possible came to life when I was signed as an artist on their roster. That was a spark of encouragement to me to believe that this vision can become more that I think I can do on my own if I give it over to God…


Follow me on my journey of unearthing and growing my buried dream of sharing inspiration through music. I'm starting out with a passion and a seed of a vision, improving and learning as I go along from vocal lessons to recording sessions and want to share the process, imperfections and all, to encourage you to also delve boldly into your own passions even while you're afraid and still developing. Above is a sneak peak of "Arise and Shine (Dare Dreamer)", an in-progress rough preview of a song I'm writing dedicated to young people I hope to inspire…
I wrote this song to dedicate to girls I meet at conferences I speak at, people I come across in life who have lost hope and to also share my story of coming awake. Over the past year or so I've been on a journey of learning more about songwriting and am taking some vocal lessons to develop (and boy is there a lot to learn). I recorded this at home and will be continuing lessons & later working with some amazing people on a "studio version," but you get to have the in-progress sneak peek of the first verse and chorus!:)
What is a dream you've buried, and what's one step you can take today to begin unburying it? I'd love to hear, share it in the comments!
(P.S. In the video I'm wearing the "Arise & Shine" T-shirt from my inspirational clothing line Envibrance Dream Apparel, click here to get a shirt that inspires:).
Arise & Shine (Dare Dreamer) Lyrics
Verse 1
A girl lost in the dark of night
Minus dad, misunderstood
I see the same equation multiplied throughout her hood;
She thinks she's worthless, without a purpose
So she gives her heart away
Divides her treasures for empty pleasures
Tries to hide and numb her pain
Fear adds to her emptiness
She was made for something greater than this…
Chorus
Arise and shine
O Sleeper open up your eyes
You're full of life
So don't turn off your light
Lost hopes and tears of all the years
Have left you low and dry
But you're not alone, have faith, hold on
And look up to the sky
Arise and Shine
Dear Dreamer, can't you see
You're full of purpose and possibility
So arise and shine o sleeper
Don't give up now, dare, dreamer
Arise and shine look up and come alive…
For More Inspiration on Unearthing Your Dreams Check Out: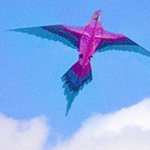 There are those dreams you are responsible for bringing to fruition in a sense; things you want to create, experience and learn how to do. "I want to (insert activity here)… someday." Why not now, why not today?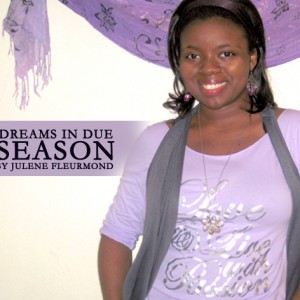 Those dreams in your heart are there for a reason, though you get weary don't give up on your purpose…
You may also like:
Recently I had an amazing time at Women of Faith's ONE DAY event and wanted to share my experience and how it encouraged my heart…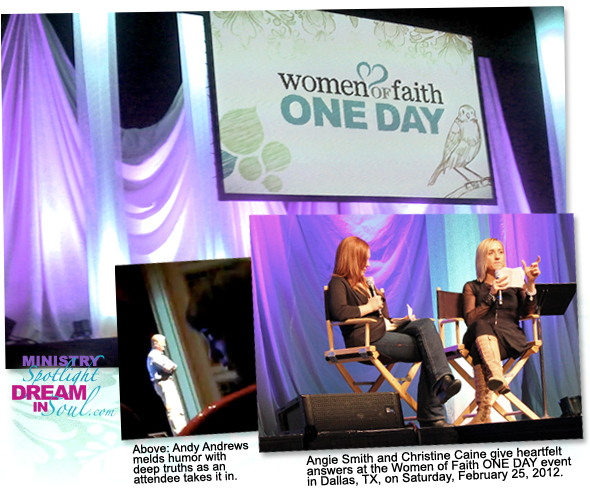 The auditorium was a sea of excited and expectant expressions waiting to see what effect a single day could have on their lives. Soon the room was filled with waves of laughter and streams of tears – sometimes all at once – as Women of Faith's ONE DAY event in Dallas made an impact.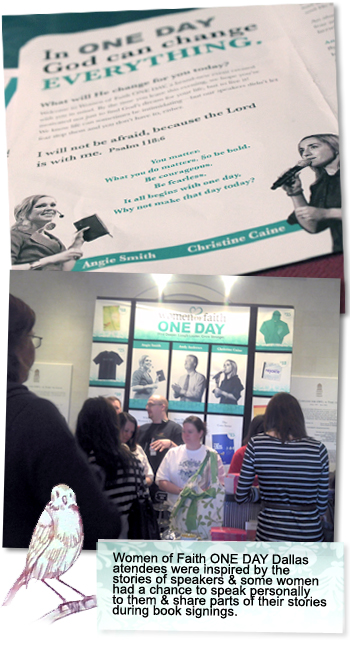 Hundreds of women shared a bond and a deep sense of God's love and dreams for their lives as speakers Christine Caine, Andy Andrews and Angie Smith, poured out their stories and faith-filled wisdom into open hearts.
This was the first year for ONE DAY events, created in response to women who couldn't attend the two day Women of Faith Events. ONE DAY had a more intimate atmosphere that allowed the speakers to go deeper and the attendees to get more up close and personal and feel like they are part of a sisterhood that shares their faith and feelings about life.
I've been inspired by the ministry of Women of Faith for several years now, but never had chance to attend their live events, (other than last year's event for teen girls, the Revolve Tour "Dream On" which was a fun and moving experience).
I was excited to go to ONE DAY, and what made it more personal for me was that it was held at Southern Methodist University where I went to college, in the very same auditorium I graduated in. Three years ago I sat in those seats and walked across that stage in apprehension, wondering what calling God had placed on my life, and on Saturday the encouragement from the ONE DAY speakers had an impact on me in ways I couldn't imagine.
The theme of the event was "In ONE DAY God can change everything," with Psalm 118:6 as the leading verse:

"I will not be afraid, because the Lord is with me."
Each speaker had a unique style and broke the ice with humor before delving into more serious and somber parts of their stories, to inspire us to see God's divine plan in our own lives. I loved their transparency of sharing the not-so-pretty parts of their backgrounds that can help others going through similar situations. Here are a few highlights of what they shared…
Click Here to Continue Reading…
You may also like: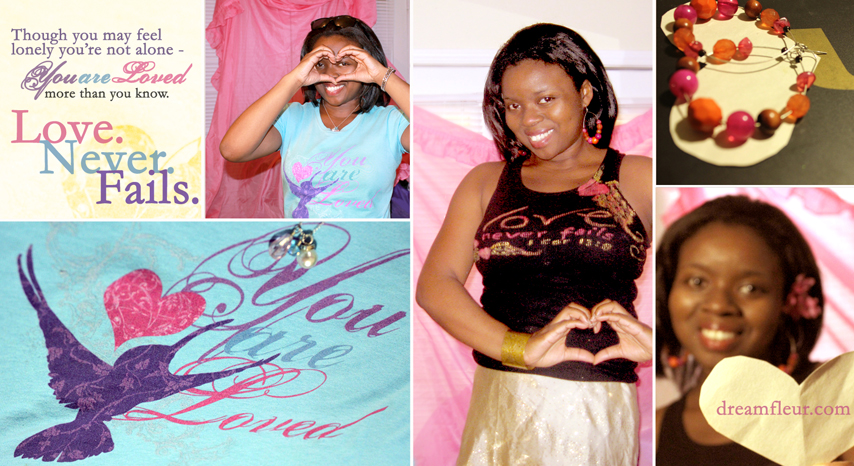 Happy Valentine's Day! I hope all of you love birds enjoy this day and make every day ahead one filled with love! Even if you don't have a Valentine or are going through a hard season, know that you are cherished…
No matter what you are going through – wading in the darkness that tries to engulf you – know that the Light is stronger, darkness won't last much longer. Though it may get lonely you're not alone – you are loved, more than you know…
You may also like: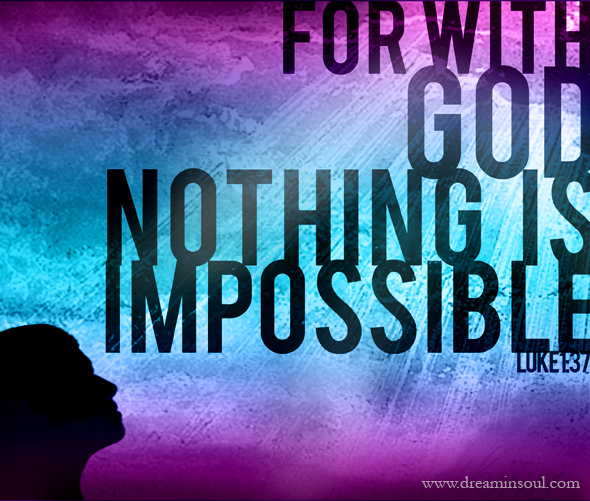 The story of Christmas reminds me that anything is possible…and where there is great love there are miracles…
Wishing you a wonderful Christmas and may your dreams be merry and bright in the New Year!
In true Renaissance Dreamer style (of trying out passions that I may need improvement in; this was recorded a while back and I'm taking vocal lessons;) here's my cover of one of my favorite Christmas songs, originally sung by Chris Tomlin:
You may also like: