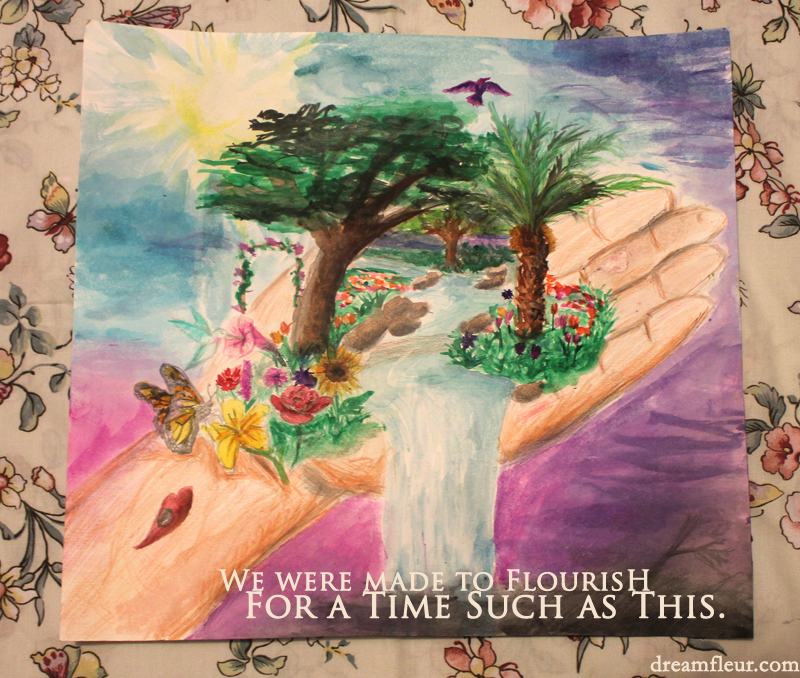 Often when we have dreams there comes a time when our hope falters and we need to refocus and remember what the dream was all about in the first place. This painting and poem was inspired by the theme of a special upcoming event in Dallas, Flourish 2013 (I highly recommend that you go), the creative challenge they launched, and messages I heard recently from leaders I look up to at Covenant that encouraged my heart and spirit in a time of weariness. Where ever you are on your journey know that you were made to flourish for this time and that dream in your heart still lives…

Made to Flourish Poem Video (Part 1 of 3)
Made to Flourish Poem Video Part 2
Made to Flourish Poem Audio Full Version
Listen closely, can you hear it? Can you feel it?
That rhythm resonating from within
Orchestrated by an invisible hand is the unseen evidence
That you are flowing with potential and purpose
No matter your start, no matter your circumstance.
Because you see, every heart beats with an endless thirst, an eternal longing,
A deep desire to be fulfilled.
Throughout our lives we're beckoned by the greatest Song of songs,
A higher calling. It's a melody that draws us to rise up
To join a greater dance of destiny, a perfect will.
It's that distinctive cadence we were made to move in,
A sweet sound of significance.
Even before we were conceived, woven together in secrecy
A seed of promise was sown in the depths of our souls,
A tiny glimpse of what could be, what the future could hold,
A dream that quickened the pulse of our existence
And challenges us to grow the distance.
In the beginning of our journey we were young,
Dreamers with eyes wide in discovery, preparing for the run
Heart throbbing with possibilities, in awe of the scenery creation paints around us,
That song of wonder leading us, leaving billows of celestial splendor trialing behind us.
When we first received that vision, we cherished it, protected it,
Had hope that one day we would experience it.
We nurtured it and set out to bring it to fruition,
We longed to see it grow up and flourish into reality,
So we could share its nourishment and beauty with others…
You may also like: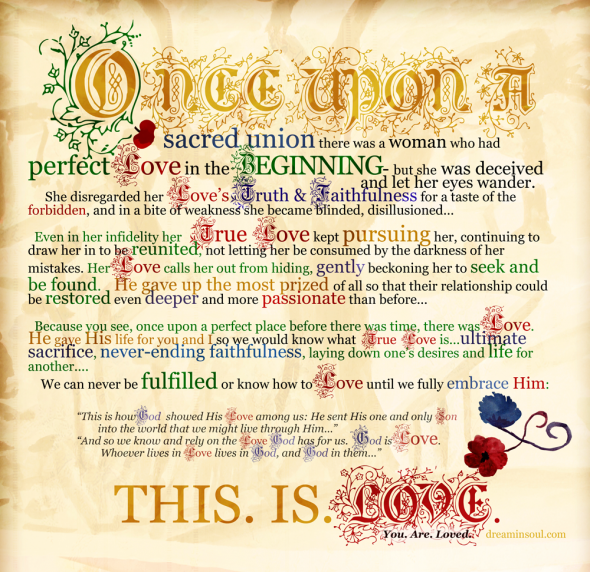 This is our love story – how I met the love of my life, and how I said Yes to forever… I hope it'll give inspire to anyone looking for that special someone:
Once upon a sacred union there was a woman who had perfect Love in the beginning- but she was deceived and let her eyes wander. She disregarded Love's truth and faithfulness for a taste of the forbidden, and in a bite of weakness she became blinded, disillusioned…
Even in her infidelity her True Love kept pursuing her, continuing to draw her in to be reunited, not letting her be consumed by the darkness of her mistakes. Her Love calls to her out from hiding, gently beckoning her seek and be found. He gave up the most prized of all, and gave the greatest gift so that their relationship could be restored even deeper and more passionate than before…
You may also like: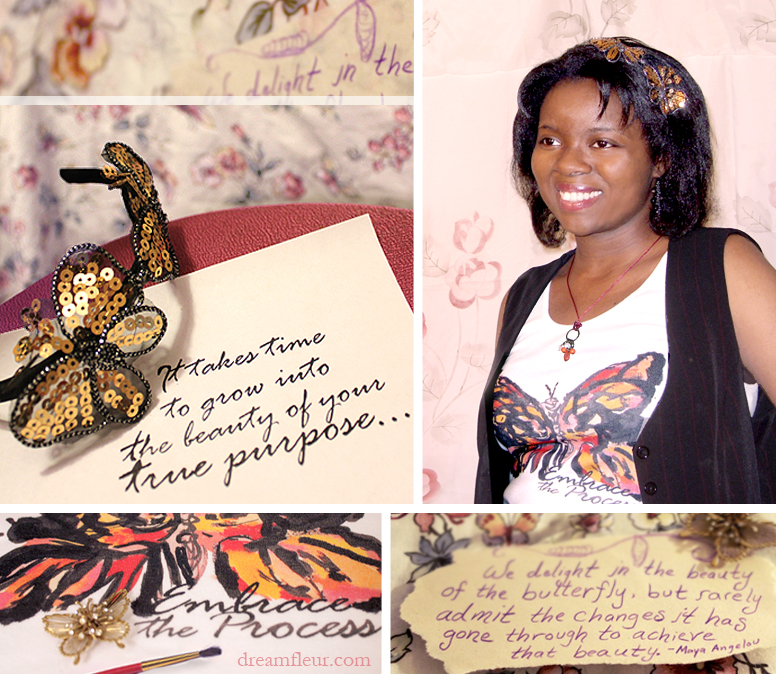 If you're hoping and waiting for a change to take place in your life, I want to encourage you to keep holding on in faith and never give up on your vision for something greater…
It can be frustrating and discouraging when you have a dream but seem to be nowhere near reaching it. I've learned through experience that stepping into your destiny is not an overnight occurrence; it's a journey of preparation and a life class that's vital & just as rewarding as the "success."
Anything that is great and truly worth experiencing takes time, patience and dedication to develop. You might find yourself in painful trials and isolation at times, but know that like a caterpillar enters darkness to be transformed into its true identity, it takes stretching, strengthening and shaping to become what's already in you – the person you're truly meant to be.
In the dark places your character is refined to sustain your destiny, your identity is secured in something greater and resilience is formed in your heart. Don't turn back and give up if it seems dim & unbearable now, you're closer than you think to the break-through and we're waiting to see the beauty, brilliance and story that only you can share.
It takes time to see the reality of your dreams & to grow into your true purpose…Embrace the process.
You may also like: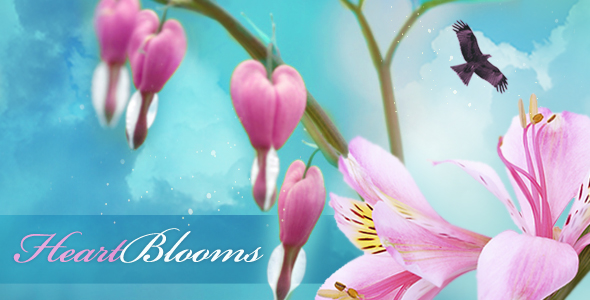 There are times in what we might call loneliness where people have drawn away from us, God is drawing us into deep fellowship and intimacy that few have experienced because they wouldn't be still. Don't run from seasons of silence and solitude but seek to hear His voice – He's always there and speaking. Those are the times when you can get to know Him like never before and to discover your purpose in Him.
There was a span of time where I was experiencing aloneness, after most of my friends had graduated and moved away. In the quietness of that time I first felt frustrated and lost, wondering why there seemed to be no I could relate to. After seeking God I found that it was in these times when we are not being bombarded by the noisiness of the world that God speaks, really speaks to us and draws us into our destiny.
Prolonged total isolation is never a good idea, when you find there is no one in your close circle, find a way to serve others and reach out to someone who may also need a friend – we were made for fellowship and that's where we grow and thrive. However, don't be afraid to take time to get away from the bustle and distractions of life to embrace those times of fellowship with your Creator, He's waiting to get your undivided attention…
- Julene
More HeartBlooms & Inspiration
"We delight in the beauty of the butterfly, but rarely admit the changes it has gone through to achieve that beauty." – Maya Angelou – Nothing that appears beautiful and successful was made over night…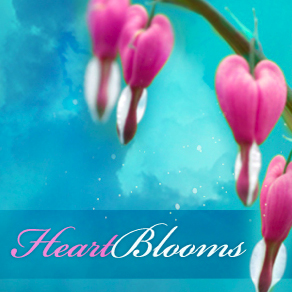 You may not look the part, people may look and pass over you, and your past may "disqualify" you, but don't disqualify yourself…
You may also like:
We all miss out if you keep your dreams, talents and passions buried inside – arise and shine.
Check out more shirts from the Arise and Shine Collection of my apparel line Envibrance Dream Creations.
You may also like:

Look around you – everywhere we go we'll come across people, so many that we'll just walk by and pass over. There's a dream and purpose in every one of their hearts, and one of the essential aspects of seeing your own dream come to fruition is caring for others and nurturing their purpose as well.
Treat everyone you meet with love and respect – everyone was born with equal worth and is "somebody" regardless of any apparent talents, status or success.
It's one thing to be drawn to someone because of the flourishing destiny you see on his life – it's another thing to see the seedling of potential in someone and to help him draw the destiny from his heart.
Be an early adopter and nurturer of someone else's purpose, you'll reap what you sow…
- Julene
You may also like: