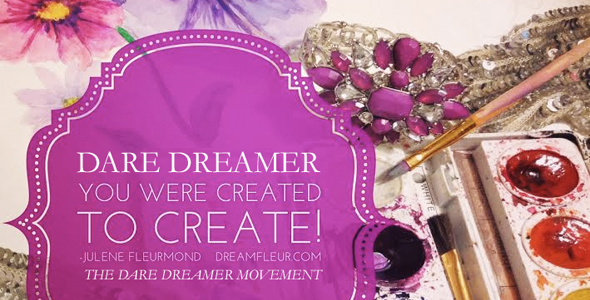 Here are some inspiring Dare Dreamers I posted about on my site DreamerENT.com to inspire you to dream boldly and share what you love with the world. I love their creativity and passion for what they do!
I "met" Brenna Maples virtually through a program we're both in, The Music Industry Blueprint (I highly recommend the program for anyone who has a dream of finder their artist as a singer!) I've featured her as an "Artist Who Inspires" and her song "Don't Give Up" because of it's inspiring message for anyone following their dreams. Here's what Brenna told me about the song: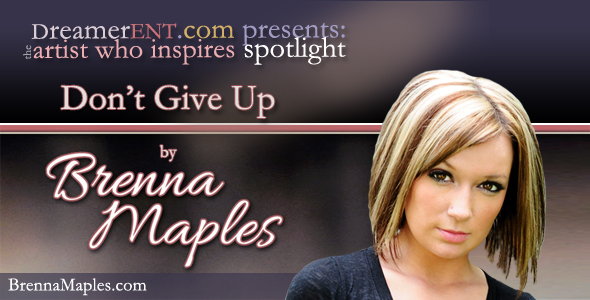 This is a song for everyone who has gone through or is going through a hard time in life. No matter what, don't give up.

"Don't Give Up" is a song I wrote about my grandpa's life events. He is still living and survived all of that! I also wrote it to encourage my sister to not give up through her battle of cancer. She has been cancer free for over a year, but she is still looking for a donor for a kidney transplant. I told her to not give up and to stay strong! This song is also for everyone that is going through a hard time. I want the song to encourage them to stay strong through whatever life brings and to not give up!
"You never know until you try, you've got to pick yourself up and don't give up…" – Brenna Maples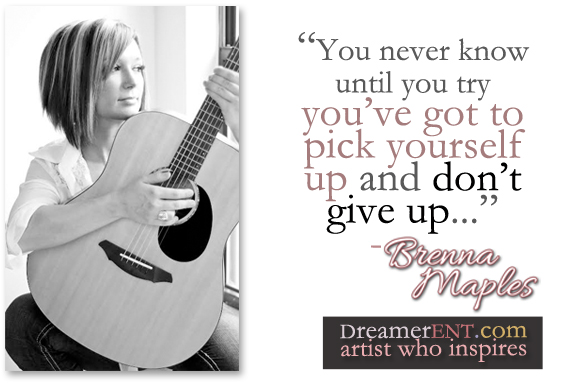 Click here to read more about Brenna in the DreamerENT.com feature!
Connect with Brenna Maples At Her Website to hear more music:

I'm so inspired by Lila of Fresh, Fit and Fearless who posts her healthy meals on Instagram and on her blog.
She's an 18-year old college student who shows us that eating healthy doesn't have to be boring or bland. Her fruit and nutrition-filled meals are always colorful and look amazing with photography that's top notch. Not only am I inspired to eat better but Lila's passion, dedication, creativity and consistency are great qualities for someone who is following her dreams – no wonder her following on Instagram keeps growing!
You can follow Lila on Instagram as @FreshFitandFearless and on www.freshfitandfearless.com. Be sure to check out the recipes featured, they look delish!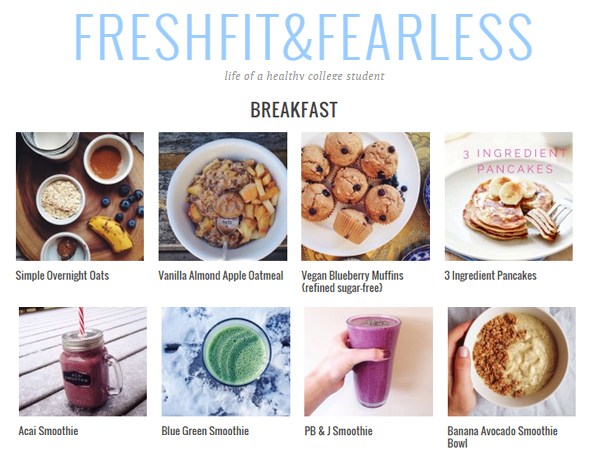 Olaf is definitely my favorite character from Frozen, and Charis Lincoln is one of my very favorites on Youtube so I loved seeing her Olaf-inspired fashion shoot, it's too cute!
Check out more of Charis' Disney and movie inspired looks at her channel: Charisma Star
I love everything Disney and Charis always shares imaginative and creative make-up and fashion. Here are some more of her looks:
Below is the very first video I've watched from Charis, her love story and how she gave the pen of her story to be written by the greatest Author of all…you will be inspired (and maybe cry if you're sensitive like me;)
You may also like:
I've always wanted to inspire youth as an actress🎭 but was always to shy and paralyzed by anxiety to try – not anymore! Here's my debut starring role playing a teen girl in a *homemade* short film (made for a scholarship entry), based on a true story (my diaries and embarrassing stories as a teen, find out never -shared before 🔐 secrets like who I was crushing on at age 15;).
The Tyler Perry-inspired "Diary of a Sad Shy Teen" ("unfortunately" Madea couldn't be in this one, halleluyer;) is playing in schools across the country in kids who don't have a voice. My dream is to reach teens like me and creatively give them a light of hope.
After over 20 years of severe social anxiety and stage fright I'm finally living out my dream of shining inspiration by merging my passion for acting and singing in imaginative presentations.
Here's a flashback into my tumultuous teenhood, inspired by Josh Shipp's Youth Speaker University – an awesome opportunity for those with a passion for empowering young people and giving them a voice.
Emeli Sande's song Read All About It is exactly the message that I'd like to share with the younger me and other people like me who feel like they don't have a voice:
Emeli Sande's song Read All About It Lyrics
You've got the words to change a nation
But you're biting your tongue
You've spent a life time stuck in silence
afraid you'll say something wrong
If no one ever hears it how we gonna learn your song?
So come on, come on
Come on, come on
You've got a heart as loud as lions
So why let your voice be tamed?
Baby we're a little different
there's no need to be ashamed
You've got the light to fight the shadows
so stop hiding it away
Come on, Come on
I wanna sing, I wanna shout
I wanna scream till the words dry out
so put it in all of the papers,
I'm not afraid
they can read all about it
read all about it oh
oh-oh-oh
At night we're waking up the neighbors
while we sing away the blues
making sure that we remember yeah
cause we all matter too
if the truth has been forbidden
then we're breaking all the rules
so come on, come on
come on, come on
lets get the TV and the radio
to play our tune again
its 'bout time we got some airplay of our version of events
there's no need to be afraid
i will sing with you my friend
Come on, come on
I wanna sing, I wanna shout
I wanna scream till the words dry out
so put it in all of the papers,
I'm not afraid
they can read all about it
read all about it oh
oh-oh-oh
Yeah we're all wonderful, wonderful people
so when did we all get so fearful?
Now we're finally finding our voices
so take a chance, come help me sing this
Yeah we're all wonderful, wonderful people
so when did we all get so fearful?
and now we're finally finding our voices
so take a chance, come help me sing this
I wanna sing, I wanna shout
I wanna scream till the words dry out
so put it in all of the papers,
I'm not afraid
they can read all about it
read all about it oh
oh-oh-oh
I wanna sing, I wanna shout
I wanna scream till the words dry out
so put it in all of the papers,
I'm not afraid
they can read all about it
read all about it oh
Read more at http://www.lyrics.com/read-all-about-it-lyrics-emeli-sande.html#vqsiXFOSM7JQ3tpZ.99

You may also like:
You are a masterpiece, made with care and purpose to bring light to the world. Your worth is not in what you do or what you look like but in who you are created to be with Love.
Watch the video below for more inspiration:
You may also like: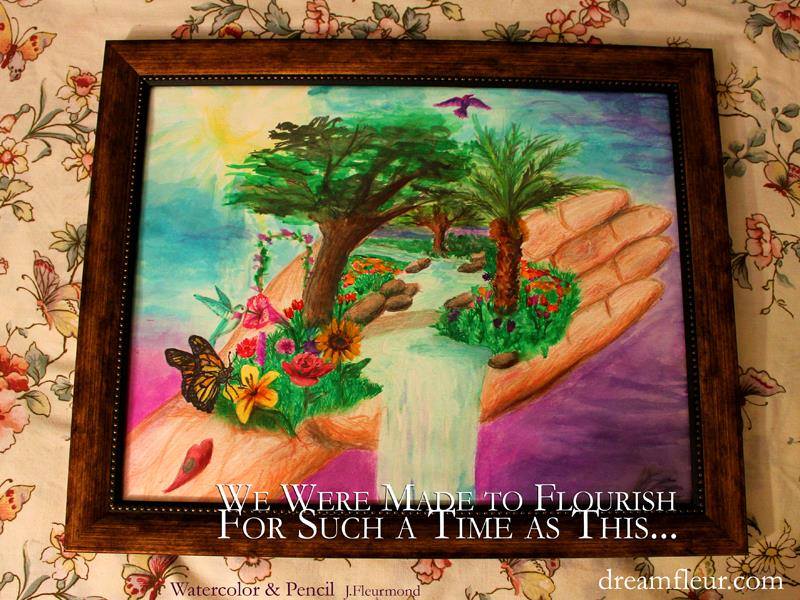 Often when we have dreams there comes a time when our hope falters and we need to refocus and remember what the dream was all about in the first place. This painting and poem was inspired by the theme of a special upcoming event in Dallas, Flourish 2013 (I highly recommend that you go), the creative challenge they launched, and messages I heard recently from leaders I look up to at Covenant that encouraged my heart and spirit in a time of weariness. Where ever you are on your journey know that you were made to flourish for this time and that dream in your heart still lives…

Made to Flourish Poem Video (Part 1 of 3)
Made to Flourish Poem Video Part 2
Made to Flourish Poem Audio Full Version
Listen closely, can you hear it? Can you feel it?
That rhythm resonating from within
Orchestrated by an invisible hand is the unseen evidence
That you are flowing with potential and purpose
No matter your start, no matter your circumstance.
Because you see, every heart beats with an endless thirst, an eternal longing,
A deep desire to be fulfilled.
Throughout our lives we're beckoned by the greatest Song of songs,
A higher calling. It's a melody that draws us to rise up
To join a greater dance of destiny, a perfect will.
It's that distinctive cadence we were made to move in,
A sweet sound of significance.
Even before we were conceived, woven together in secrecy
A seed of promise was sown in the depths of our souls,
A tiny glimpse of what could be, what the future could hold,
A dream that quickened the pulse of our existence
And challenges us to grow the distance.
In the beginning of our journey we were young,
Dreamers with eyes wide in discovery, preparing for the run
Heart throbbing with possibilities, in awe of the scenery creation paints around us,
That song of wonder leading us, leaving billows of celestial splendor trialing behind us.
When we first received that vision, we cherished it, protected it,
Had hope that one day we would experience it.
We nurtured it and set out to bring it to fruition,
We longed to see it grow up and flourish into reality,
So we could share its nourishment and beauty with others…
You may also like:


I'm always inspired by young people who follow their dreams and serve others right where they are. Here are some of my favorite recent stories from my youth motivation website DreamerENT.com: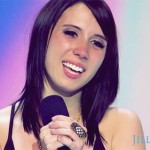 One of the most touching moments on this season of X Factor was when 19-year-old Jillian Jensen gave her moving version of the song "Who You Are" and shared her emotional story of facing bullying in high school…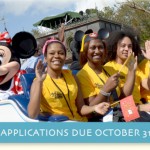 Steve Harvey and Essence Magazine are looking for Dreamers for next year's Disney Dreamers Academy where you can get the tools to help make their dreams come true…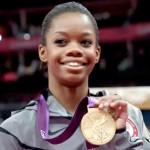 Olympic Inspiration: Gabrielle Douglas Tells Her Story "…Everything is possible and just to go out there and fight. If you have this dream, just go out there and don't be scared. Always be courageous and strong, and don't fear. Anything is possible if you put your mind to it."
16-year-old Gabrielle Douglas shares her story of perseverance that led her to the Olympics…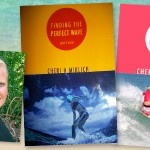 Finding the Perfect Wave is a great book that dives into the world of Alli Whitton, a 17-year-old avid surfer who seems to have it all together. When tragedy and change crashes into her world she has to learn to readjust, and to boldly face the rough trials in her path…
You may also like: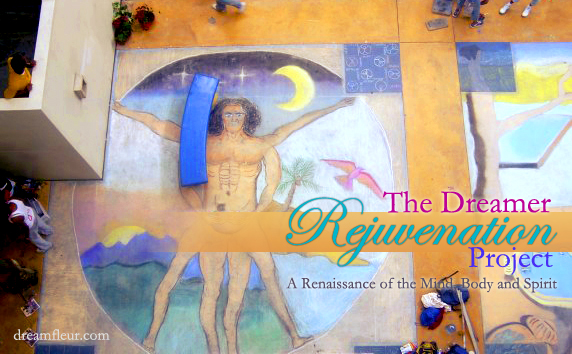 Above: A Renaissance-inspired chalk drawing my friends and I created in high school dedicated to the Vitruvian Man (don't worry he's holding a bowl of fruit in front of him;) – or in this case the Vitruvian Dreamer with my additions of the moon, stars, landscape and soaring bird. Leonardo Di Vinci's work, with the attention to detail and anatomical accuracy, is one example of the merging of art and science during that period.
Along with my passion for all things creative, I've also felt called to encourage artists and dreamers of all types to take care of their bodies better – how can you create well if you're not feeling well, and what's the good of making a masterpiece if you're minimizing your optimal years here and ignoring the beauty in the health of your body?
My conviction for health started with my own experiences and story, realizing how my daily habits were the cause of stress and avoidable ailments that often slowed down my productivity (including blogging) and made me pursue the art of creative wellness. My long-term aim is to create a unique approach to taking care of your body – moving more, eating right – that is less intimidating & drudging. Health shouldn't be a nuisance to your schedule and pleasure, but an intentional, integral and balanced part of being a creative dreamer who respects and lives life in full color in all areas.
Believe me I know the dread of wanting to lay on the bed instead of getting up for that work out, or the lure of those crunchy munchies (I'll just have one more:). My dream is once day to encourage others, and myself to see the beauty in their bodies and in healthy living, and move away from the standard of unbridled indulgence our society sets (another helping of "processed-ness" anyone?)
I've started the Dreamer Rejuvenation Project on the blog to creatively share tips for others (and myself) to make those changes (you know those ones I'm talking about) that will help you feel better and be better for the long run.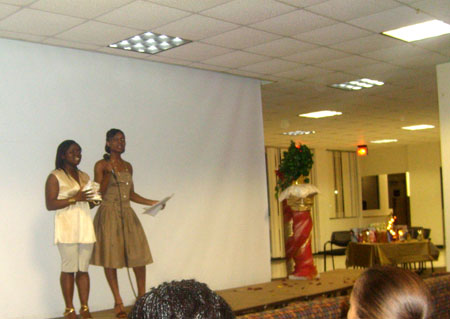 Above: A picture from a beauty, health and wellness event I hosted at my University a few years back called "Royal Rejuvenation," one of the inspirations behind this new series.

This summer as part of my public health program I got to intern at The Cooper Institute, an amazing research and educational organization that encourages a whole lifestyle of living well, eating better and moving more. Cooper Aerobics, the overall organization, was founded by Dr. Kenneth H. Cooper, M.D. who is called the "Father of Aerobics," an Air Force physician who became a forerunner of providing evidence for the role of exercise in preserving health.
During my time at Cooper I got to meet amazing people along with learning about and experiencing various facets of what goes on there, from visiting the fitness center to blogging for their new healthy lifestyle website TodayIWill.com. I wanted to share my first blog here, on the importance of limiting your couch and desk potato tendencies.
As a creative I spend so many hours sitting at my desk, drawing, blogging, designing, writing – the list goes on. I've been feeling the effects of all of those hours of inactivity, and learning all about how harmful sitting really is – it doesn't do the body good. Here's my blog describing the effects of prolonged sitting and ideas to get your own potato out of that chair to get rejuvenated…
Click here to read my post "Don't Be a Desk Potato: Ways to Get Moving…" on the Cooper Institute blog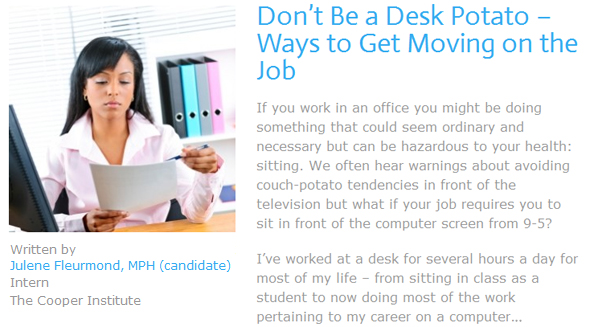 You may also like: