Here's one of my favorite uplifting songs, Beautiful Flower by India Arie one of my very favorite artists. Let the soothing sounds and lyrics be encouragement to your soul:
"This is the original recording of the song "Beautiful Flower". One LIVE performance… a real talent… effortless and emotional… sung from the heart. Notice that Chris Tucker is intently listening right beside her. This song was written to help out the children of Oprah Winfrey's Leadership Academy For Girls in South Africa."
LYRICS
This is a song for every girl who's
Ever been through something she thought she couldn't make it through
I sing these words because
I was that girl too
Wanting something better than this
But who do I turn to
Now we're moving from the darkness into the light
This is the defining moment of our lives
'Cause you're beautiful like a flower
More valuable than a diamond
You are powerful like a fire
You can heal the world with your mind
There is nothing in the world that you cannot do
When you believe in you, who are beautiful
Yeah, you, who are brilliant
Yeah, you, who are powerful
Yeah, you, who are resilient
This is a song for every girl who
Feels like she is not special
'Cause she don't look like a supermodel Coke bottle
The next time the radio tells you to shake your moneymaker
[ Beautiful Flower lyrics found on http://www.completealbumlyrics.com ]
Shake your head and tell them, tell them you're a leader
Now we're moving from the darkness into the light
This is the defining moment of our lives
Continue Reading »
You may also like: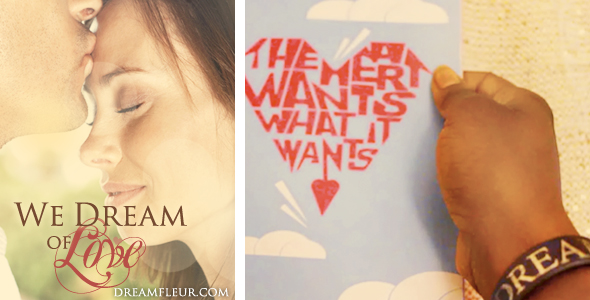 Selena Gomez says in one of her latest songs that the heart wants what it wants. Listening to the lyrics I find myself relating to the song more than I thought I did…do you? Here's my take of what the heart wants, part of this month's Speak Up Project and my We Dream of Love series…
Our hearts are longing for affirmation, romance, love…Stay tuned to hear my story of what my heart wants in Part 2.
Below catch a glimpse of Selena Gomez's heart in her diary from her "Heart Wants What It Wants" Performance at the American Music Awards…I love how she prepares and how she wants to give her best amidst deep emotions – it's inspiring to see her be vulnerable and herself…
I was also deeply inspired by this awesome message that encourages singles who are looking for love:
We all fall under two camps: some of us are happy to be alone and don't want a relationship, while some of us are just wishing and waiting for the right guy or girl to come along any minute. But, all of us are missing out on true love. That true love always involves God because God is true love. When we feel unlovable, God sees us as being worthy. He seeks our own best and He bears all thing. He made the first move, making a way for us to experience the fullness of His love through Christ dying for us while we were still sinners. We may feel like we can't be loved and want to resist it, but no matter what we've done, we can never outrun God's true love for us.
You may also like: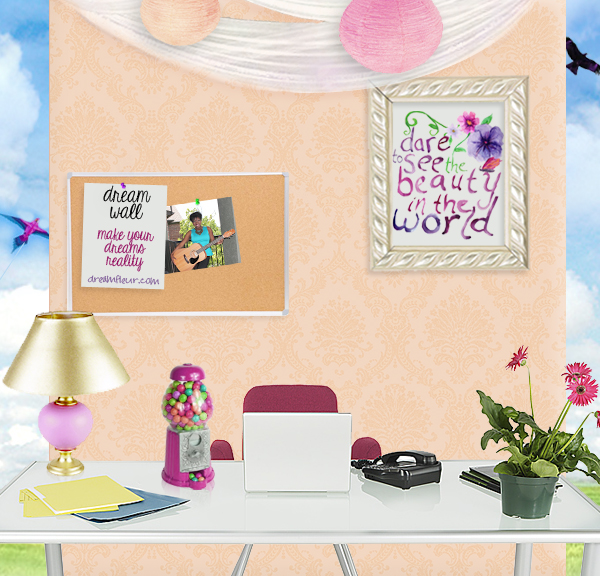 Stay tuned for some sweet new things I've been dreaming up for Dreamfleur, with more features to motivate and support you in following your dreams…
I believe every great dream is conceived and birthed in love – that's where it all begins…
Took the pic below yesterday after presenting & speaking with a group of teen girls about relationships and purpose – they're always the *funniest* audience (other than kids!:) I'll be doing a speaking series "We Dream of Love" on how to be single/date on purpose, sharing my journey of finding identity & true love, and the deeper purpose of marriage, based on the @WeDreamofLoveBook I'm launching. Next is a video interview of an inspiring couple who talk about love, marriage and purpose…more of the series to come, stay tuned and follow the We Dream of Love Movement right here at dreamfleur.com or on Twitter: http://twitter.com/wedreamoflove
If you haven't seen the movie Selma yet, what are you waiting for?
It's so important for us to have a voice in Hollywood by supporting films of substance and spirit. I've seen Selma twice *so far* and both times cried and was moved deeply! Be sure to go see it! It has deeper themes and meaning than merely being about what's on the outward appearance, reminding us that we are spirit in a battle where good and Love always will prevail!
Below watch Oprah with the director Ava DuVernay, talk about why she decided to take on the project Selma which she says is, "For such a time as this"…
Quvenzhane Wallis as Annie Inspires the Kid In You to Dream Again
I saw the new "Annie" movie a few weeks back and was so inspired and was grinning from ear to ear afterwards (my older brother on the other hand was crying by the end:D, too funny). Quvenzhane Wallis was shining and her joy and positive outlook on life was contagious. I was reminded of my passion for positive, wholesome films that the whole family can watch and the lack of those there are in theaters. One of my dreams since I was a little girl has been to share stories that kids can enjoy and I've been working on a few that I'd like to introduce and possibly even move in the live action direction as partnerships are being built in that area. What's your childhood dream and the opportunity standing right in front of you that you've been afraid to embrace? The world is waiting…
Here's Quvenzhane Wallis singing the song "Opportunity" from the movie Annie:
Here's to the ones who aren't afraid to dream big. See #AnnieMovie today! http://t.co/U7O6l6zGdz pic.twitter.com/F7TzQPb6Ee
You may also like: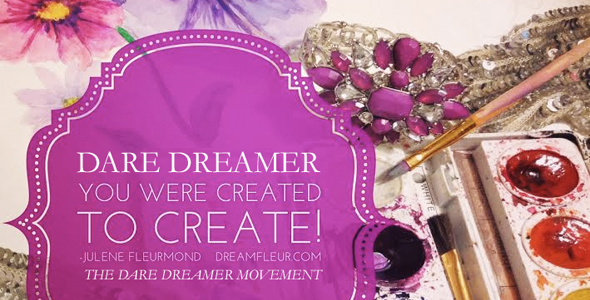 Here are some inspiring Dare Dreamers I posted about on my site DreamerENT.com to inspire you to dream boldly and share what you love with the world. I love their creativity and passion for what they do!
I "met" Brenna Maples virtually through a program we're both in, The Music Industry Blueprint (I highly recommend the program for anyone who has a dream of finder their artist as a singer!) I've featured her as an "Artist Who Inspires" and her song "Don't Give Up" because of it's inspiring message for anyone following their dreams. Here's what Brenna told me about the song: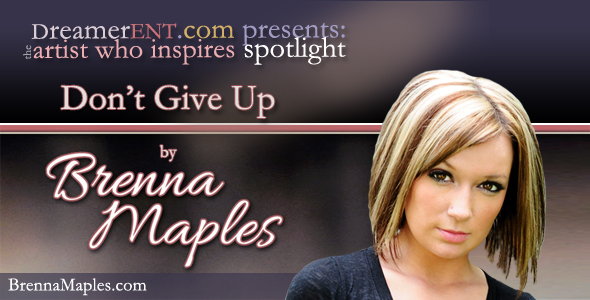 This is a song for everyone who has gone through or is going through a hard time in life. No matter what, don't give up.

"Don't Give Up" is a song I wrote about my grandpa's life events. He is still living and survived all of that! I also wrote it to encourage my sister to not give up through her battle of cancer. She has been cancer free for over a year, but she is still looking for a donor for a kidney transplant. I told her to not give up and to stay strong! This song is also for everyone that is going through a hard time. I want the song to encourage them to stay strong through whatever life brings and to not give up!
"You never know until you try, you've got to pick yourself up and don't give up…" – Brenna Maples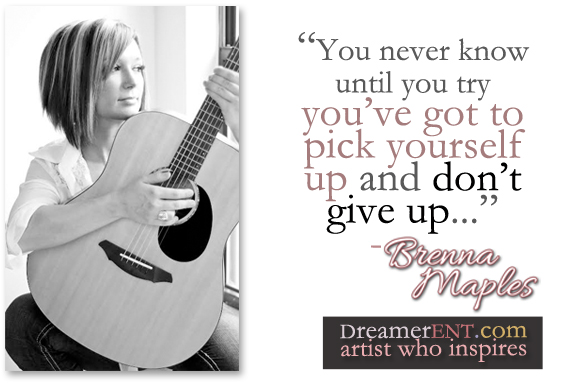 Click here to read more about Brenna in the DreamerENT.com feature!
Connect with Brenna Maples At Her Website to hear more music:

I'm so inspired by Lila of Fresh, Fit and Fearless who posts her healthy meals on Instagram and on her blog.
She's an 18-year old college student who shows us that eating healthy doesn't have to be boring or bland. Her fruit and nutrition-filled meals are always colorful and look amazing with photography that's top notch. Not only am I inspired to eat better but Lila's passion, dedication, creativity and consistency are great qualities for someone who is following her dreams – no wonder her following on Instagram keeps growing!
You can follow Lila on Instagram as @FreshFitandFearless and on www.freshfitandfearless.com. Be sure to check out the recipes featured, they look delish!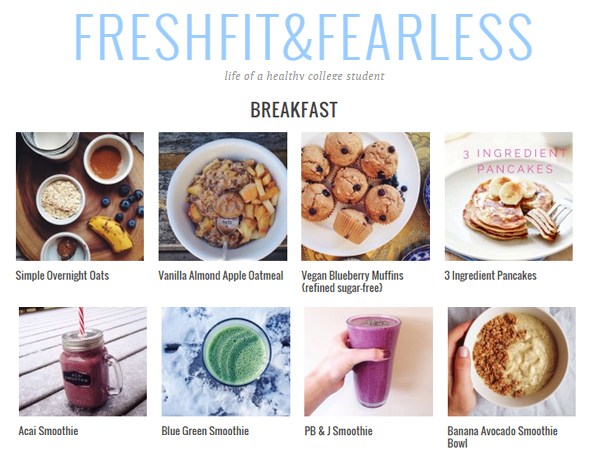 Olaf is definitely my favorite character from Frozen, and Charis Lincoln is one of my very favorites on Youtube so I loved seeing her Olaf-inspired fashion shoot, it's too cute!
Check out more of Charis' Disney and movie inspired looks at her channel: Charisma Star
I love everything Disney and Charis always shares imaginative and creative make-up and fashion. Here are some more of her looks:
Below is the very first video I've watched from Charis, her love story and how she gave the pen of her story to be written by the greatest Author of all…you will be inspired (and maybe cry if you're sensitive like me;)
You may also like:

Above: Rick Barker introducing The Music Industry Blueprint website.
"Knowledge and experience – you can't buy it but you can rent it, you can borrow it, you can learn from it…" -Rick Barker, founder of The Music Industry Blueprint
On the journey to reaching any dream it can get lonely and confusing if you don't have others going with you and guiding your path…
If you're a singer you can get stalled and lost on the journey without the right map. The Music Industry Blueprint is a resource I'm a member of that helps you navigate your dream of reaching those you are meant to impact with your music. The founder Rick Barker is amazingly knowledgable, generous with information and is Taylor Swift's former manager who helped launch her into success. I love being part of this community and connecting with other artists – it has made following this dream less lonely and isolating because I can collaborate with others on a similar journey.
In the Blueprint you'll find great wisdom and tools to help with branding, building and engaging an audience, and selling. This resource is amazing because you don't have to start from scratch and can reap the benefits from Rick's 25+ years of experience and research. I've been gleaning from Rick Barker for a few months before joining the Blueprint ever since I learned about him from singer Jordan Pruitt's email list (you may have seen her on The Voice – I love her music, heart and have been a vocal student of hers). I've been drawn to the methods Rick shares on how to engage with fans and treating your music career as a business – it's exciting to see someone who approaches the music industry so uniquely!
Be sure to check out Rick's Free Video Series at www.musicindustryblueprint.com. Also watch his intro to the Blueprint above and below an episode of his show "25 Minutes From Nashville" that is one of my faves on how being a musician is one of those professions where there is not much intentional structure to prepare artists for the journey. That's why I'm grateful for the Blueprint because it helps artists like myself cultivate their brand, engage with fans and build a team. The Blueprint is an amazing investment I'm glad I made and that I recommend to anyone serious about their dreams.
Here's another episode with a nice kick in the pants to not only talk about it your dream but to implement what you learn and take action:


You may also like:
Have you ever uncovered a dream you've had since you were a kid and realized it was still alive? Often the passions you had, what you're afraid to do and the pain you endured are purpose pointers of how God wants you to bring hope to others… weed out fear and dare to unbury and nurture those dormant dreams today…
"On the Outside" is the first song I attempted to write as a teen girl more than 12 years ago about struggling with years of loneliness, shyness, insecurity and the fear of being myself. I was too afraid to pursue my dream of singing for fear of not measuring up and being rejected. This year I'm going to finish this song for the girl I was and other girls like me to tell them that they have great purpose and about what set me free. Here's a raw songwriting sneak peek…
You may also like: