Presenting inspiring messages & creative live presentations merging stories, poetry, monologues, music & multimedia. Looking for a creative presentation for your event or project? Click here to contact me for speaking or commissioning a customized piece.
We Speak Your Name: Poem to Thank My Inspiration Oprah Winfrey

In December 2010, I was blessed to be one of the 302 Ultimate Australian Adventurers who journeyed with Oprah. It was an amazing experience but my biggest regret is that in my shyness I did not personally tell Oprah how much she has inspired me – this is only a fraction of the words I'd say. As she leaves one classroom to enter another, we speak her name and say thank you!
In 2006 Oprah Winfrey held her Legends Weekend, a three-day celebration honoring twenty-five African American women in art, entertainment, and civil rights. At the Legends Luncheon the young'uns recited a poem called "We Speak Your Names" written by Pearl Cleage. In college I was inspired to create my own Legends Celebration to honor women in the community and Oprah's example.
This is a tribute to Oprah, a Living Legend herself inspired by that poem…
Dreams in Due Season: A Message to Inspire
Made to Flourish: A Poem & Story of Encouragement for Dreamers, Part 1

Click here for more from the Made to Flourish Project…


The Prodigal Daughter: Finding My Identity Spoken Story
Inspirational Actress Inspiring Through Drama and Heartfelt Storytelling
I've always wanted to inspire youth as an actress and singer but was always too shy and paralyzed by anxiety to try – not anymore! Here's a video I originally made for a scholarship entry, playing a teen girl, based on a true story (my diaries and embarrassing stories as a teen, find out never -shared before 🔐 secrets like who I was crushing on at age 15;). The Tyler Perry-inspired "Diary of a Sad Shy Teen" ("unfortunately" Madea couldn't be in this one, halleluyer;) is playing in schools across the country in kids who don't have a voice. My dream is to reach teens like me and creatively give them a light of hope.



I'm available as an inspirational speaker and performer for youth and girls events. Click here to contact me regarding how we can partner for an upcoming event!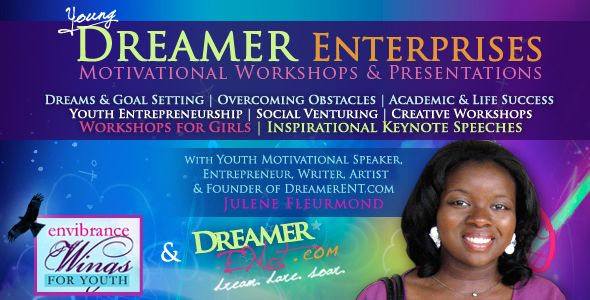 Speaking Engagements
Acting Performances and Speaking at Covenant Kids at Covenant Church in Dallas, TX
"Arise and Shine: Live Boldly On Purpose Message at the Covenant Internship Program, Dallas, TX
Entrepreneurship Workshops and Message on Love and Relationships at Lavon True Teens in Dallas, TX
Dream Girlz Gathering Youth Entrepreneurship Workshop
Girls Inc. of Metropolitan Dallas Corporate Camp for Entrepreneurs Workshops
Network for Teaching Entrepreneurship Social Entrepreneurship Presentation at SUCCESS Magazine Rally
Hispanic Youth Symposium Youth Entrepreneurship Workshop
National Institute of Health Main Headquarters in Washington D.C. Multimedia Presentation on Health

Harvard School of Public Health Presentation
Black Enterprise Conference Presentation for Teenpreneur Program
Miami Dade Public Schools Teachers Board Presentation on Youth Entrepreneurship
Miami Dade College Presentation for the Institute for Youth Entrepreneurship Program
Florida Atlantic University Business Networking Presentation on Women Entrepreneurs

Women's History Celebration at the University of Miami
Royal Rejuvenation Beauty and Wellness Fair at the University of Miami
Comments
comments