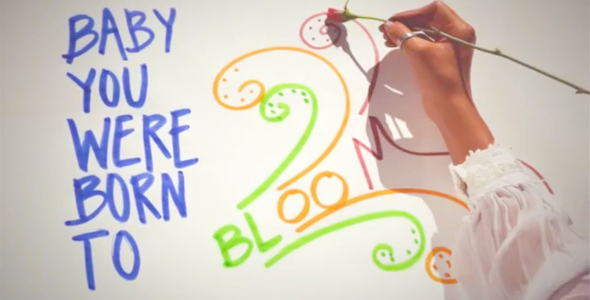 "Just keep believing you'll see a new season soon. You're turning into something amazing; Baby, you were born to bloom…
I wish you could see you were made for more, and your wildest dreams can't compare to what God's got in store…" -Moriah Peters, from the song "Bloom"
Came across this video for Moriah Peters' song Bloom and was inspired by the message and creativity. Listen and let the lyrics nourish your heart and get a free download of the song at Moriah's website. The song is from her album "I Choose Jesus" which you can get from iTunes by clicking here. When I learned about Moriah's music a few months ago I was pleasantly surprised by the refreshing, soothing sound and her heart for staying true to her message and mission, you won't regret checking it out!
Have you ever heard
You are beautiful
I know what you're worth
But you don't see it at all
After the rain has fallen down
The sun comes out
Just keep believing you'll see a new season soon
You're turning into something amazing
Baby, you were born to bloom
Bloom, bloom, bloom
I wish you could see
You were made for more
And your wildest dreams
Can't compare to what God's got in store
Someday soon you'll kiss the sky
Like a butterfly
Just keep believing you'll see a new season soon
You're turning into something amazing
Baby, you were born to bloom
Bloom, bloom, bloom [x2]
You were made, you were made to bloom
You were made to bloom [x4]
Bloom, bloom
You may also like:
Comments
comments