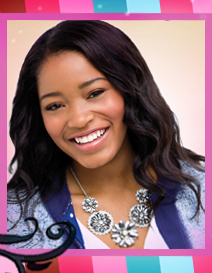 On my youth site DreamerENT.com I posted this inspiration interview featuring the talented Keke Palmer, who you may know as a singer and actress in movies like her most recent one Joyful Noise (which I'm looking forward to seeing), Shrink, The Longshots, and Akeelah and the Bee (one of my favorites, though she's definitely matured into other roles that have allowed her to stretch and grow).
I love how Keke's roles and music are relatable and positive and how far she's come since her early acting days. She's one of my favorite actresses and I even was inspired by her advice in this interview to break through my fear of others' opinions and start taking acting classes.
Through my work at the Valder Beebe Show I sent in questions for Keke to answer to give advice to young people on following their dreams. Here's what she had to say below (part of a longer interview segment I was able to produce):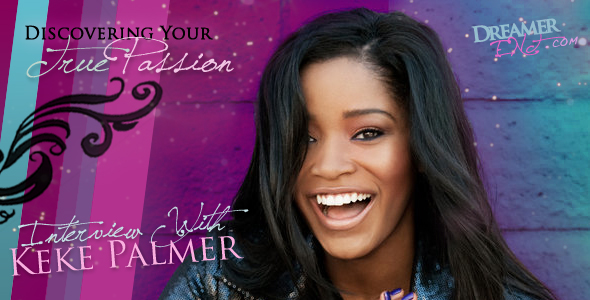 You may know her best from her role on the hit Nickelodeon show True Jackson V.P. about a teen girl who becomes a vice president at a billion dollar fashion company (talk about dreaming big:).
Keke has starred in numerous movie roles including movies like Shrink, The Longshots, Madeas's Family Reunion, The Wool Cap and Jump In. She also stole our hearts and had us cheering for her character, the sassy Akeelah Anderson in the inspiring movie Akeelah and the Bee, opposite actor Laurence Fishburne and Angela Bassett. Her energetic and upbeat personality and truly natural talents, spanning film, television, and music alike, have made her one of the fastest rising young stars in entertainment today. She started pursuing her dreams of singing and acting at a young age, and her hard work and determination has really paid off!
Our media partner The Valder Beebe Show chatted with Keke about the advice she would give to young people on following their dreams. Read and listen to what she had to say: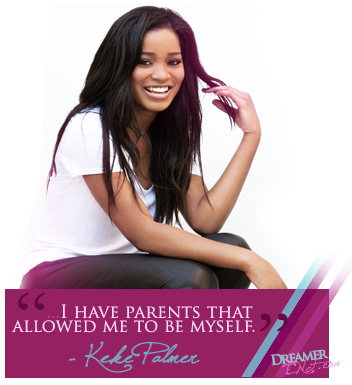 Q: You found out and pursued what you love to do at a young age. What advice would you give young people on finding their passions and following their dreams?

Keke Palmer: You know I have parents that allowed me to be myself. It's easy for me to be able to explore who I was because you know my parents inspired…urged me to do that… They told me to try stuff, they told me to be free and to be open and be creative and so I was lucky for that… and a lot of kids I know don't have that.
So the best thing to do I have to say is you know, if you think you're interested in something try it out…don't be afraid or don't be worried about what people might think. Just try it out because it's in those things where you figure out who you really are and what your true passion is, you learn by trial and error.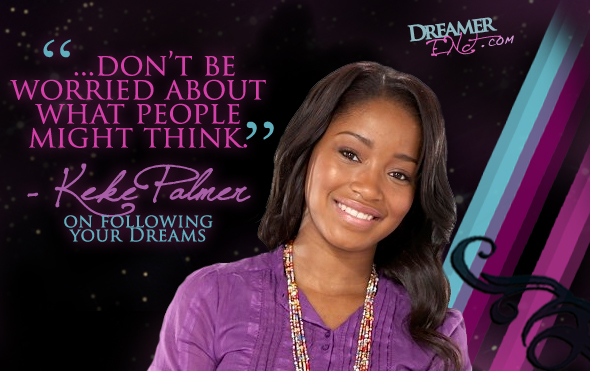 Great advice! You can keep up with Keke and all of her projects at her website www.kekepalmer.com. She is starring in the movie Joyful Noise alongside Queen Latifah and Dolly Parton and is working on some new projects, including a new album of which she's released a few singles. Below watch a clip of Joyful Noise where Keke sings "Man in the Mirror" and listen to one of my favorite inspiring songs from her album "The Greatest."
Along with her acting and music projects Keke also gives back to the community and especially to youth. Last year she was honored with award from the organization "Black Girls Rock" and she gave some inspiring words to girls on following their dreams; check out the video below:



Keke's Inspiration On Following Your Dreams at BGR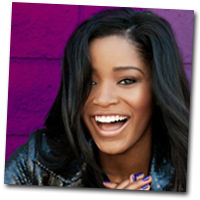 "Whenever I get to talk to young girls like me I always say, 'The only difference between you and I is that I know that I'm special and you just don't know that you are yet.'"
– Keke Palmer


Photo Sources: www.kekepalmer.com & www.keke-palmer.org
Interview design & video: Julene
You may also like:
Comments
comments