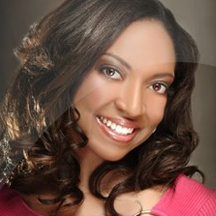 In this clip from Tangle.com, Marshawn Evans, an esteemed entrepreneur who has appeared on Donald Trump's The Apprentice, and an inspiring woman of God, answers how she thinks the Proverbs 31 woman parallels to the woman of the 21st century. Marshawn is the founder of Skirts in the Boardroom, "the definitive guide to being a modern-day sassy, savvy, sensible, and smart woman leader."
DreamFood: Inspiring Points
– "Comparing yourself to somebody else always results in a negative response…"
– The Proverbs 31 woman was fulfilling her calling, it was possible for her to be multi-dimensional
– We are not called to be the Proverbs 31 woman in doing exactly what she did – we're called to be who we're called to be
– "…it's about how you can be multidimensional by maximizing your personal purpose…"


Marshawn on Christian Women "Dreaming Bigger Dreams"
Marshawn on Being a Christian on "The Apprentice"
More About Marshawn Evans (from her website)
As one of the nation's leading experts on the art of maximizing human potential, former Miss America Finalist and Entertainment Attorney, MARSHAWN EVANS is Founder of ME Unlimited (Marshawn Evans Unlimited), a corporate life-enrichment consulting firm focusing on peak performance, diversity, women?s empowerment and leadership.

ME Unlimited consults with Fortune 500 companies and HR departments on leading peak performance strategies, while offering insight from the world of professional sports, employment law principles, and competitive industries.

She is author of SKIRTS in the Boardroom: A Woman?s Survival Guide to Success in Business & Life (Wiley 2008).

As a pioneering woman in the world of professional sports, she is also President of EDGE 3M Sports & Entertainment – a full-service brand management agency responsible for elevating the profile of elite entertainers and athletes in the NBA, NFL, WNBA, and Major League Baseball (www.edge3m.com).

Her successes in the classroom and the courtroom took her to the infamous boardroom as one of Donald Trump's handpicked cast members on NBC's hit show ?THE APPRENTICE.? Marshawn was the only person to lead Trump?s all-women?s team to a victory as the Project Manager for an upscale, yet in your face, Lamborghini advertising campaign. She has worked on marketing initiatives for Tiffany & Co, Rolls-Royce, Vitamin Water, Gatorade, Kraft, Dick?s Sporting Goods, Star Wars: Episode III, Bally Total Fitness, Dairy Queen, Best Buy and Outback Steakhouse.

As Miss District of Columbia, she finished 3rd runner-up at the Miss America Competition winning talent and interview. A former U.S. ambassador to the International Summit of Achievement in Dublin, Ireland, and a graduate of Georgetown University Law Center, Marshawn practiced as a commercial litigator and employment lawyer with one of Atlanta's most prestigious law firms.

Recently named one of Atlanta?s Power 30 Under 30, Marshawn has been featured by Glamour Magazine, Upscale, Monarch, Diversity Business Magazine, USA Today, The Big Idea with Donny Deutsch, ABC, Fox News, MTV and NBC.

A Christian woman, Marshawn spends time speaking to women of faith across the country helping Christian business women navigate between the rigors of corporate America and the purpose they serve in the marketplace as executives and entrepreneurs.
You may also like:
Comments
comments