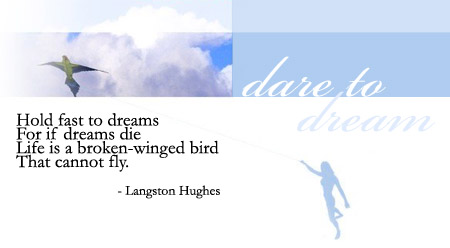 "Hold fast to dreams
For if dreams die
Life is a broken-winged bird
That cannot fly.

Hold fast to dreams
For when dreams go
Life is a barren field
Frozen with snow."
- Langston Hughes
The "So Inspiring" word from Langston Hughes reminds us to keep our visions alive, because it's so important to have hope for the future. Don't just take life as it comes, but continue to spring forth dreams, as they give us the energy and motivation we need to live uncommon lives. With hard work and perseverance, dreams can come true.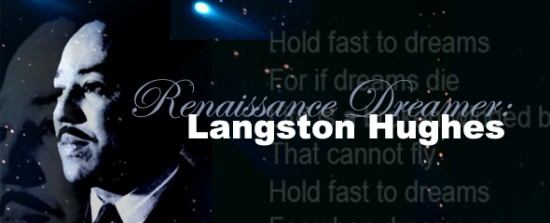 "Langston Hughes (February 1, 1902 – May 22, 1967) was one of the most important writers and thinkers of the Harlem Renaissance, which was the African American artistic movement in the 1920s that celebrated black life and culture.
"Hughes's creative genius was influenced by his life in New York City's Harlem, a primarily African American neighborhood. His literary works helped shape American literature and politics. Hughes, like others active in the Harlem Renaissance, had a strong sense of racial pride. Through his poetry, novels, plays, essays, and children's books, he promoted equality, condemned racism and injustice, and celebrated African American culture, humor, and spirituality." Click here to learn more about Langston Hughes.
Source: http://www.americaslibrary.gov/
You may also like: